There is probably no company in the entire HVAC industry whose name is more clearly synonymous with quality and reliability than Trane.
Trane's XL16i – is one of the company's best and most popular air conditioners, but is it still a good choice?
Whether we're talking about air conditioners, heat pumps, furnaces, air handlers, smart thermostats, or any related parts or accessories, Trane products have always been incredibly well-engineered and well-built, and the company has had probably the strongest reputation in the industry for systems that work well for a long, long time with no problems whatsoever – indeed, there are lots of reports on the internet about Crane splits (outdoor air conditioners) lasting three or four decades and still working great!
But not just that. Crane home climate control products, and the company itself, have always been leaders in all the most important areas, offering:
The Most Reliable Products
The Best Performance in Heating and Cooling
The Very Best Customer Service and Support
Among the Most Energy Efficient Products Available
Industry Leading Initiatives and Policies for Environmental Protection
Excellent Treatment of Employees, Dealers and Affiliates
Innovative Engineering and Design
While all of these things are important, what people think of first when they think of Trane is reliability – the best material quality, construction, and engineering leading to years and years of trouble-free service.
Our Pick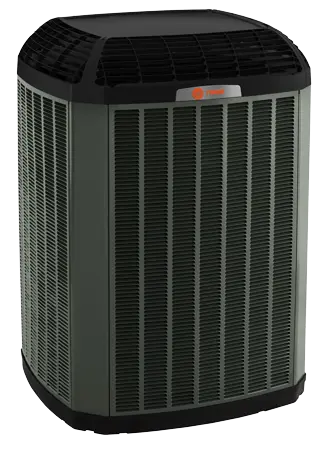 Are Trane Products Still Reliable?
That is why it was so surprising to see that recently a few very visible customer reviews circulated around the internet, talking about how dissatisfied they were with their Trane air conditioners, which had apparently failed almost immediately and which they had a great deal of trouble getting repaired.
Even more recently – just last year, in fact – a small American HVAC sales and service shop posted an article about how they were no longer handling Trane products – citing as their reasons for decreasing product quality and problems with Trane's support and treatment of retail sales and warranty service centers.
The dealer's rant was fairly easy to dismiss – it tried so hard to make its point and was so venomous, that it felt too personal – more like a dealership which Trane themselves had ended relations with, or which had had some difficult dealings with Trane, and which was now just lashing out, trying to make it sound like the break-up was their choice and that Trane was a bad company.
So, while we here at Know the Flo obviously have no idea what the real story was, or if what we suspected was actually true, and have no desire to besmirch the name of the dealership in question, we didn't worry too much about the dealer's complaints.
The negative customer reviews, however, seemed worth checking out.
We know very well that the vast majority of failures or problems with central air conditioning systems are due to issues with installation. We also know that even the most reliable company in the world will have one or two problem units among the thousands and thousands they manufacture.
The other interesting factor here is that, in an odd quirk of human behavior, people are far more likely to post negative reviews than positive ones.
As a result of these factors, it is easy to find a few negative reviews for even the very best products. And not just from Trane, but with all of the major air conditioner manufacturers, like American Standard, Rheem, York, Lennox, Carrier, and Goodman.
So we dug a little deeper, spending hours and hours locating reviews on the Trane XL16i and finding out what people really thought.
Features & Specifications
SEER (Seasonal Energy Efficiency Ratio): Up To 18
Energy Star certification
BTU Range: 18,000 to 60,000
Single Stage Cooling
Running Noise Level: 69 DB
Durable Climatuff® compressor
Full-side louvered panels
WeatherGuard™ II top
Baked-on powder paint
Corrosion-resistant Weatherguard™ fasteners
All-aluminum Spine Fin™ outdoor coil
DuraTuff™ non-corrosive base pan
Unique mounting of the shaft down fan motor
Variable-speed fan motor
Quick-Sess cabinet with full coil protection
Is the Trane XL16i a Reliable Air Conditioner after 1 Year? 5 Years? Even Longer?
The Trane XL16i is one of Trane's most popular air conditioners and has long been considered among the most reliable, energy-efficient, quietest, and most effective outdoor units for central air conditioning.
The XL16i has a SEER (Seasonal Energy Efficiency Ratio) of up to 18 – an exceptionally high number which is an indication of just how energy efficient this Trane air conditioner actually is and helps explain why this, and so many other Trane products, more than qualify for Energy Star certification.
The XL16i is made with extremely durable materials and engineered to remain solid and reliable in outdoor installations, and a variety of climates, for as long as possible.
And, with a wide range of cooling capacity, from 18,000 to 60,000 BTU, the Trane XL16i is a good choice for almost any sized home and has always been known for great cooling throughout the house.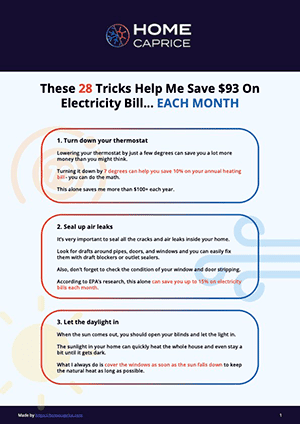 These 28 Tricks Help Me Save $93 On Electricity Bill... EACH MONTH
Download this FREE cheat sheet to find 28 tricks that can help you save on your electricity and heating bill each month.
Click here to get a FREE Cheat-Sheat
But what do people really think after living with the Trane XL16i for a year or longer?
The research we conducted in order to compile this review of the Trane XL16i air conditioner seems to suggest that, first off, Trane has fewer negative reviews than many other major manufacture – even though the negative reviews end up being high up in Google searches and most visible, they are by far the minority.
Does the Trane XL16i Work Well Over Time?
One comment made by a few customers is that they are glad they didn't get a more expensive unit – while purchasing and installing a Trane XL16i is still a considerable investment, there are certainly much more expensive units, from Trane and others. And yet customers found the 16i way more than sufficient to cool the whole house and were almost unanimously thrilled with its performance. Even after many years, people are well beyond satisfied with the job their XL16i is still doing.
We found no notable reviews complaining about the cooling performance of the XL16i.
Is the Trane XL16i Reliable Over Time?
A very common note was that customers hardly even thought about their Trane XL16i. It was very quiet, always did what it was supposed to do, and besides annual check-ups and maintenance, it required absolutely no attention whatsoever. This was true after one year and is still mentioned by some customers after several years.
On the other hand, of the relatively very few customer reviews, we did find mentioning problems or even system failures, there were always lots and lots of comments posted below the reviews – from other customers and from installers and technicians – saying that the problems were not due to any quality issue with Trane products, but were instead down to problems with installation or existing ductwork, air handlers or other central HVAC components – things any good installer might have noticed and addressed.
Does the Trane XL16i Save Money Over Time?
It seemed that the vast majority of positive reviews (which were, again, the vast majority of reviews overall), in addition to mentioning reliability and durability, praised the XL16i's energy efficiency and actual cost savings. 
It is hard to really qualify these numbers, as it depends on the climate, usage and household habits, how efficient the unit they replaced was if they were using existing ductwork, air handlers, thermostats and cetera, and many other factors, but people regularly talk about saving hundreds and hundreds of dollars a year with their Trane XL16i, and some American customers mention how tax rebates – possible due to the XL16i's energy efficiency ratings – made them even happier with their purchase.
Interestingly, those customers who talked about how much energy and money they saved after a year or more often claimed they had even bigger savings as time went on – this is probably largely due to customers' increasing familiarity with the unit, learning how to make it more and more efficient over time, and is something we hear with not just Trane, but other modern top-rated HVAC products and systems as well. But in the case of Trane, this effect is doubtless enhanced because of the material and build quality of the XL16i, which simply does not deteriorate or lose efficiency over time.
Like the issue of cooling performance, we simply didn't find any reviews that claimed there were no real savings with their XL16i air conditioner – apparently, everybody saved money, and often even more than they, or Trane, had expected! 
Is the Trane XL16i Still a Good Air Conditioner?
Even after reading this 2002 review of the Trane XL16i, you may still have a couple of questions:
Should I purchase a Trane XL16i air conditioner?
Should I purchase a Trane product at all?
Is the Trane XL16i a Reliable Air Conditioner?
Will the Trane XL16i Continue to Work Well and Save Money Over Time?
After doing plenty of research and reading the reviews of actual customers, technicians, and others, and from our own experience with Trane, we can answer all of those questions with an emphatic yes! If anything, Trane products just get better and better.
In fact, not only do we have absolutely no concerns at all about the quality or reliability of Trane products – we and the industry overall, still clearly consider Trane to be the best of the best – we can say that the Trane XL16i is quite possibly the best choice you can make, in the short term or over the long haul.
Just keep a couple of important things in mind, with the XL16i or any air conditioner:
It is quite important to have an annual maintenance check of your Trane XL16i done.
It is equally important to make sure that a Trane-certified and fully qualified technician installs your new CL16i air conditioner.
Make sure your home's ductwork is adequate, as well as other existing HVAC components.
You might also want to consider a few add-ons, such as a Trane Air Handler, CleanEffects Air Cleaner and a Comfortlink II connected thermostat, which can make the XL16i even more effective, efficient, and healthy.
But whether you purchase the unit by itself, add a few important accessories or even opt for a whole new central heating and cooling system and get a Trane furnace as well, after doing the research for this article we are more confident than ever that Trane makes reliable, top quality products and is still a true leader in the industry.
Final Thoughts: Is Trane a Good Company?
Our final word could easily be: don't worry about a few highly visible complaints – advice applicable to any company, but especially true with companies like Trane that are so highly devoted to quality, reliability, and performance. Consider instead the thousands and thousands who have purchased a Trane XL16i air conditioner and are as happy with their purchase after months, years, or even decades as they were on day one.
But Trane is equally devoted to the environment – substantially revamping materials, manufacturing, and distribution practices to reduce waste, pollution, and excessive use of resources – and to fair labor practices – ensuring good working conditions everywhere, gender and racial parity, and fair pay and benefits to all employees.
We were quite glad to have researched and written this article – The Trane XL16i Air Conditioner After 1 Year: An In-Depth Review – because it helped reestablish the true excellence of both Trane as a company and of one of their most beloved and popular products. 
We hope that you are also glad to have read it and that you will turn to us again with any and all of your HVAC questions.

Hey there! I am
Benas
, the founder and content editor at Home Caprice. Thanks for reading the article. I hope you were able to find what you were looking for. I and my team are here to simplify heating and cooling for everyone. Please have a look at the
About page
for more details about our website and feel free to check out our
editorial process
.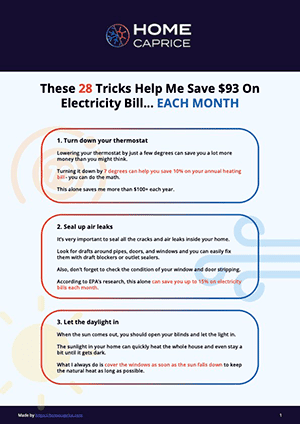 These 28 Tricks Help Me Save $93 On Electricity Bill... EACH MONTH
Download this FREE cheat sheet to find 28 tricks that can help you save on your electricity and heating bill each month.
Click here to get a FREE Cheat-Sheat