Under-sink water heaters are an efficient and space-saving solution for providing hot water in homes and offices. These compact units are installed directly under the sink, ensuring instant hot water for kitchen and bathroom needs. By eliminating the distance hot water has to travel from a central water heater, under-sink water heaters can offer significant energy savings and reduced water consumption.
Among various water heating solutions, under-sink water heaters stand out due to their ease of installation, low maintenance, and minimal space requirement. They come in both tankless and tank-style designs, providing users with options to choose according to their needs and preferences.
In this guide, we will provide our top recommendations and expert tips to assist you in finding the perfect under-sink water heater for your home or office space.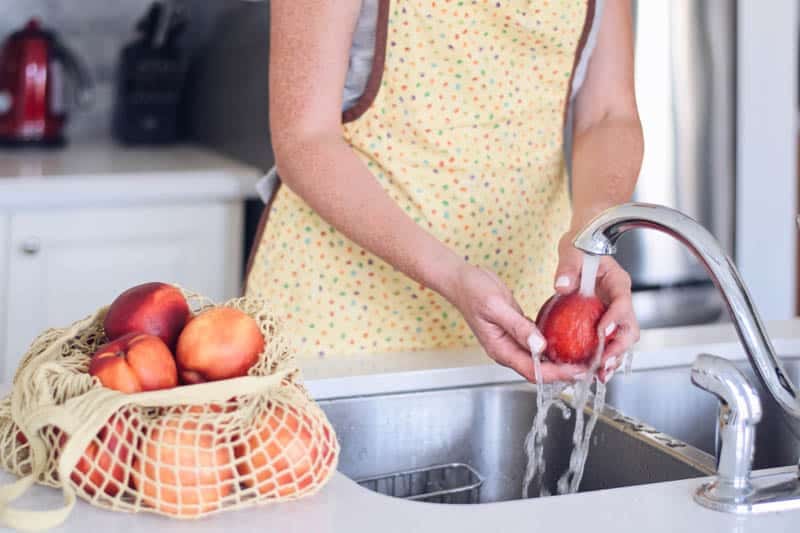 Buying Guide: How to Choose an Under-Sink Water Heater
When looking for an under-sink water heater, it's essential to consider several factors to ensure you choose the best product for your needs.
In this buying guide, we will discuss the features you should look for and some considerations to keep in mind.
Capacity and Size
One of the first things to consider is the capacity of the water heater. The capacity will determine how much hot water you can store at a given time.
Most under-sink water heaters range from 2 to 7 gallons, but you will need to assess your hot water needs to choose the appropriate size. Additionally, measure the available space under your sink to ensure the unit you select will fit properly.
Energy Efficiency
Energy efficiency is another crucial factor to consider. More efficient water heaters help save on your energy bills and reduce your carbon footprint.
Look for models with energy-saving features, such as efficient heat exchangers, improved insulation, and standby heat loss reduction.
Temperature Control
Accurate and precise temperature control is essential for both comfort and safety. Look for models with adjustable thermostats, which allow you to choose the precise water temperature according to your needs.
Some models also come with temperature and pressure relief valves, ensuring the safe operation of the water heater.
Installation and Maintenance
Under-sink water heaters should be easy to install and maintain. Make sure to select a model with straightforward installation instructions and readily available replacement parts.
The heater should also have a durable design with corrosion-resistant materials, ensuring longevity and reduced maintenance needs.
Warranty
Lastly, a good warranty is always a plus when purchasing any appliance. Make sure the manufacturer offers a solid warranty covering parts and labor for added peace of mind.
Remember to consider these factors to find the best under-sink water heater that suits your requirements and provides reliable performance.
Happy shopping!
Top Under Sink Water Heaters
Discover the best under-sink water heaters for your home. Explore the list below to find the perfect solution for your hot water needs.
This Bosch electric mini-tank water heater offers quick access to hot water, making it worth considering for your under-sink needs.
✅ Pros
Fast recovery rate
Easy installation with various mounting options
Long-lasting quality with premium glass-lined material
❌ Cons
Limited volume for prolonged use
Temperature control inconsistency
Warranty may not cover certain issues
The Bosch Electric Mini-Tank Water Heater is a convenient solution for under-sink hot water, as it boasts a fast recovery rate and has an easy installation process. You'll appreciate the time saved, with no need to wait for hot water when you need it. Plus, the heater can be shelf, wall, or floor-mounted, offering flexibility for your specific setup.
While the product is designed for long-lasting quality, utilizing premium glass-lined material, it has a couple of drawbacks. Its 2.5-gallon capacity might not be sufficient for prolonged use, making it more suitable for intermittent tasks like washing your hands or rinsing a few dishes. Additionally, the temperature control could be inconsistent, leading to varying hot water temperatures during use.
In conclusion, the Bosch Electric Mini-Tank Water Heater is a beneficial addition to your under-sink setup if you require instant hot water access and can work around its limitations. With easy installation and durable materials, it's worth considering for your hot water needs.
Upgrade your water heating solution with this efficient, space-saving Bosch under-sink tankless water heater.
✅ Pros
Efficient and compact design with 98% thermal efficiency
Flexible 360-degree installation for worry-free setup
Ideal size for light commercial applications
❌ Cons
Some users report issues with temperature control
Amperage requirement necessitates hard wiring
Possible reliability concerns due to user-reported issues
This Bosch under-sink tankless water heater is an excellent option if you're looking to replace your current water heating system with a more efficient, space-saving design. Its 98% thermal efficiency ensures minimal stand-by heat loss, making it an energy-saving choice for your home or business.
The flexible 360-degree installation allows you to position the unit in tight under-counter spaces, making it easy and worry-free to set up. The heater measures 6.6″ x 12.8″ x 2.9″, making it a perfect size for light commercial applications, such as shopping malls, airports, stadiums, and offices.
However, some users have reported issues with temperature control and reliability, so it's essential to keep that in mind before making the purchase. The amperage requirement also means that it will need to be hard-wired, which could be an inconvenience for some users.
Overall, the Bosch under-sink tankless water heater is an excellent choice if you're looking to upgrade your current water heating system to a more efficient, compact solution.
Its flexibility and size make it ideal for both residential and light commercial applications. Just be aware of potential issues with temperature control and reliability, but if these aren't a concern for you, then this water heater could be exactly what you need.
This compact and efficient under-sink water heater could be an excellent solution for your kitchen or bathroom sink's hot water needs.
✅ Pros
Efficient 3000W tankless design for instant hot water
Compact and space-saving installation
Easy and straightforward installation process
❌ Cons
Not suitable for bathing or high-volume needs
May require additional plumbing attachments
Safety concerns raised by some users
The NG NOPTEG Tankless Electric Mini Water Heater is designed for under-sink installation in kitchens, bars, or bathrooms. With a 3000W power output, it eliminates the need to wait for hot water as it heats the water instantly, helping you save time and energy. Its compact design allows for installation beneath the sink, freeing up valuable storage space.
Although it provides instant hot water, it is not suitable for bathing or other high-volume water needs. You might need to gather some additional plumbing attachments to complete the installation, as some users have reported difficulty in setting it up. Furthermore, some users have expressed concerns about potential safety issues, so it is crucial to adhere to the manufacturer's installation guidelines and ensure proper usage.
In conclusion, the NOPTEG Tankless Water Heater Electric Mini is a solid choice for those looking to add instant hot water capabilities to their kitchen or bathroom sinks. Its compact design and ease of use make it an attractive option.
The BISELONG Under Sink Water Heater is an excellent purchase if you need a compact, efficient, and easy-to-use water heater for your sink, bar, or RV.
✅ Pros
Stainless steel construction ensures durability and rust resistance
Smart inverter for energy-saving and automatic heat preservation
The fast recovery rate for on-demand hot water supply
❌ Cons
Some users experienced difficulty stopping under sink leaks
Not suitable for large hot water demands such as showers
Possible issues with temperature sensors requiring manual adjustments
The BISELONG Under Sink Water Heater is designed with both convenience and efficiency in mind. Its compact design makes it suitable for various spaces, including kitchens, bars, schools, hospitals, and even RVs. With stainless steel construction, it provides long-lasting durability, preventing rust and leakage issues.
One of the remarkable features of this water heater is its smart inverter that conserves energy while providing hot water right when you need it. The 2.5-gallon mini-tank fits perfectly under your sink, and the thermal efficiency is rated at 98%; ensuring that your hot water supply is both reliable and energy-efficient.
Despite its many benefits, there are a few shortcomings. Some users reported difficulties with stopping under-sink leaks, requiring some additional effort or material to resolve. The water heater might not meet the needs of those looking for a hot water source for larger demands such as showers. Lastly, there were reports of occasional issues with the temperature sensor, which required manual adjustments.
Overall, the BISELONG Under Sink Water Heater is an excellent choice if you require a compact, efficient, and easy-to-use solution for hot water needs at your sink. However, be prepared to tackle potential leaks and enjoy it mainly for smaller water demands.
This compact and efficient water heater is worth considering for those in need of instant hot water in small spaces like under sinks or tiny homes.
✅ Pros
Instant heating within 3 seconds
Multiple safety features
Easy installation
❌ Cons
Requires high-amperage electrical connection
Takes time to adjust to temperature control by flow
Limited applications (not suitable for winter showers)
The MENGXIANG 3000W Mini Water Heater provides an instant and efficient solution to your hot water needs in small spaces such as under sinks or in tiny homes. You'll appreciate its quick heating capabilities, as it delivers hot water within just 3 seconds. The heater comes with multiple safety features, ensuring a secure use with protection functions like water and electricity isolation, IPX4 waterproofing, leakage protection, and dry-burning protection.
Installing this mini water heater is quite simple, thanks to its compact design and standard 1/2 interface that connects to conventional household hose connectors. However, you should be aware of its power requirements: it needs a 27-32A plug and a circuit breaker greater than C32. Some users have found that adjusting to the water temperature control by flow takes some getting used to, but once mastered, it provides a comfortable and consistent temperature.
The MENGXIANG 3000W Mini Water Heater is designed for everyday tasks such as washing hands, face, dishes, and even clothes, making it suitable for a variety of applications.
FAQs about Under Sink Water Heaters
What are the pros and cons of under-sink water heaters?
Pros:
You will have faster hot water delivery, as the heater is located closer to the point of use, reducing the wait time for hot water.
They can be more energy-efficient, as they reduce the heat loss from long pipe runs.
Under-sink water heaters require less space compared to traditional tank-based heaters, providing more room under the sink area.
Cons:
These water heaters have a smaller capacity than traditional water heaters, and may not provide enough hot water for your entire household.
Installation costs can be higher, particularly if a new electrical circuit is needed.
They may need more frequent maintenance compared to traditional water heaters.
How do I choose between over-sink and under-sink water heaters?
Choosing between an over-sink and an under-sink water heater depends on your available space and preferences:
If you have limited space under your sink, you may want to consider an over-sink water heater.
Under-sink water heaters are more hidden, providing a cleaner and less cluttered appearance.
It's essential to evaluate your specific needs, available space and desired aesthetics when making your choice.
What is the average lifespan of an under-sink water heater?
The average lifespan of an under-sink water heater is approximately 10-15 years, depending on the brand and model, as well as the quality of installation, usage patterns, and maintenance provided.
Proper maintenance can help extend the lifespan of your under-sink water heater, ensuring that you get the most from your investment.
In Conclusion
Under-sink water heaters provide an energy-efficient and space-saving solution for instant hot water.
Key factors such as capacity, energy efficiency, temperature control, easy installation, and warranty aid in choosing the right unit. We hope that this guide will empower you to make an informed decision.

Hey there! I am
Benas
, the founder and content editor at Home Caprice. Thanks for reading the article. I hope you were able to find what you were looking for. I and my team are here to simplify heating and cooling for everyone. Please have a look at the
About page
for more details about our website and feel free to check out our
editorial process
.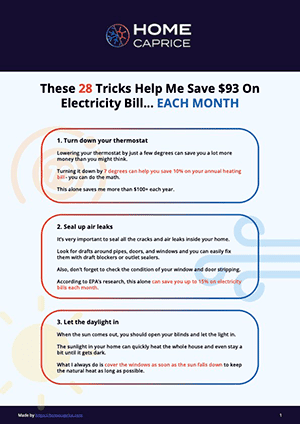 These 28 Tricks Help Me Save $93 On Electricity Bill... EACH MONTH
Download this FREE cheat sheet to find 28 tricks that can help you save on your electricity and heating bill each month.
Click here to get a FREE Cheat-Sheat