Who doesn't like summer?
Just the smell can bring a little happiness and best of all we get to spend more time outside with the family doing outdoorsy things.
The reality is these days however that it gets hot.
Hotter than before, and sadly that's a trend that isn't going to stop.
So while we are lounging around the house outside we are increasingly in need of something to help us cool down.
A popular choice to help us cool is wet-rated wall-mounted outdoor fans, and in this article, I will detail what I believe to be the best outdoor wall-mounted waterproof fans and why.
Why should I get a wet-rated fan?
Probably the first question you are asking is, why should I get a wet-rated fan? There are a couple of important reasons for this.
The first is somewhat logical, in that even though it's hot, sometimes it rains. If your outdoor wall-mounted fan is not wet-rated, then you can kiss it goodbye, not to mention the fact it is dangerous (you know, the water and electricity thing).
The second reason you would want to consider a wet-rated fan is because of the additional benefit of misting. It is common for outdoor fans to have misting capabilities.
This gives you even better cooling due to the fine mist providing an evaporative cooling effect and is certainly a feature you might want to consider depending on the environment you are setting up your fan.
How do I know if the wall-mounted fan is suitable for outdoors and the wet?
Good question, and be careful when you purchase as not all outdoor fans are suitable for wet locations!
When looking at the product description, keep an eye out for whether the fan is certified 'wet rated' 'dry rated' or "damp locations". This will determine how and where the fan is suitable to use.
There is a significant difference between the 3 and below I will explain the ratings and what they all mean.
Damp-rated, Ul Listed, dry-rated, wet-rated – What is the difference?
So, it is important to determine how wet you think your fan is likely to get. Will it get a little bit of moisture, or will it be getting soaking wet? This will determine which rating you should be looking for.
Wet-rated fans are the ones that are able to be used in wet conditions. Most likely if your fan has misting capabilities, it should be wet rated. Damp-rated wall-mounted fans can be used in areas that might have a little bit of moisture.
So think, of an indoor pool, bathroom, and anywhere with some condensation. These are not going to be suitable to be left outside in the rain. UL listing meanings are found here.
Here are some common ratings we came across and what they mean:
IP44 Water Resistance Rating – refers to the Ingress protection rating scale.
A rating of 44 means: "Water splashed against the enclosure from any direction shall have no harmful effect". You can see the complete categorization here.
UL 507 listed – which doesn't actually specify much around wetness as you can see in the certification here.  Some of the most popular mistings fans have this rating, but the manufacturer specifies it is also 'rated for use with misting and fogging rings'.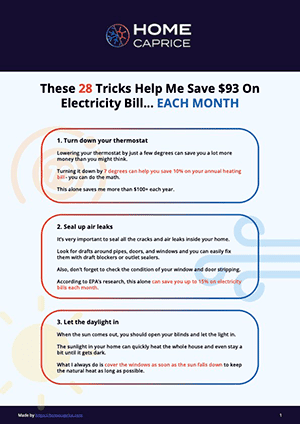 These 28 Tricks Help Me Save $93 On Electricity Bill... EACH MONTH
Download this FREE cheat sheet to find 28 tricks that can help you save on your electricity and heating bill each month.
Click here to get a FREE Cheat-Sheat
What to consider before buying?
CFM – refers to 'cubic feet per meter' and is basically a measurement of airflow output. Put simply, the higher the CFM, the higher the airflow output. Bear this in mind when you go to select an outdoor wall-mounted fan. If you need high output. Look at getting a high CFM fan, or even a (commercial grade) wet location wall mount fan. Please read on if you are after a commercial fan as we detail these below.
Warranty – In the age of planned obsolescence, I like to know that I'm covered for a good period of time when I purchase something. Especially if I am paying good money for something. I will always check the warranty. Most of the outdoor wall-mounted fans come with a 1 or 2-year warranty
Materials – If your fan is going to be used outside you want to ensure it is made from high quality, long-lasting materials.
Oscillating – Do you want your fan to oscillate? Be sure to check the specs on the fan, as not all outdoor wall-mounted wet-rated fans oscillate!
Misting – As mentioned above, having a misting feature on your fan adds another dimension to a wall-mounted fan's cooling ability. A number of fans do not have the ability to mist out of the box but with some models, you are able to purchase additional misting kits to go with your fan.
Remote control – If you are looking for outdoor wall-mounted oscillating fans with remote control and one that is also wet-rated, you might struggle. There are few if any that have that capability, usually being controlled by a pull chain or buttons on a cord, or the fan itself.
Best Wet Rated Wall Mounted Outdoor Fans
Our Pick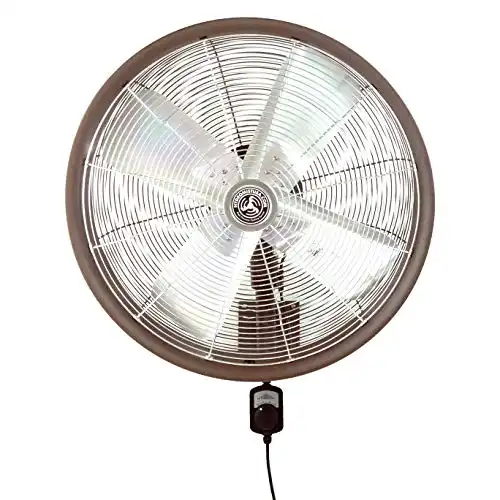 Top option for a non-commercial OSCILLATING fan
Good airflow
Choice of where the controls are (on a cord or on fan casing)
UL 507 wet-rated
Oscillating and tilting fan
Misting capabilities with 3rd party misting kits
5100 CFM
The Hydromist outdoor wall-mounted fan is a solid choice if you are looking for a wet-rated outdoor fan. The motor is encased and sealed, and the fan is UL 507-rated for outdoor use.
It comes with 3 speeds, but the neat thing is it has the option of where you want the controls to be when you purchase. So, if you intend to mount the fan high, you can choose to have the controls, on the cord, so it would be lower and easier to reach them. Alternatively, you can have them on the fan casing itself.
The Hydromist fan also oscillates and tilts, giving you a bit more control over where the airflow is directed, which not all wall mount fans give you.
This Hydromist fan does have the option to become a misting fan, but you would need to buy a third-party misting kit. Many have praised the airflow on this fan as being high, and with 5100 CFM on maximum setting, it does pack a good punch and it's definitely one of the best outdoor oscillating fan options that are wet-rated.
| ✅ Pros | ❌ Cons |
| --- | --- |
| Option to choose control location & Good airflow (5100CFM) | UL507 Wet rated for outdoor use and compatible with misting kits |
| UL507 wet-rated for outdoor use and compatible with misting kits | Not as powerful as other fans here |
| Oscillates & tilts | Have to purchase a misting kit |
| 18 & 24 Inch options |   |
Our Pick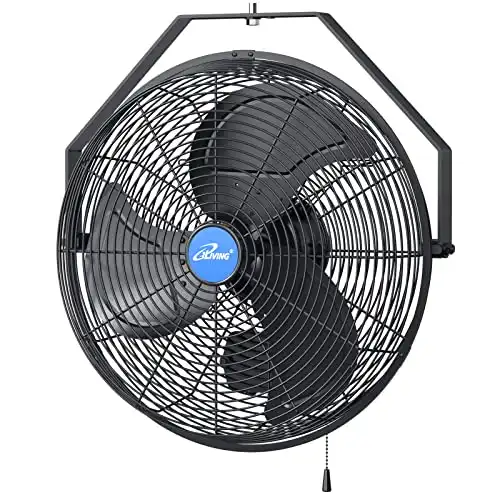 Proven High Performer with high airflow
Pull chain controls of the speeds
Proprietary Misting Kit (sold separately)
Higher CFM than the Hydromist
6360 CFM
The iLiving waterproof outdoor wall mount fan is one of the most popular wet-rated wall fans currently available. It comes with 3 speeds, has a sealed motor, comes in 18 and 24-inch sizes, and is wet-rated for outdoor use.
Now, it differs from the Hydromist fan in a few ways which are worth not, and a couple of those differences could be quite important, depending on the features you want in a fan. I will get to that difference further below.
The first difference is that rather than having the speed controls on the fan casing, or on the cord, like the Hydromist, the iLiving wall mount fan has its speed controls on a traditional pull chain.
Second, this fan has its own proprietary misting kit, which, however, you will still have to purchase separately.
At least you can feel comfortable knowing the misting kit should work seamlessly.
Now, probably the most important differences between the Hydromist fan and the iLiving fan comes with the CFM and the ability to oscillate.
The iLiving has a greater CFM which means it has a larger airflow output than the Hydromist, albeit only by a fairly small amount. But, the iLiving does not have an oscillation feature. This means your fan will always be blowing in one place. This may or may not mean a lot to you but it is one particularly important feature that differentiates the 2 fans.
Overall, this is one of the best outdoor waterproof fans out there, with excellent feedback from its buyers. It has solid features with great airflow and is an excellent choice for a wet-rated wall-mounted fan.
| ✅ Pros | ❌ Cons |
| --- | --- |
| UL507 Wet-rated for outdoor use | Does not oscillate |
| Excellent airflow (6360 CFM) and proprietary misting kits | Have to purchase a misting kit |
| 18 & 24 Inch options & tilts |   |
| The most popular fan on Amazon |   |
Our Pick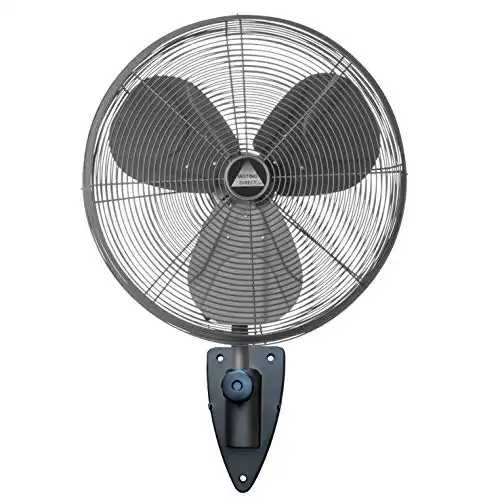 Commercial Grade Wall Wet Rated Mount Fan
Pull chain controls of the speeds
2-year warranty
Oscillating and tilting fan
9450 CFM – highest of these fans
UL 507 wet-rated
Misting capabilities with a proprietary misting kit (sold separately)
In many instances, you might just need the most powerful fan on the market, and in that case, you will want to look at a commercial-grade wall-mount fan.
Wet Location Fan w/Designer Wall Mount
Like the iLiving fan, the misting direct wet location fan comes with 3 speeds, has a sealed motor, and is wet-rated for outdoor use. It uses a pull chain and like both fans above, can be tilted to help direct the airflow.
So how is this fan different?
Primarily in its airflow output.
Being a commercial-grade fan, its airflow output is significantly higher than the iLiving and the Hydromist.
It has a CFM rating of 9450, compared to the 6360 of the iLiving and 5100 of the Hydromist.
So this fan means business.
The catch though, like all high CFM fans, is that you will end up with a far noisier fan, so if you are looking for a quiet outdoor oscillating fan, then the Hydromist is your better choice.
Speaking of oscillating, this commercial fan does have that feature, which gives you a few more options when it comes to your airflow direction.
So you will want to think about whether the extra noise will be an issue before you think about this industrial-strength, wet-rated, wall-mount fan.
The other benefit of this fan worth mentioning is the fact you get a 2-year (not your standard 1-year) warranty when you purchase this fan.

Hey there! I am
Benas
, the founder and content editor at Home Caprice. Thanks for reading the article. I hope you were able to find what you were looking for. I and my team are here to simplify heating and cooling for everyone. Please have a look at the
About page
for more details about our website and feel free to check out our
editorial process
.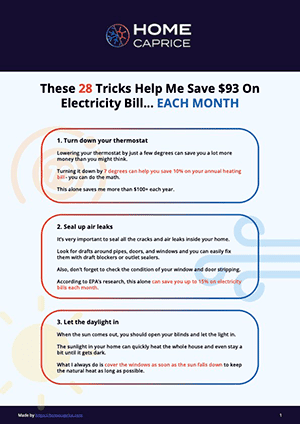 These 28 Tricks Help Me Save $93 On Electricity Bill... EACH MONTH
Download this FREE cheat sheet to find 28 tricks that can help you save on your electricity and heating bill each month.
Click here to get a FREE Cheat-Sheat