Heat Storm is well known for building above-class heaters; its quality speaks for itself.
Although they have many different models, I want to talk more in-depth about the 1500 PHX model with Wi-Fi technology that will change how you look at standard heaters.
You will learn more about this heater's hidden functions and "unfair" advantages – so pay close attention to the next section.
5 Main Reasons Why You Will Love Heat Storm HS-1500-PHX Heater
There's a saying, "Good word spreads fast," which couldn't be more accurate with this model.
I'm kind of suspicious, so before I bought this model, I've done a ton of research – and I mean a ton of it.
After using it for 15 months now, I can say that I'm very happy and satisfied with my decision.
It's time to assist you now.
I came up with five main reasons why you will love this model and why you should choose exactly this one.
1. Wi-Fi technology
Laying on your couch and watching TV while controlling the heater over your phone doesn't seem bad, right?
Well, I'm here to tell you that this advanced function will make your life much easier.
Besides standing now and then to switch the temperature, this heater won't just make it easier for you but will also make it much more interesting to maintain your heater.
You can connect the app to Alexa and control your heater by talking. Yup, I'm doing it all the time.
📍 Tip: Ensure you have a backup remote if Wi-Fi stops working.
2. Space and pet friendly
The fact that this is a wall-mounted heater saves you a ton of space on the floor. This is perfect for bedrooms and kitchens, as heaters usually occupy much space.
Not only does it save you a bunch of space, but it protects your pets and kids.
It doesn't have grills like other heaters, and as it is mounted on the wall – the chances of pets and kids hurting themselves are drastically less.
3. Very efficient
I've probably changed at least 15 heaters in the past couple of years, and there isn't any heater that's close to this one regarding efficiency.
The patented HMS dual-wall technology heats the room quickly while saving energy.
This technology is a game-changer, and I can see other brands implementing it in the following years.
Interestingly, these units run off a thermostat, resulting in monthly lower electricity bills – I can't argue.
📚 Recommended Reading: most energy-efficient space heaters on the market
4. Covers up a large area
You won't be disappointed if you have a garage or basement that you want to heat quickly.
The biggest problem with heaters nowadays is that they can't heat and maintain it in a bigger room.
I don't say it can heat a 1,000+ sq. ft. warehouse, but it can do its job inside a 400 sq. ft. room – pretty good for a garage heater.
Now, if you're looking for alternatives to this Wi-Fi space heater, I can recommend a few.
5. Two power settings
Unlike propane heaters, this heater has a red-leaf and green-leaf technology.
Depending on your ambient and set temperature, the heater automatically recognizes which mode to use.
In other words, red lead is full power, while the green leaf is half power.
What You Might Not Like About This Heater
This heater is a great choice, but I must mention two things I don't like about it.
1. It's not portable
You can't move it to another room whenever you want. It's wall-mounted, so you must buy a couple to cover every room in your house.
In the areas where it isn't too cold, it's wiser to buy a portable heater as it's a more brilliant choice (check a few alternatives below)
2. A bit noisy
This model is powerful, but I noticed it produces more noise than other heaters I had in the past. It might be because I've installed it in my bedroom.
It's not like you will lose sleep because of it, but it might bother you if you don't like any noise.
If you plan to install it in your garage or basement – you don't have to worry about it.
Updated Features Of Heat Storm Heater
If you want to hear more about this wifi enabled space heater, you should watch the short YouTube video we made about this heater.
Also, if you want to see how to install this heater, check this video.
Other Heat Storm Heaters You Might Like
This heater has a remote control, so you can still control everything from the comfort of your chair.
The remarkable feature is that the heater goes to "dark mode" after just 5 minutes of no activity – this tells you how efficient it is.
It's very easy to install, and you don't need to hire a professional to do the job for you.
It's impressive how strong this smart space heater is.
Although it looks small, it can quickly heat up to 900 sq. ft. without even having any adjustable fan speeds.
It has two performance modes – full and eco. Eco mode is the "efficient mode" and consumes less energy.
What I love most about this heater is the modern, classy design that fits any household.
You shouldn't use this heater in the bathroom because of the moisture, which will hurt the longevity of the wood.
The good thing is that it has a remote controller, so you won't need to stand every hour to switch temperatures.
First of all, I must say that I wouldn't recommend installing this heater in your house or room because of its looks.
It's perfect for a garage or basement. 
It doesn't have an LED thermostat, so you don't know how much the temperature dropped. It isn't as strong as the other heaters I mentioned, and it would take a decent garage at least 40 minutes to heat up fully.
Maybe you're an avid woodworker like myself, so you will find this heater helpful. 😊
I'd still recommend using the Wi-Fi heater, but these alternatives are also good.
You can check out some of our other heating articles and let your friends know a thing or two about buying the right choice!

Hey there! I am
Benas
, the founder and content editor at Home Caprice. Thanks for reading the article. I hope you were able to find what you were looking for. I and my team are here to simplify heating and cooling for everyone. Please have a look at the
About page
for more details about our website and feel free to check out our
editorial process
.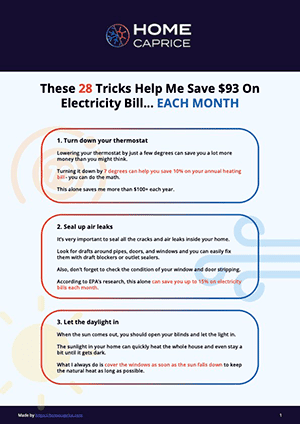 These 28 Tricks Help Me Save $93 On Electricity Bill... EACH MONTH
Download this FREE cheat sheet to find 28 tricks that can help you save on your electricity and heating bill each month.
Click here to get a FREE Cheat-Sheat