One of the common issues with window air conditioner units is leaking and dripping water. 
If you have the same issue, don't worry – you're certainly not the only one.
You'll learn some of the most common reasons why your window AC is leaking water and how serious of an issue it is.
P.S. Once you identify the issue, check out these 2 articles below to see how to fix your leaking AC
And now, let's get straight into it!
6 Most Common Reasons Why Your Window Air Conditioner Is Leaking Water
1. Clogged Condensation Drain
One of the most common reasons behind dripping water is blocked or clogged condensation pipes.
If this line gets clogged up with dust, mold, or dirt, water will have to back up and start dripping.
The good side of smart air conditioners is that they can automatically shut off if they detect overflow, so if you have an older unit, you're at higher risk of having this issue.
2. Dirty air filters
You'd be surprised how often this issue is. I would say every fourth air conditioner has dirty air filters.
It blocks airflow over the evaporator coil which can get too cold and freeze in lower temperatures. Because of that, once the ice starts melting, it will drip water into the pan and overflood it.
It's easy to maintain them, so simply check your air filters at least every 90 days.
Here's a helpful guide to fully clean your window AC without removing it.
3. Damaged Condensate Pan
This is usually the case with older air conditioner models because the drain pan collects rust and leaks water through the pan.
You can quickly check it under the AC unit and inspect it further for corrosion or any possible leaks.
4. Low refrigerants
A lot of people don't know this, but this has a huge impact on the pressure of the unit and it can cause evaporator coils to freeze during lower temperatures.
Same as with dirty air filters, the coils get frozen and once they start melting, the water overflows the drain pan.
The biggest issue with this is that in most cases you might need to replace your entire unit – it all depends on how low refrigerant levels are.
5. Broken condensate pump
If you have your air conditioner installed in the basement, you will have an additional condensate pump that provides the water for the outside area.
The pump might be damaged (or even faulty installed) which causes water to leak in your unit.
In my opinion, you shouldn't try to repair it on your own as this issue requires experienced technicians.
6. Faulty installation
It's very similar to a broken condensate pump, but if you noticed water leaking in the first few months of your new AC unit – it's probably installed improperly.
The good side is that most AC units have a warranty and you can call a technician to re-install the unit without any extra costs. Or you can fill in the form here to get offers from your local contractors.
Also, it might be that your air conditioner is "out of battery" and you can easily recharge any window air conditioner.
Understanding Window Air Conditioning Systems
Window air conditioners are different from other units and they can fit in almost any window – sliders, double-hung windows, normal windows, etc.
A lot of people only know that air conditioners work by blowing cold air into your home and exhausting warm air outside of your home.
Window AC units are very unique, but they all work by the same (or similar) principle.
Beneath the cover of each window AC, you'll find a blower and fan on the inside of the unit.
On the opposite side, there's a compressor that exhausts the warm air from your home.
Most units have a drip pan or drain which has the job to deal with excess water or overflowing. 
As I said earlier, there are tons of different models that have sling rings.
The name says it all, they sling the water on the coil instead of letting it drip back into the system.
It's always a smart idea to read your user manual to know the type of your model before finding the exact issue of your unit.
Hey there! I am Benas, the founder of Home Caprice. Thanks for reading the article, I hope you were able to find what you were looking for. Me together with my team, are here to simplify heating and cooling for everyone. If you want more details about the website and our team, please check the
about
page.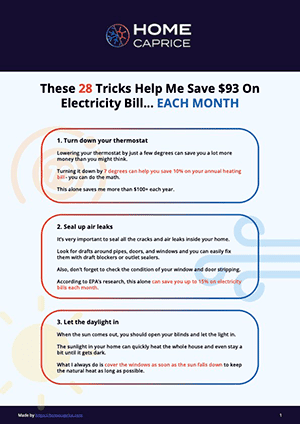 These 28 Tricks Help Me Save $93 On Electricity Bill... EACH MONTH
Download this FREE cheat sheet to find 28 tricks that can help you save on your electricity and heating bill each month.
Click here to get a FREE Cheat-Sheat