If you're the type of person that loves advanced functions (like me), you would be a fan of so-called smart air conditioners.
The reason they're smart is that they have Wi-Fi and some of them can even be integrated with Alexa – cool, right?
As I'm a huge lover of these ACs, I'll recommend a few of them that will surprise you with their functions and performance.
Now, let's dive a little deeper and answer the questions that I see a lot of people asking.
Do I need Wi-Fi on my AC?
I would recommend a smart air conditioner to everyone – especially if you're looking for a better user experience.
Here's why I think ACs with Wi-Fi are better than usual ones:
Convenient – You'll find it a lot easier to manage your AC when it has Wi-Fi and a mobile app you can control it from.
Energy-Efficiency – As you can set up the time you want it to turn on/off, you will spend less energy due to its smart system.
Compatibility – Some of the smart air conditioners can be integrated with Alexa and Google Assistant, so you can control them with your voice.
Advanced Options – With Wi-Fi and a Mobile App, you'll have a lot more advanced options that you can use.
Comfort – How does turning on the cooling an hour before you come home from work sound to you?
Recommended Smart Air Conditioners For Your Home
Smart function: Control over a smartphone, Wi-Fi
Cooling Area: 250 sq. ft.
BTU: 5,800
EER: 11.2
I can say only good stuff about the Kühl series, and it's the same with this smart air conditioner.
Besides all the advanced functions it has, you'll absolutely love how it's quiet and still has the ability to cool a room fast.
Also, it's important to mention that this smart AC is very easy to install, so you shouldn't expect high costs for the installation part.
📍 Note: Before buying it, you should know that this AC can only cool, so don't expect heat from it.
Smart function: Works with Alexa, Mobile App
Cooling Area: 350 sq. ft.
BTU: 8,000
EER: 12
What I love about this Frigidaire Smart Window Air Conditioner is that it comes with a mobile app from which you can control your air conditioner.
Also, what stands out the most is that it works well with Alexa – so you can control your AC with just your voice.
However, I've read some of the complaints about their mobile app and that their Wi-Fi isn't good as it was before. Besides that, I think this is a good smart air conditioner.
Smart function: Easy integration with Alexa, Mobile App
Cooling Area: 550 sq. ft.
BTU: 12,000
EER: 12
Kenmore Smart Air Conditioner comes with an app on your phone or tablet from which you can control your AC. You wouldn't believe how easy it is to integrate this AC with Alexa and control it with your voice.
Also, this is a pretty quiet air conditioner, so you won't expect any loud noise from it.
It even has an energy star advantage, it costs only $70 per year (on average) to run this air conditioner.
Smart function: SmartThinQ Technology, Auto-Cool
Cooling Area: 800 sq. ft.
BTU: 14,000
EER: 11.3
All LG's air conditioners are more than great and this one is a "real deal."
Besides having SmartThinQ technology which makes it compatible with Google Assistant and Alexa, it's very energy efficient and quiet.
It's 25% more energy efficient than the minimum Energystar requirement and it's amazing how it remains quiet considering the size of the area it can cool.
This is the perfect choice if you're looking to cool a very large room while keeping noise levels as low as possible.
Smart function: JHS Smart App
Cooling Area: 300 sq. ft.
BTU: 10,000
EER: –
This smart JHS air conditioner comes with its own app from which you can adjust the time when you want to turn it on/off. The great thing about it is that you can adjust it a few hours before you come home from work so that you feel comfortable when you arrive home.
What makes it even better is that the installation couldn't get easier. It takes only 5-10 minutes for the installation and even if you get stuck – you can contact their support team.
Also, it's portable to move, so you can move it from one room to another.
Smart function: Smart App
Cooling Area: 550 sq. ft.
BTU: 12,000
EER: 12
As with most of the smart ACs, this one comes with a Frigidaire smart app from which you can control your air conditioner.
If you have a bigger room and want a portable and smart air conditioner, this is a good choice.
What you need to know about it is that it has 3 fan speeds which make cooling a lot faster.
This air conditioner isn't EnergyStar certified, so I can't guarantee its energy efficiency.
Also, you can sleep well at night as it's very quiet.
Compatible AC Options
This Ambi Climate air conditioner controller is something you should consider getting if you want to have even better functions and combine it with Alexa or Google Assistant.
You need to know that Ambi Climate is only compatible with remotes that have an LCD screen, so if you don't have one – you won't see the true benefits of this controller.
What makes it even safer for you is that it comes with a 2-year warranty, so you won't need to worry about durability.
With Sensibo you can make your air conditioner smart because then it can be integrated with Alexa.
What I really love at Sensibo is how it has the option to automatically turn on/off your AC based on your location. So, if you're coming home from work and you're 30 minutes away – it can automatically turn on cooling so you feel comfortable when you arrive.
With Sensibo and its options, you can save up to 40% on energy costs each month.
Different Types of Smart AC Units
Window
This type of air conditioner is the one that's laying on your window frame. It's very easy to install window smart air conditioners, but you want to get it done right to remove the warm air from the home and retain the cool air inside of the home.
The only downside of this type is that it can hurt the security of your home.
📍 Note: we have a full article dedicated to the quietest window ACs.
Portable
Without any doubt, portable air conditioners are my favorite ones because they're so convenient and easy to use. You just have to move them into a room and plug them in to start working.
They might not be durable like the other ones, but they don't require any installation and you can move them around to cool different rooms in your home.
📍 Note: check out our list of best portable ACs here.
Wall Mounted
This is probably the most popular type of smart air conditioner, especially in Europe.
Wall-mounted air conditioners are recommended for smaller rooms as they usually don't have a lot of power. I have this type of AC in my bedroom and it cools my room pretty fast, but I wouldn't recommend it for bigger areas.
Mini Split System
With mini-split smart air conditioners, you can expect amazing cooling and heating, but the installation process is a bit harder than the other types of ACs.
📍 Note: our article on the best mini-split AC.
Things You Should Look For In A Smart AC
Control Functions
This is something very important you should look for in your smart air conditioner.
Most of smart air conditioners come with the Mobile App that you can use on the WiFi to control your AC, but more advanced ones – they can be integrated with various smart assistants such as from Amazon or Google.
Try to find the one that's even smarter and has some advanced functions like automating the turn on/off time.
📍 TIP: It's better if you choose the smart AC that can be easily integrated with Alexa
Cooling Area
It's not the same if you want to cool the 200sq.ft. room and if you're looking to cool a 700sq.ft. room.
I see many people trying to save money buying the ACs that can cool a smaller area than they need and they end up regretting it after a few weeks.
Carefully choose the smart air conditioner that fits your room size.
British Thermal Units (BTU)
The British Thermal Unit (BTU) is defined as the amount of heat that's required for one pound of water to raise its temperature. BTU is also a traditional unit of energy.
One BTU is about 1,055 joules. Besides electricity (heating), BTUs are also used in natural gas and diesel fuel.
As you already saw, the power (electricity) of air conditioners is expressed in BTU.
Energy Efficiency (EER Rating)
EER Rating is one of the most important things you should look out for in your smart air conditioner. 
Sure, you can find great AC, but what if a huge electricity bill follows it each month?
You don't want to overpay for electricity, so that's why you should watch out for EER. The higher EER is, it means that your smart AC is energy efficient which results in lower electricity bills.
Noise Levels (dBa)
If you love a good night's sleep (who doesn't?), then you know how noise levels are important for you.
I saw a lot of great smart air conditioners with great functions, but when it comes to noise levels – they fail.
Even if the smart AC is a bit loud, you need to know that under stress, it will be even louder.
My recommendation is to look for ACs that have less than 60 dB.
Size & Weight
Size and weight have a lot to do with the power and coverage area of smart air conditioners.
You can't expect a smaller air conditioner to cover up a 600sq.ft. room. The same is with the weight of it.
The only time you shouldn't look for size and weight is for Portable AC. Believe me, you don't want to break your back moving it from one room to another.
Voltage
The most common voltage ratings are 115, 125, and 220.
More powerful (more BTUs) air conditioners will require 220 volts.
However, you shouldn't worry about voltage a lot as these ACs already have the right voltage.
Heating & Dehumidification Options
If you don't like having moisture in your home, you'll definitely want an air conditioner that has a dehumidifier option.
So, if you live in an area that's hot for most of the year – you'll want to deal with humidity.
The ideal humidity level is between 30% and 60% – make sure to not go below or above it.
Warranty
Warranty is also super important, especially for Portable smart air conditioners which are known to have less durability than the other types.
You want to get a smart air conditioner that offers at least a 2-year long warranty. I saw some ACs offering even a lifetime warranty.
📍 TIP: Never buy a smart AC that doesn't come with at least a 12-month warranty.

Hey there! I am
Benas
, the founder and content editor at Home Caprice. Thanks for reading the article. I hope you were able to find what you were looking for. I and my team are here to simplify heating and cooling for everyone. Please have a look at the
About page
for more details about our website and feel free to check out our
editorial process
.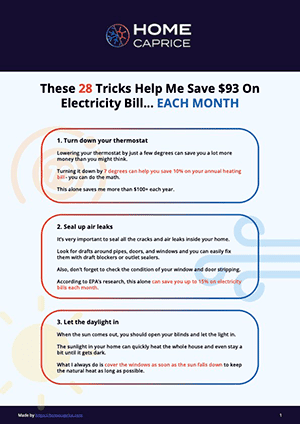 These 28 Tricks Help Me Save $93 On Electricity Bill... EACH MONTH
Download this FREE cheat sheet to find 28 tricks that can help you save on your electricity and heating bill each month.
Click here to get a FREE Cheat-Sheat