While bathroom exhaust fans are great, a combination of an exhaust fan, a heater, and light is even better.
Bathroom exhaust fans with heating options became very popular in the past few years, and it's no wonder – they prevent moisture from building up and damaging your walls, while at the same time it heats the whole bathroom quickly.
I have to admit, choosing the best bathroom exhaust fan can be a tricky job – I've made some purchases I regret to this day.
Luckily for you, I've tested and used dozens of different bathroom exhaust fans with heaters, so let's first talk about the things you have to consider before making a purchase.
Factors To Consider before making a purchase
Bathroom size – Carefully choose a heater with a fan that's suitable for your bathroom. If you have a larger bathroom, you'll need a more powerful heater.
Motor – Electric motors are reliable and durable and they decide how energy-efficient your unit will be.
Noise – Exhaust fans can produce irritating sound, so always look for heaters (and fans) that have a noise rating below 50 dBa.
Installation – Some heaters with exhaust fans have more complicated installation, so you might need to spare some money for a professional to install it.
Style – If you have a smaller bathroom, you might want a smaller-designed heater to not stand out so much – my wife told me to mention this 😊
Best 7 Bathroom Exhaust Fans With Heater Combo
This is currently the best bathroom exhaust fan with a heater on the market.
Panasonic is a well-known brand and they've put a lot of effort into their WhisperWarm technology that's suitable for any bathroom.
It has a 1600W coefficient heater that ensures fast heating and you'll only have to turn on the heater 5 minutes before going into the shower.
What I love about this model is that it has the simplest installation because of the Flex-Z bracket. Even if you don't have a lot of experience, you can still do the installation by yourself.
It's very quiet and they even have a pick-a-flow that lets you choose between different CFM power.
This is a very powerful exhaust fan combo that's mostly suitable for larger bathrooms.
The great thing is that you can still buy the less-powerful model even if you have a smaller bathroom.
What I also love about this exhaust fan is the design – it looks very modern and LED light really improves the overall design.
Not only that you can use LED light whenever you want, but you can also choose between 3 different light settings.
Because of the power of this exhaust fan, it's a bit louder than you might expect.
This model has a bit different design than any other exhaust fan on the market.
It's very stylish and because of the light, you would never guess it's actually an exhaust fan with a heating option.
The installation is pretty straightforward and you get everything explained in the user manual – no need for the extra cost of hiring an electrician.
You can choose between 2 different light settings: daylight and nightlight.
It has a 1500-watt heating element and a 70-CFM ventilation fan, so you won't be disappointed with the performance.
If you're low on budget and looking to get an exhaust fan with a heater combo – this model is for you.
Although the exhaust fan is pretty solid, the heating option isn't very powerful, so don't expect fast heating.
The heater is only 250-watt – 5x less than the average heating power.
The installation is pretty simple and the lightning is solid as well.
In my opinion, you should buy this model if you don't need heating options that much, or if you're simply on a very tight budget.
It's amazing how quiet this exhaust fan really is.
Although it has 70 CFM air volume which is very decent, you won't hear it running – even if you leave it turned on for a whole day.
Unlike any other model, it has 2 lighting bulbs that provide great lighting. The only bad thing is that it can be a bit "too much" at night, so I recommend buying bulbs suitable for nighttime.
It requires separate installation of both heater and fan – so you should seek professional help.
This Broan-NuTone model is one of the best-rated exhaust fans on the market.
It's very powerful with a 120-watt heating option, but you can choose the 60-watt option if you have a smaller bathroom.
The exhaust fan is pretty powerful as well with a 110CFM rating.
What surprised me about this fan is that it's very quiet considering the power – only 0.9 sones.
It's suitable for use in insulated ceilings, so the safety of this model is guaranteed. The installation is a bit tricky, so my advice is to hire an electrician to do it properly.
What's interesting about this Delta model is that you have the option to choose between LED and CFL light.
My advice is to go with LED lights because the lighting looks more modern and it's more suitable for the bathroom.
It can run for 70,000 hours continuously, so you won't have to worry if it'll stops working suddenly.
This is a classic heater as it was one of the first heaters with exhaust fans that appeared on the market.
One thing worth mentioning is that installation is pretty complicated, so you'll most likely have to hire an electrician to do it for you.
What Is A Bathroom Exhaust Fan With Heater?
A bathroom exhaust fan with a heater is a combination of both fan and the heater that removes moisture and odor from your bathroom while heating it at the same time.
The biggest advantage of this combo over the regular bathroom heater is that it doesn't allow moisture to build up and damage your walls and ceiling.
What you'll love about this combo is that it uses infrared rays to heat the objects instead of air – this makes heating a lot faster.
Benefits Of A Bathroom Fan Heater
Removes moisture
The exhaust fan prevents any moisture from building up and possibly damaging your walls or ceiling.
A great thing is that you won't have to hire people to do the cleaning for you.
Instant heating
This combo has very fast heating because the fan isn't connected to the main vent – it takes about 5 minutes for you to heat the whole bathroom.
With the right power for your bathroom size – you won't have to heat the bathroom before hitting the shower.
Saves you money
Instead of buying and installing a fan separately from your heater, you can have both with this awesome combination.
Not only it saves you money upfront, but it also saves you money on electricity bills as you don't have to turn on your main heating source to heat up the bathroom.
You should check out other energy-efficient space heaters.
No more steamy bathroom
When you're taking those long showers just to warm yourself – the bathroom is steamy for at least the next 15 minutes.
If you don't live alone, this can be a problem for other households as nobody likes a steamy bathroom – especially if you need to use the bathroom besides showering.
Talking about the fans, you should check out wood stove fans if you already have a wood stove inside of your home.
What Is The Cost to Install A Bath Fan With a Heater?
Hiring a professional electrician to do the installation for you is always recommended. Get a free quote here.
More powerful heaters need a dedicated circuit to handle the power of the heater – this is something you always want to leave for a professional.
An average installation takes around 1 hour – so check out what's the hourly rate of your electrician and that's most likely your cost.
Most electricians charge from $50 to $100 per hour but assume that some models require a little bit longer installation than one hour.
Hey there! I am Benas, the founder of Home Caprice. Thanks for reading the article, I hope you were able to find what you were looking for. Me together with my team, are here to simplify heating and cooling for everyone. If you want more details about the website and our team, please check the
about
page.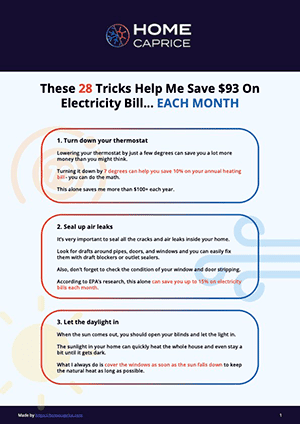 These 28 Tricks Help Me Save $93 On Electricity Bill... EACH MONTH
Download this FREE cheat sheet to find 28 tricks that can help you save on your electricity and heating bill each month.
Click here to get a FREE Cheat-Sheat