The biggest problem with stoves is that they don't equally heat your home and rooms. The warm air goes into the air instead of going through other parts of the house.
It's amazing how helpful fans can be in circulating the warm air through your home.
However, most of the fans aren't reliable and you need to carefully choose which one to buy.
I'll list a couple of wood stove fans you won't regret buying, but let's first talk about some things you should consider before making the purchase.
7 Things to Consider Before Buying A Wood Stove Fan
CFM – If you have a more powerful stove that heats a bigger part of your home, then you should definitely look for a fan with a higher CFM.
Design – It might be that you want a fan that fits your whole household design, so it's a good idea to pay attention to the design.
Number of Blades – In most cases, if the fan has more blades it is stronger (not always). The best option is to get a fan with dual twin blades.
Noise Level – If you're the type that loves to sleep in the living room (like myself), you should always check the noise levels of the fan as you don't want it to interrupt your sleep.
Temperature Capacity – Sometimes the stove is too powerful and it reaches a certain temperature that the fan can't handle. So, always aim for fans that can at least hold 570°F (300°C).
Dimensions – The biggest mistake you can do is to buy a fan that can't fit properly on the stove's surface. If you have a smaller stove this might be a problem.
Portability – Although all the fans are portable, some of them have a cold ring that helps you move the fan without waiting for it to cool down.
Recommended Wood Stove Fans
CFM: 240
Number of Blades: 4
Dimensions: 8.27 x 4.72 x 8.27 inches; 2.56 Pounds
Our Pick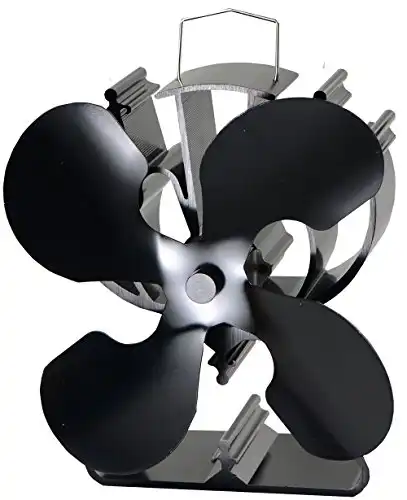 The word that describes this amazing fan is quality.
In my opinion, this heat-powered stove fan is all you need to move the warm air from your stove to the rest of your home.
It doesn't require any electricity to run and the whisper-quiet technology makes it comfortable for any home.
I have to give props for the design as well as it has that modern "smooth" look.
CFM: 190
Number of blades: 2
Dimensions: 9.4 x 4.0 x 3.0 inches
Our Pick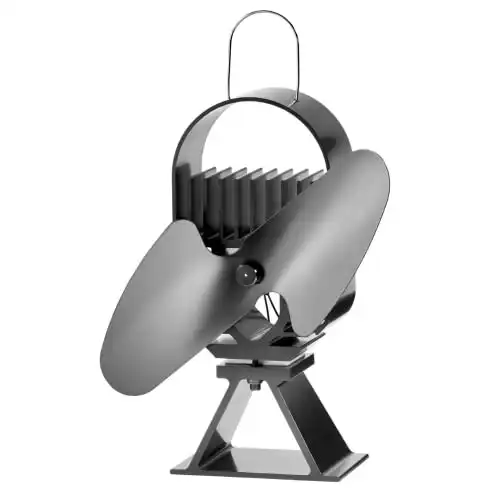 This is a Canadian-made fan, so it has been tested in areas where winters are crucial.
It's amazing how powerful this stove fan actually is – it feels like you've bought another wood stove and installed it right beside the old one.
When I noticed how efficiently it can distribute heat throughout the house, I thought it had 8 blades.
What I really like about it is that it doesn't produce any noise at all. Most powerful wood stove fans have a "buzzing" sound, but this one is an exception.
Working temperature is from 158°F to 650°F (70°C – 345°C), so you won't ever have to worry if the fan will overheat.
It has a lower start temperature which prevents the built-in handle from getting hot easily. Even when it gets hot, the cool-down time is pretty fast, so you can move it wherever you want.
We also have a full in-depth review of this Ecofan AirDeco wood stove fan.
CFM: 160
Number of Blades: 3
Dimensions: 8.7 x 6.7 x 3.6 inches
Our Pick
If you're on a budget and looking for a fan that will spread the heat throughout your home decently – Tomersun's 3-blade fan is a perfect choice.
It can even be compared with bigger and more expensive stove fans due to its strength.
What I love about it is a bi-metallic safety device that moves the fan to protect the motor if the surface (stove) temperature rises above 570°F (300°C).
Still, I would recommend this fan only for smaller stoves to heat smaller rooms. It won't perform that well in a bigger area.
CFM: 270
Number of Blades: 6
Dimensions: 12.5 X 3.9 X 7 Inches
Our Pick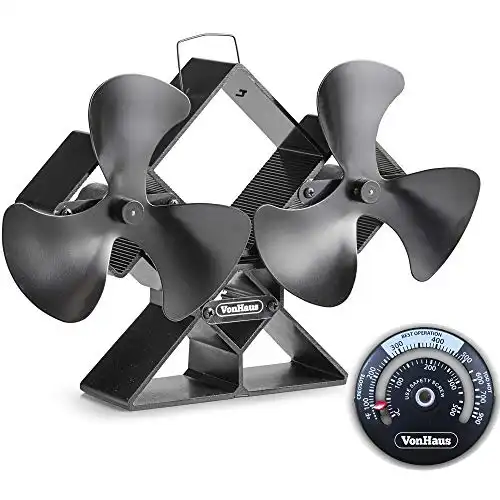 What's interesting about this model is the twin 3-blade fans which are a perfect idea to stand out among other manufacturers.
It has a sharp design with black aluminum construction.
I'm not the biggest supporter of this fan as it isn't strong enough for my needs and I'm not sure if there's any warranty.
All in all – it's a decent fan that might fit your needs.
CFM: –
Number of Blades: 8
Dimensions: 8.9 X 6.1 X 5.4 inches
Our Pick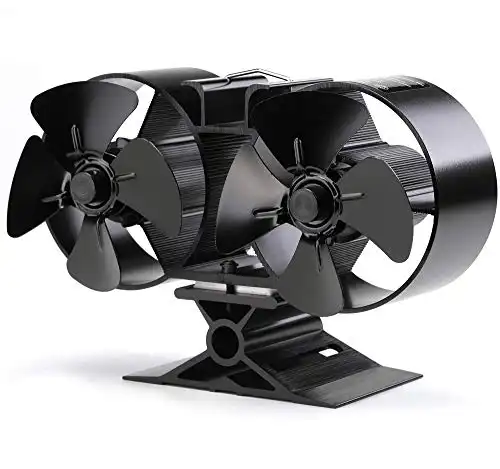 If you need a fan for a bigger room, this model will transfer the heat to all the parts of your home without any problem.
It circulates 50% more heat through your home than a standard 4-blade fan – that tells you enough about its power.
Although it's powerful, it's ultra-quiet and you won't hear it running. You could even put it in a library 😊
It's very durable and you can use it on fireplaces, pellet stoves it fits perfectly on this Mr. Heater portable heater.
📍 Note: Don't put it in front of a chimney pipe as you will reduce the performance
CFM: 120
Number of Blades: 4
Dimensions: 6 x 3 x 7 inches
Our Pick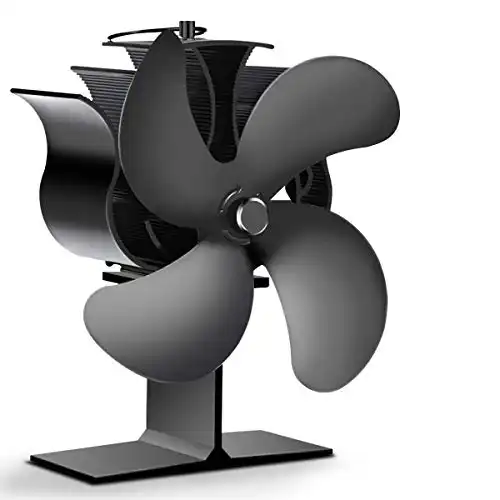 This model is made especially for coal and wood stoves and I wouldn't recommend you using it for fireplaces.
The working noise is less than 30dB which makes it even more impressive.
If you have two rooms, this would be a perfect choice as it's easily portable because of the cool ring handle.
You can use this fan in bigger rooms and it will still make the room 10 degrees warmer.
It's made from resistant anodized aluminum and it can handle surface temperatures up to 650°F (345°C).
CFM: 125
Number of Blades: 4
Dimensions: 7.44 x 2.95 x 7.28 inches
Our Pick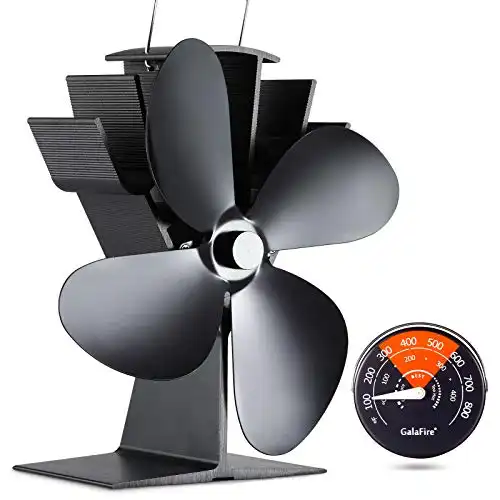 The design behind this model is just phenomenal – it has a modern "sharp" look.
It comes with a free stove thermometer, so you can measure the temperature of the stove's surface.
Don't expect superpower as this fan won't blow you away, nor blow the warm air through your home in a few minutes.
This fan would fit more just to maximize the overall design of your home – the same how gas fireplace inserts improve the home's design.
CFM: 350
Number of Blades: 5
Dimensions: 8.5 x 7.05 x 4.49 inches
Our Pick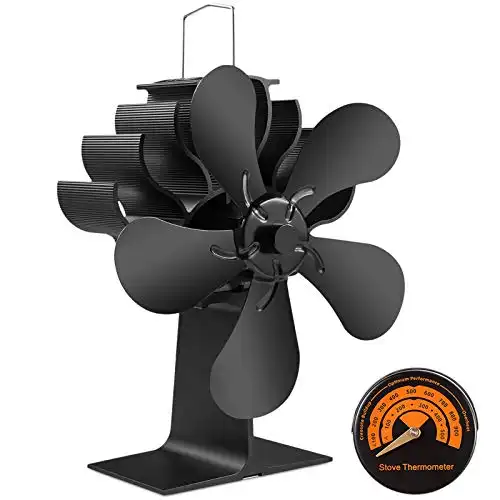 If you're someone who puts safety always in the first place, this fan is made for you.
It has a built-in bimetallic strip on the base which prevents overheating by raising the fan when it reaches a certain temperature coming from the stove.
This cool feature is something every fan should have.
The only downside is that it isn't as strong enough as I would like it to be. It can't move warm air quickly and it wouldn't perform the best in the bigger room.
CFM: 175
Number of Blades: 2
Dimensions: 3.3 x 5.5 x 10 inches
Our Pick
This is also a Canadian-made fan. It's actually a previous version of the second wood stove fan on our list (Ecofan AirDeco II). If this wood stove is on sale, then you can get a great deal on price and quality with this one.
Don't be tricked by its two fan blades as it's stronger than most 6-blade fans. It's made from aluminum alloy which tells you enough about its quality.
It surprised me how quiet this fan is because I expected it to be much louder.
It heats the whole room in no time.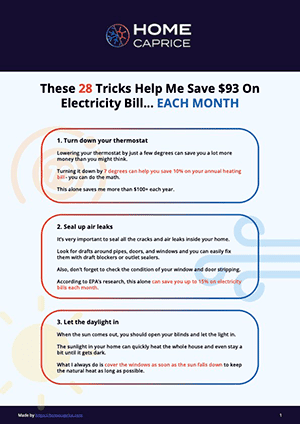 These 28 Tricks Help Me Save $93 On Electricity Bill... EACH MONTH
Download this FREE cheat sheet to find 28 tricks that can help you save on your electricity and heating bill each month.
Click here to get a FREE Cheat-Sheat
How Does A Wood Stove Fan Work?
There are two different technologies when it comes to running wood stove fans.
The first one is a Thermoelectric Power Generator (TEG) and the second one is a Sterling Engine.
TEG is the most common and used technology which operates by using both positive and negative semiconductors. It transfers the heat from the stove to the fan to produce electrical energy (this is the Seebeck effect).
The electrical energy will start the fan motor and the fan will start moving the heat throughout your home. The technology is similar to wood-burning fireplace inserts.
TEG models are very reliable and safe – that's why they're used so often.
Sterling heat uses the energy created by a wood stove. Now, the heat will force the warm air to expand which will make a piston contract. 
When that happens, another piston with cold air will withdraw.
The heat energy creates the mechanical energy to start turning the blades to circulate warm air all through your home.
What You Will Love About Wood Stove Fans
I'm a big fan of wood stove fans (haha get it.. a big FAN) and here are some of the things that you will love about them:
No electricity/fuel required – Wood stove fans run by heat and they won't require any electrical or fuel energy.
Affordable – Most fans are less than $150, so even if you're on a tight budget – you'll still be able to purchase them.
Quiet – They aren't like electrical fans where you can hear them running all night. They are super quiet and you won't even notice them running.
Easy to maintain – There's no need for extreme cleaning of the dust or ashes. You can simply swipe them from time to time just for hygiene reasons.
Design – It can really improve your home's overall design as most of them are well-designed and will fit your household.
Longer lifetime – They really can last longer and most of them come with a 12-24 month full warranty.
The Best Location For A Wood Stove Fan
The best position for a wood stove fan is at the top of the surface of the wood stove, but near the side or at the back of the wood stove.
You want to make sure that the surface is flat as you don't want the fan to start falling down once it reaches a certain speed.
You should never place it in front of the chimney and always keep a distance of at least 4 inches.
Also, never move the fan while the base is still hot as you can hurt yourself and damage other surfaces.
Safety Tips When Using Wood Stove Fan
Use a protective grill – If you have pets or kids at home, you want to keep them away from fast-spinning hot blades.
Don't touch the fan for 15 minutes – After you've turned down the stove, don't touch the fan immediately as it's hot and you can easily get burnt.
Always check the temperature – Make sure to always watch the thermometer, so that the temperature doesn't rise above the one that the fan can't handle (usually 660°F or 350°C).
Don't place a wood stove fan in front of the chimney – This is a mistake a lot of people seem to make, so be careful and place the fan always in the right spot.
Never touch the fan while it's working – You can easily injure your fingers if you try to touch the fan while the blades are spinning.
As you learned in this article, there are a lot of things to pay attention to before buying a wood stove fan.
If you found this article useful or helpful, please share it with your friends and let them learn how to choose the best wood stove fan.
Hey there! I am Benas, the founder of Home Caprice. Thanks for reading the article, I hope you were able to find what you were looking for. Me together with my team, are here to simplify heating and cooling for everyone. If you want more details about the website and our team, please check the
about
page.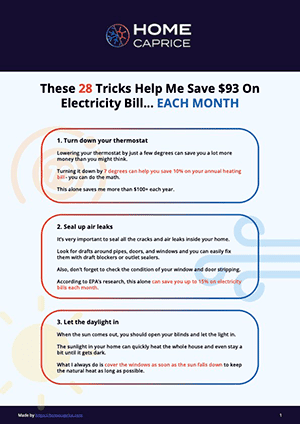 These 28 Tricks Help Me Save $93 On Electricity Bill... EACH MONTH
Download this FREE cheat sheet to find 28 tricks that can help you save on your electricity and heating bill each month.
Click here to get a FREE Cheat-Sheat