Heating and cooling gifts can be the best practical Christmas gifts for your loved ones.
Whether it's an electric blanket for your parents or a coffee mug warmer for your siblings, these gifts can make the home more comfortable and save money on energy costs in the long run.
Christmas gifts of new heating and cooling equipment also make great new homeowner gifts. They will help the new homeowner save money on energy costs by making their home more comfortable and warm or cool as necessary.
Let's dive into some of the best heating and cooling equipment gifts that you can give this Christmas.
13 Gifts to Keep Warm
Anyone feeling cold frequently will tell you that an electric blanket is one of the best ways to keep warm.
Like all Beautyrest products, this wonderful electric blanket is all about quality, and when you add in safety, heating effectiveness, comfort, and looks, it is easily the best overall electric blanket we have found. It makes it the perfect gift for cold winter months!
Let's be honest, sometimes, regular gloves can't keep our fingers from freezing.
If you're used to spending a lot of time outdoors in the winter or doing some activities, these will be a game changer for you.
If you or your close ones have poor circulation, this is the best gift you can give them.
You can control the temperature from your phone, and these socks have a regular design, so you can even wear them when going to work and skiing.
Ocoopa H01 is the first smart hand warmer with a 10000mAh battery, more powerful than most other hand warmers. It has three levels of heat to choose from, and it can provide up to 15 hours of heat. With its intelligent temperature control system, it will not overheat even if you forget about it.
This is the highest quality hand warmer out there and will keep your friends, colleagues, or loved ones' hands warm like a charm.
The Lomitech USB-powered foot warmer is the best way to relax tired feet. It has three modes of operation, including heat therapy, vibration, and a combination of both.
The device comes with a remote control that allows you to adjust the intensity of the massage or heat treatment according to your preferences. Nothing better after a long day at work.
Atomi Smart Heater is a high-quality heater with a sleek design, making it a great gift for new homeowners.
It operates hands-free through voice commands with Alexa and Google Assistant. The carry handle also makes moving around easy – perfect for those who want to move it easily.
What's a coffee lover to do when they enjoy their coffee slowly and want it to keep hot? Reach for a VOBAGA mug warmer! Get this as a gift for your colleague, friend, or relative who enjoys sipping hot coffee or tea.
This portable, splash-proof warmer has an adjustable three-temperature setting that allows you to enjoy any beverage at just the right temperature.
Your hands are essential, so why not keep them warm? The ValleyX Heated Mouse Pad is the perfect product for those who use their computer extensively.
It is a one-size-fits-all heated mouse pad that will stay secure with its anti-slip base and ample ergonomic wrist rest.
Many of your loved ones might have problems with back and shoulder pain problems, and what's the better solution in the winter than a back and shoulder heating pad?
Its innovative technology relieves muscle cramps and pain, helping you enjoy a pain-free winter.
Dealing with cold hands and dry skin is often done during cold, chilly days, and this smart device heats your hands and massages them to improve circulation.
What you'll love about it is how your hands feel relaxed and soft afterward. Make this your daily routine before going out to prevent hands from getting "frozen."
Taking care of your feet isn't only essential during summer. Instead of paying for expensive spa visits, you can have an at-home spa experience that costs less than one session.
It has adjustable heating settings to ensure your feet stay warm and cozy.
This isn't your regular eye mask – it uses improved heating technology proven to relax tension under and around your eyes, making dark circles and under-eye bags disappear.
It's super safe as the temperature is relatively low, and you will notice how even your wrinkles and fine lines start diminishing.
If you're looking for a perfect gift for your boyfriend or husband – this is the right one.
I can guarantee you that this will be his favorite shaver from now on, and no man could deny the satisfaction of shaving his beard with a heated razor.
4 Gifts to Keep Cool
The Dyson Pure Cool Purifying Fan is a must-have for those with sensitive or reactive respiratory systems. The fan has an air multiplier technology that senses the pollutants in your room and captures them, with 360-degree sealed HEPA filters of activated carbon to capture even more dirt than before.
This is THE gift for anyone suffering from allergies or sinus problems. Dyson produces the highest quality cooling and air purifying devices on the market, so you can't go wrong with them when choosing their products.
This powerful oscillating tower fan has three adjustable speeds (low, medium, and high), so you can customize the airflow to your liking. Let this thing run quietly while sleeping or working.
The 0-10 hour Timer setting will turn it off when needed and give you some peace at night. And best yet? The remote control lets everyone control the Beyond Breeze tower fan while relaxing on their sofa. This is just all-around a great fan and a best seller on Amazon.
The Rowenta VU5670 Turbo Silence Extreme 16-inch stand fan is the perfect solution for home or office. It's a practical gift to get ready for the hot summer months.
For those who love silence but still want some breeze on hot days, this model also offers Silent Night Mode, which reduces overall volume while maintaining high-quality circulation performance with reduced energy consumption.
A perfect portable AC that will keep you cool and comfortable for years. It is another brilliant example of DeLonghi's exceptional quality and design and will serve as an excellent gift for new homeowners or a practical gift for your kids moving to their college campuses.
4 Gifts for the Perfect Air Quality
With the SmartDevil Mini Snow Mountain Ultrasonic Humidifier, you will never suffer from dry air again. Its small size makes it easy to take with you wherever you go, and its powerful but quiet motor helps make any room feel more comfortable.
The soft mist feels excellent on sensitive sinuses, particularly because of how gentle they are compared to others that produce loud sprays or streams. A must-have gift for anyone more prone to allergies.
Hupro PRO-771 Large Room Cool and Warm Mist Humidifier with Essential Oil Diffuser works great to keep the room in the proper humidity while adding some relaxing scent.
Add a pack of essential oils, and this will make the perfect Christmas gift!
The Kesnos 50 pints Dehumidifier is a quiet and efficient way to remove up to 50 pints of moisture from the air every day, perfect for medium-sized rooms.
3500 sq ft. with an adjustable humidity range between 30% – 80%, you'll be able to find the ideal setting with no hassle. A useful gift for more humid areas.
SEAVON dehumidifiers are a great way to keep home fresh and dry. The portable units will operate in small rooms like bedrooms or bathrooms without worrying about running out of space.
This cool tool combines convenience with environmental benefits – reducing humidity levels and pollutants from allergens such as asthma-inducing triggers.

Hey there! I am
Benas
, the founder and content editor at Home Caprice. Thanks for reading the article. I hope you were able to find what you were looking for. I and my team are here to simplify heating and cooling for everyone. Please have a look at the
About page
for more details about our website and feel free to check out our
editorial process
.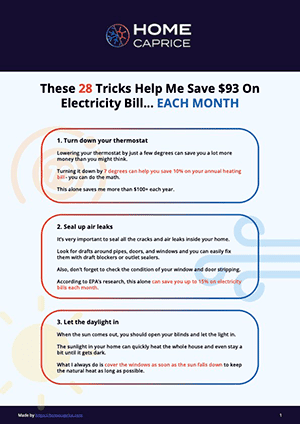 These 28 Tricks Help Me Save $93 On Electricity Bill... EACH MONTH
Download this FREE cheat sheet to find 28 tricks that can help you save on your electricity and heating bill each month.
Click here to get a FREE Cheat-Sheat