No matter how high-tech it is, an AC will amount to nothing if it produces bothersome noise.
But is there a foolproof way of knowing whether an air conditioner will operate quietly even before you finally buy it?
Yes, there is, and it involves checking certain features within the air conditioning unit, its location, and the manner of installation. With regards to the air conditioner itself, you must check:
The decibel level. Depending on the model, window or room air conditioners can produce around 40 to 70 decibels. An air conditioner with a noise level below 50 decibels is considered very quiet.
The build or electronics quality. The moving internal parts of cheap air conditioners might become loose or break easily. The same goes for external parts such as the power cord and window bracket or slider. A worn-out cord can cause vibrations and intermittent stops. Ill-fitting or poor-quality sliders can also cause rattling and vibrations.
The size of the unit. The larger the air conditioner, the louder it usually is. Experts also say that bigger units may produce damp and "cave-like" conditions that aren't healthy for your respiratory system compared to a slightly dry and warmer environment.
The type of air conditioner. Window air conditioners are notoriously known for being the noisiest type of model compared to portable and ductless ACs. But that's changing now due to better compressor and fan designs and sound-dampening features.
Recommended Window ACs
Noise level: 43 decibels in low mode
Cooling area: 250 square feet
Dimensions: 21.25″ W x 12.43″ H x 18.12″ D
Our Pick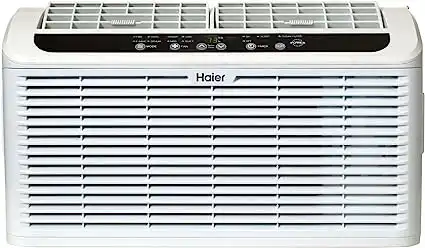 The secret to the quiet operations of this Haier window air conditioner is the "sound blanket" wrapped around its compressor and its cross-flow fan that allows smoother, stronger airflow.
The 56-pound unit provides efficient cooling with its top grills that could be adjusted in four directions. It offers three cooling and three fan speeds, a 24-hour timer, sleep mode, and an energy saver mode that can be operated via infrared remote control.
Its dehumidification feature extracts as much as 1.5 pints of moisture in the air per hour. The unit has a self-evaporating system and a washable mesh filter.
A few buyers have expressed disappointment that their units became noisy after several months of use. Meanwhile, some clients say that their air conditioners have consistently operated quietly, although the cooling output isn't that strong.
Noise level: 52 decibels in low mode
Cooling area: 260 square feet
Dimensions: 17.32″ W x 11.14″ H x 14.37″ D
Our Pick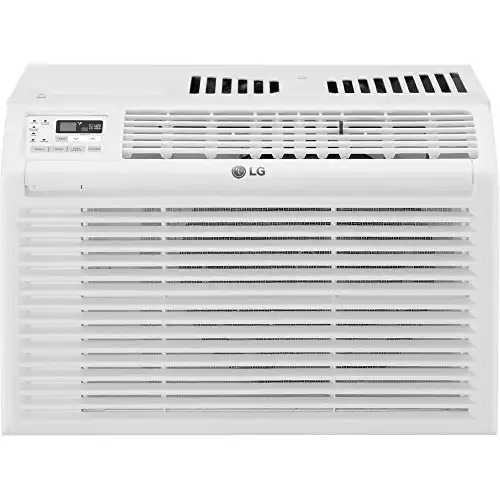 LG LW6017R
Buy Now on Amazon
We earn a commission if you click this link and make a purchase at no additional cost to you.
10/04/2023 10:21 am GMT
This LG unit has three cooling and fan speeds and a two-way airflow feature that lets you focus the grills on the left or right. You can pre-set your desired room temperature and turn on the auto cool or energy-saver mode to bring down your power consumption.
This remote-controlled 40-pound air conditioner with a filter alarm function can extract as much as 1.8 pints of moisture per hour.
It also features a thermistor thermostat control that makes accurate temperature readings using its thermally sensitive resisters.
Customers say that the unit works quietly with the help of some padding placed beneath it so that it sits more securely on the window frame. Many buyers recommend getting a professional to do the installation of this air conditioner.
If you're looking for more options, here are a few more quiet models you can choose from:
Noise level: 44 decibels in low mode
Cooling area: 350 square feet
Dimensions: 21.25″ W x 13.43″ H x 19″ D
Our Pick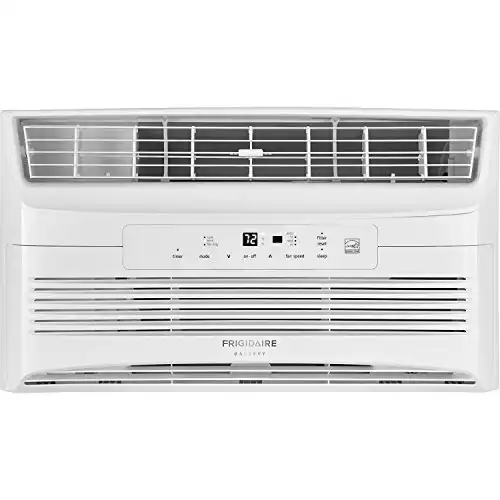 This Frigidaire model has four-way air directional louvers, which lets you concentrate airflow left or right or up or down as desired. The 69-pound unit can extract moisture from the air at 1.7 pints per hour.
You can use its remote control to pre-set the room temperature, choose from three fan speeds, and activate the 24-hour on-off timer, sleep mode, or energy saver mode.
While most new owners praise the air conditioner's low noise level, a few say it produces a "whooshing" noise that they believe comes from the blower. Buyers appreciate the unit's cooling capacity, although some are bothered by the bright white LED display.
Noise level: 53 decibels in low mode
Cooling area: 550 square feet
Dimensions: 23.625″ W x 15″ H x 22.1875″ D
Our Pick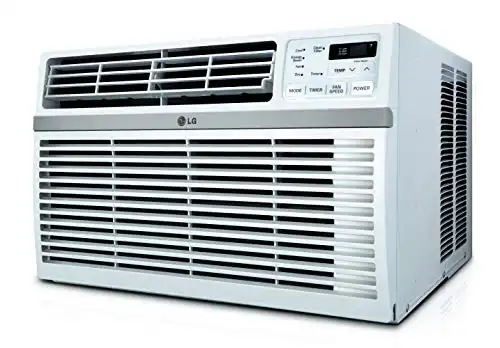 This powerful LG model has four-way adjustable louvers, three fan speeds, and a dry mode for dehumidifying air.
The unit, which has a drainpipe, can remove up to 3.8 pints of moisture from the air per hour. It also has a slide-out washable air filter and filter alarm.
This LG unit features gold fin technology, just like our best budget model. This technology refers to the special coating on coils that prevents them from rusting easily, improving their performance and increasing their lifespan.
It comes with a remote control but its thermostat temperature control, fan speed, 24-hour timer, auto restart, and energy saver function can also be manually adjusted using its easy-to-navigate buttons.
Weighing 82 pounds, this unit will require some help for installation. Hiring professional help is recommended.
Noise level: 64 decibels
Cooling area: 1,500 square feet
Dimensions: 26.5″ W x 18.625″ H x 26.5″ D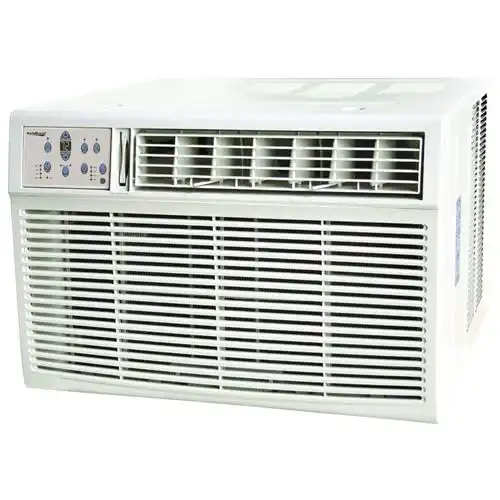 This Koldfront model features an electronic thermostat and four-speed fan that can be adjusted via remote control.
You can turn on the energy-saving mode so that the air conditioner can automatically shift from fan to cooling mode and back depending on your pre-set temperature. Meanwhile, the sleep mode lets the room temperature gradually rise and then return to your desired temperature within a six-hour period.
The unit also has a washable air filter with a cleaning indicator light.
You'll need extra hands to slide this 131-pound unit out of the housing and install it on a window. Several customers like the "ice cold" temperature of this unit. Many buyers are impressed that it can cool one whole floor of a house and workspaces such as shops.
Noise level: 46 decibels
Cooling area: 350 square feet
Dimensions: 21.25″ W x 12.44″ H x 18.12″ D
Our Pick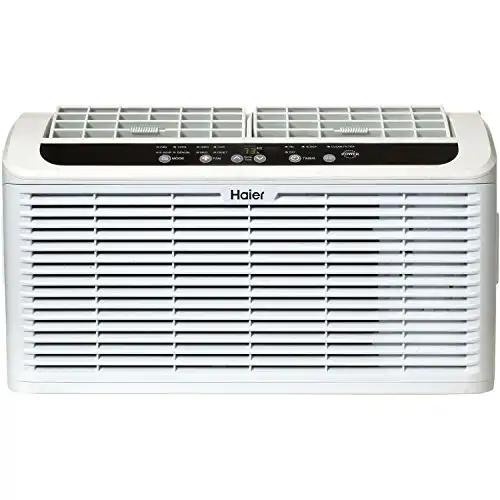 The newer Haier Serenity model is more energy-efficient (12.2 energy efficiency ratio) than the ESAQ406P (11.2 EER). However, this earlier version comes with all the outstanding features of the latest Serenity AC, from its dual motor design and cross-flow fan to its dehumidifying function, auto cool, energy-saving mode, sleep mode, and 24-hour timer. This Serenity unit came out earlier (2016) than our top pick, the ESAQ406T, and may be on limited sale online.
A larger part of this 56-pound air conditioner will be inside your house, with only about eight inches of the unit sticking out of your house, allowing the unit to operate more quietly and efficiently.
Some customers with computer equipment in their rooms say that the blowers inside their CPUs were louder than this Haier unit. Meanwhile, some clients have noticed occasional noises developing over time.
Noise level: 52 decibels in low mode
Cooling area: 340 square feet
Dimensions: 19.56″ W x 12.375″ H x 19.375″ D
Our Pick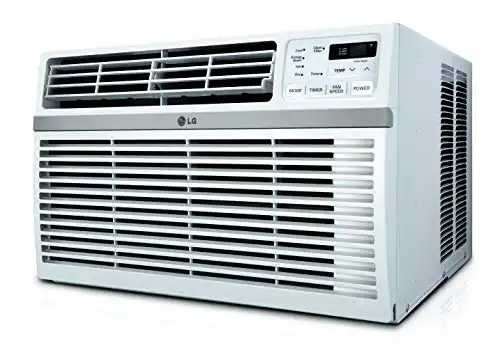 This LG model is the "middle option" when placed side by side with the LG LW6017R for budget buyers and the LG LW1216ER for large rooms.
Like the two other LG units, this 57-pound air conditioner has four-way air direction control, a three-speed fan, a 24-hour timer, an auto restart feature, an energy saver function, and sleep mode. It can remove 2.2 pints of moisture from the air per hour, which is in between the dehumidifying capacity of the two other LG models.
While there are no concerns about the cooling power of the machine, there are mixed reactions about its noise level and ease of assembly. Certain customers dislike the way they had to drain the unit of moisture every few weeks. Some buyers recommend buying insulation foam from other stores to replace or supplement the foam that comes with the product.
Noise Level of Window Air Conditioners
What Are Decibels?
When something vibrates, the air, water, or any other medium around it vibrates as well. Sound waves are vibrations in the air. It is the intensity of that sound that is measured in decibels (dB).
Measuring decibels is very different from measuring physical distance or weight. It starts with 0 dB, which represents near-total silence or the faintest audible sound. When something emits 10 dB, the sound it makes is 10 times more powerful than 0 dB. Sound or noise at 20 dB is 100 times louder than near-total silence.
To help you better understand the concept, here's the decibel rating of common, everyday sounds. Sound is usually measured about three feet from its source.
Normal breathing – 10 dB
A whisper – 15 to 30 dB
Very calm room – 30 dB
Refrigerator, light traffic – 50 dB
Normal conversation, TV – 60 dB
Shower, dishwasher – 70 dB
Vacuum cleaner, flushing toilet – 73-75 dB
Alarm clock – 73 dB
Hairdryer – 78 dB
📍 Note: Air conditioners in general produce between 35 and 82 decibels of noise.
What Creates Air Conditioner Noise?
Your air conditioner may be making noise due to the following reasons:
Defective fans: bent, broken, loose, or even plain dirty fan blades can make rattling or banging noises.
Squeaky fan motor: the motor may produce screeching noises if it lacks lubrication.
Pressure buildup on the compressor: when the compressor is operating at too high a temperature, it can make a loud hissing or screaming sound.
Damaged coil fins: these metal tabs outside the unit can produce noise when they are bent or dirty.
Debris or dust: the buildup of dust or debris inside the unit can cause a humming sound.
Leak: a leaking refrigerant can produce a hissing or gurgling sound.
Loose screws: the vibration of your unit may cause the screws of some internal components or parts of the cover to become loose.
Damaged power cord or wrong amperage: you may hear a buzzing sound if your power cord is worn out or twisted. A similar sound can be heard when your unit is not plugged into the correct power outlet.
If your AC produces some unusual noises, check out our article about the 9 most common noises and how to fix them.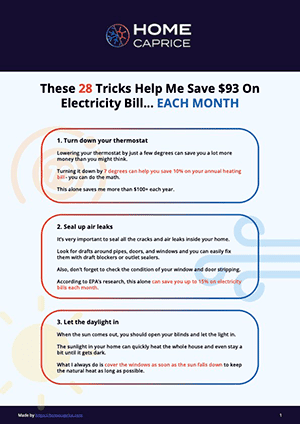 These 28 Tricks Help Me Save $93 On Electricity Bill... EACH MONTH
Download this FREE cheat sheet to find 28 tricks that can help you save on your electricity and heating bill each month.
Click here to get a FREE Cheat-Sheat
9 Ways to Make Your Air Conditioner Quieter
Check the way the unit is installed. Make sure the windowsill is firm and that the air conditioner is securely in place. Tighten the fastenings and add caulk or putty to make the entire setup airtight.
Place a rug under the air conditioner. This will absorb reverberating noise from the running motor.
Wrap the air conditioner with a blanket to reduce the vibrating sound from the motor. But leave open the blower vents and outlets where the air is blown out.
Check the insulation in the faceplate and walls. Use moisture-resistant material when insulation is missing, worn out, or torn.
Check the mechanical parts inside the air conditioner, particularly the fan blades. If the blades are bent, they could hit the faceplate and emit noise. Tighten screws, nuts, and bolts. Use a lubricant at the start or end of each season.
Clean the filter regularly to improve airflow (check out the best AC coil cleaners here).
Wipe the condenser coils to rid them of dust and mold (how to get rid of mold in AC fast).
Don't run your unit at maximum power and instead find ways to reduce cooling demand. Lower output means lower noise. This may include putting your air conditioner in a more shaded part of your room. You can also place a makeshift cover or awning over it.
Hang drapes to dampen the noise coming through the walls.
Running Cost of a Window Air Conditioner
To calculate the cost to operate your unit on a monthly basis:
Check the wattage of your air conditioner. If what's available in the product information is just British Thermal Units (BTUs), divide that figure by 3.41.
Know how much you are charged by your electric company in terms of kilowatts per hour. The current US national average is $0.13.
Determine the number of hours you'll use your unit daily.
Using the specs of the Haier ESAQ406T (quietest air conditioner) as an example, you must convert its BTU into wattage then multiply this value by your hourly power rate and the number of hours you'll use your unit daily:
6,000 BTU/3.41 = 1,759 watts or 1.75 kilowatts
Rate per hour: 1.75kw x $0.13 (kWh) = $0.228/hour
Rate per day: $0.228 x 8 hours daily = $1.82/day
Rate per month: $1.82 x 30 days = $54.88/month
📚 Recommended reading: 15 Simple Ways To Save Money On Your Air Conditioning
How to Install a Window Air Conditioning Unit (Quick Guide)
📍 Note: save or bookmark this article and come back once your air conditioner has arrived to check this quick installation guide.
Before you even purchase an air conditioner, measure your window and make sure to buy a unit that's the right size for the window. The product information provides the dimensions of the unit and the type of window where the air conditioner can be installed (double-hung windows, crank windows, and so on).
I recommend hiring a professional to do this. You can fill out the form below and get offers from local contractors 👇
Or feel free to call this number if you prefer to chat over the phone 👉 (855) 659-3394
But if you want to do it yourself, here are the 9 steps:
Clean the unit and clear the path where the unit will be placed.
Prepare the window by cleaning the sill and removing the screen if it has one.
Prepare the sliding extensions and mounting brackets.
Find people to assist you if you won't be hiring an installer to mount your window air conditioner. You will need one or two people to help you lift it. There should also be one or two persons outside the house to handle the part of the unit that will stick out of the window.
Lift and insert the air conditioner into your window. Place the bottom of the unit into the center of the window's bottom frame. This will keep the air conditioner level and balanced until you can pull down the window on top of the unit.
Make sure that the unit isn't tipped toward the inside of the room so that if it condensates, it won't drain forward into your room.
Screw in the brackets or attach locks that will keep the window pane closed and fastened to the air conditioner.
Use foam weather stripping to seal any gaps between the interior part of the window frame and the part of the unit that's inside the room. Also, seal the outer perimeter.
Plugin the air conditioner. If needed, use an extension cord.
Hey there! I am Benas, the founder of Home Caprice. Thanks for reading the article, I hope you were able to find what you were looking for. Me together with my team, are here to simplify heating and cooling for everyone. If you want more details about the website and our team, please check the
about
page.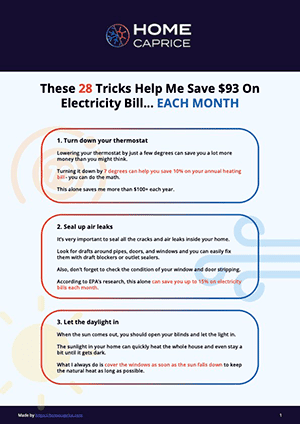 These 28 Tricks Help Me Save $93 On Electricity Bill... EACH MONTH
Download this FREE cheat sheet to find 28 tricks that can help you save on your electricity and heating bill each month.
Click here to get a FREE Cheat-Sheat