As winter approaches, you may be considering an outdoor heater for your deck, patio, work area, or other outdoor space.
There are many options for good outdoor heaters, the most common being:
Propane
Wood Fire
Natural Gas
Electric
Many people, though, prefer electric heaters for outdoor heating, and if you get one that is safe and rated for outdoor use they can be a really great choice.
What are the Advantages of Outdoor Electric Heaters?
Compared to the other heater types listed above, electric outdoor heaters can offer some real advantages, including
The lowest emissions, with no smoke, chemicals, gas, or odors
Instant heat and deep, satisfying warming – especially radiant heaters
Ease of use, with usually just an on/off switch
No need to buy and attach a gas tank, or chop firewood
They are very safe – just make sure they are meant for outdoors, like all of our recommendations
What Kind of Outdoor Electric Heater is Best?
Many people who are trying to figure out which outdoor electric heater is best end up having some basic questions:
What size of outdoor electric heater do I need?
What is the best outdoor electric heater for small spaces?
What is the best outdoor electric heater for medium spaces?
What is the best outdoor electric heater for large spaces?
Should I get a radiant or convection heater?
We are of the opinion that it is best to get a basic, high-quality heater with adjustable heat levels, which will work in all of these spaces and will give more flexibility over where you use it and how warm you want that space, and yourself, to be.
In other words, don't worry about what size you need – they are often rated at 1500 watts anyway – but instead think about what type you want.
You may also wonder if you should get a ceramic, quartz-halogen, or other type of heater and if convection or radiant heat is best.
For outdoor use, most heaters are in fact quartz-halogen – or a similar technology – which by default makes them radiant heaters as well, and here at Know the Flo we agree that such a radiant heater really is the best choice for outdoor use, and all of our recommendations for best outdoor space heater are of this type.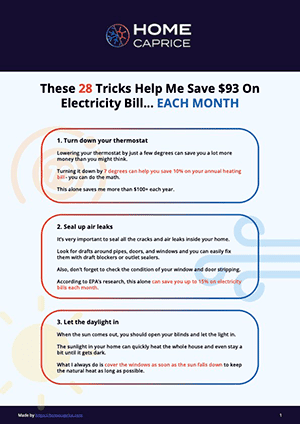 These 28 Tricks Help Me Save $93 On Electricity Bill... EACH MONTH
Download this FREE cheat sheet to find 28 tricks that can help you save on your electricity and heating bill each month.
Click here to get a FREE Cheat-Sheat
How can I Choose the Best Outdoor Electric Heater?
Now you can decide if you want a floor-standing heater you can move around, or if you already know just where you want your outdoor electric heater to be, and need a hanging or wall-mounted unit.
As a result, we have arrived at different questions, namely:
What is the best wall-mount heater?
What is the best hanging, ceiling mount, or heater?
What is the best pedestal, or floor standing, heater?
In addition, our buyer's guide and review of the best outdoor electric heaters on the market will also consider the best electric outdoor heater overall, the best parasol heater, and the best outdoor shower heater.
Winter's coming, and we hope our newest shopper's aid – Best Outdoor Electric Heaters: Buyer's Guide – reaches you just in time!
What is the Best Wall Mounted Outdoor Electric Heater?
Our Pick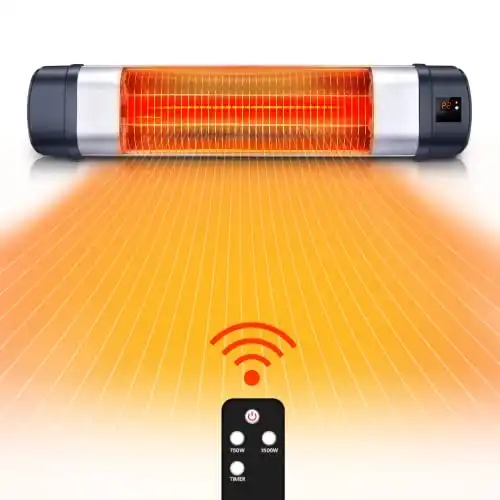 Here at Know the Flo we recently investigated professional heating options, especially custom-configured wall-mounted heating systems for homes and businesses, and we came away with two strong opinions – professionally installed wall-mounted heaters are absolutely wonderful, offering superb quality and effectiveness, and they are seriously expensive!
But maybe there's a more cost-effective option? Yes, and leave it to us to find it!
The Trustech 1,500-watt infrared heater has the same power as the basic heaters used by professional designers and contractors but is in fact far more advanced in features, costs a lot (really a lot) less, and is still incredibly high quality and effective heater.
Since the Trustech infrared heater is plug and go, it is a simple DIY job of hanging the bracket and plugging it in – no electrician and no added costs like you'll incur with professional wall-mounted heaters. And since the Trustech has controls built-in, no additional control consoles or fancy installation are needed.
In the final tally, two professionally installed heaters from a well-known professional brand will cost about 8 times as much as two same-sized Trustech heaters that you hang yourself, and either way, you'll get the same level of heat  – hard to believe, but it's absolutely true!
But even a single Trustech heater still provides strong and wonderful feeling radiant heat for a 400 square foot area, and a great deal of control over that heat.
The Trustech heater has both a nice control panel and a full-function remote to control a 24-hour timer and three heat levels.
Fully outdoor-rated, with IP65 water and dustproof certification, the Trustech 1500W heater is also great for indoor use, and the hi-tech gold-coated carbon fiber tube emits absolutely no harmful pollutants.
The Trustech outdoor electric heater also has full overheating protection for added safety and security.
There is nothing like the feeling of deep infrared heat when you're sitting on your deck or patio outside, and there is no heater on the market that offers anywhere the convenience, safety, effectiveness, or – especially – the value of the Trustech 1500-watt infrared wall mount heater.
This is why it is our choice for Best Wall Mounted Outdoor Electric Heater.
Features & Specifications
Carbon Fiber Infrared Indoor/Outdoor Heater
Output: 500 / 1000 / 1500 Watt
Coverage Area: 400 Square Feet
Remote Control Included
24 Hour Timer
Water and Dust Proof (IP65)
Overheat Protection
What is the Best Hanging Outdoor Electric Heater?
Our Pick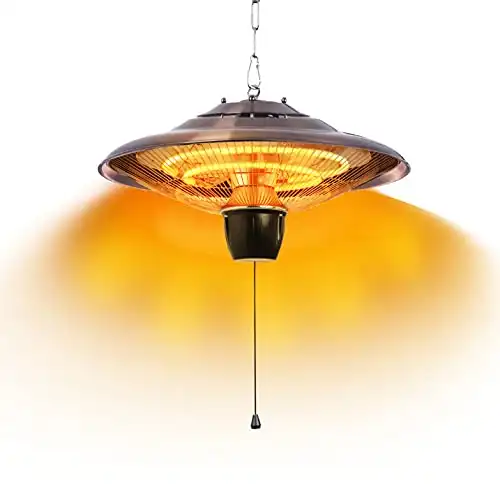 There are lots of options out there for hanging heaters, some of them offering really good performance, features, and value and others that, well, might leave you hanging.
The best we found – in terms of design, heating effectiveness, and material quality – is the Donyer ceiling-mounted 1500-watt outdoor heater.
The Donyer outdoor hanger-around design radiates heat nicely in a 360-degree pattern, and yet as a halogen infrared heater, it still offers that nice, instantly penetrating deep down the heat.
And – the best ideas really are the simplest – it has a pull cord! One pull of the cord turns the heater to its low (600 watts) setting, two pulls take it to high (1500 watts), and three turn it off. No need for a wall mount switch or easily lost remote control.
But the greatest thing about the Donyer ceiling-mounted outdoor electric fan is the heat. Even at 600 watts, it can really heat a cold outdoor area and several people, and at high it makes sitting outside even on the coldest days an absolute joy.
It is easy to install, with its ingenious hook design, and the Donyer halogen heater is rated for indoor or outdoor use, and will not put out any harmful emissions.
Wonderfully effective and with material quality that makes it feel like it will last a lifetime, the Donyer Power Ceiling Mounted Outdoor Electric Heater is our choice for the Best Hanging Outdoor Electric Heater.
Features & Specifications
Halogen Infrared Indoor/Outdoor Heater
Output: 600 / 1500 Watt
Coverage Area: Approximately 400 Square Feet
IP24 Outdoor Weatherproof Rated
What is the Best Floor Standing Outdoor Electric Heater?
Our Pick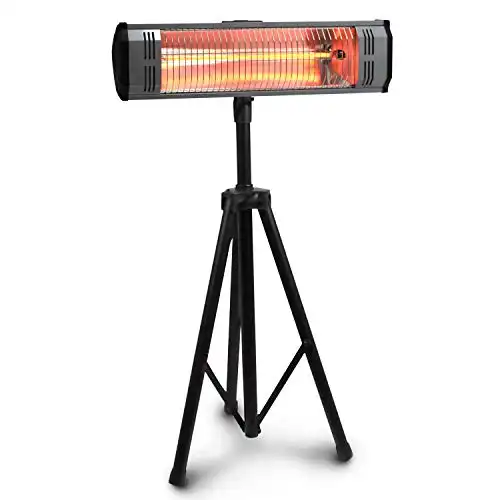 While Heat Storm may not be the most familiar brand – at least yet – they do make some of the best heaters money can buy and consistently offer the best value as well.
And the Heat Storm HS-1500 is no exception. More of a bare, industrial-looking unit –in contrast with the more attractive heaters elsewhere on our list – the HS1500 is as serious as it looks.
With full, direct 1,500 watts of infrared heating output, the Heat Storm can be set either close to or at a distance from a work area, deck table, lounge chairs, or whatever outside area you want to be heated, and still keep you plenty warm, even when it is really cold outside (or really cold in your workshop).
And even for bigger outdoor gatherings or family barbecues this great heater – which really does seem to perform beyond its specifications – will keep the party hot.
If you are looking for the best outdoor space heater, and one that can work in lots of different places and lots of different ways, this may be it. The Heat Storm HS-1500 comes with a nice, stable steel tripod for easy placement and flexibility, and is also available in a Wall-Mount version and a Roll Cage version.
The Heat Storm quartz floor-standing heater is fully rated for indoor or outdoor use and is both waterproof and dustproof, and it is just as rugged and reliable as you would expect from a Heat Storm product.
Safe, effective, and extremely high quality, the Heat Storm HS-1500-TT Tripod Mount Quartz Infrared Outdoor Electric Heater is our choice for What is the Best Standing Outdoor Electric Heater, and Best Outdoor Electric Heater Overall.
Features & Specifications
Halogen Infrared Indoor/Outdoor Heater
Output: 1,500 Watts
Coverage Area: 200+ Square Feet (around 19 square meters)
Safety Features: Tip-over Protection and Overheat Protection; Fully ETL Safety Certified
Fully IPX4 Rated – Waterproof and Dustproof
Includes Steel Tripod
What is the Best Outdoor Electric Umbrella Heater?
Our Pick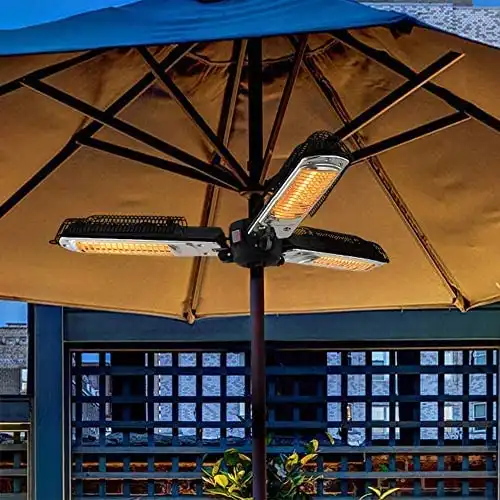 We have to admit that when we first saw an umbrella heater it looked a bit goofy, and we suspected it was possibly nothing more than a fad.
But they just keep getting more and more popular, and now that we've tried them we can totally understand why.
And, of all we've tried, we are the most impressed with the Art to Real electric outdoor umbrella heater.
Offering really deep, effective heating for any sized dinner table, the Art to Real parasol heater has three heat settings, and each of the three heater wings can be operated or folded away independently.
And when you fold up and store the table's umbrella, all three wings fold up and the fan can be stored inside. The Art to Real heater has a clever and very secure collar assembly for locking it onto the parasol's stem, and you can be sure that when it is in place it will never slip or fall.
It features overheat protection and a tip-over kill switch, and the Art to Real outdoor electric umbrella heater is always cool to the touch, for added safety.
Strangely, for a 1,500-watt maximum output, the Art to Real company's product specifications claim quite a small effective area, but we suspect that this is because it is designed to heat people around a table and isn't really meant for other applications or installations.
At any rate, it has way more than enough power, and will work even in pretty extreme cold weather – and with this much power, it may even help keep your food warm! But remember that it has three heat levels, and three separate wings, and can provide warming for any weather and to anybody's taste.
With an aluminum body and a very high-quality feel, the Art to Real Electric Outdoor Parasol Heater seems as durable as it is effective and is our choice for Best Outdoor Electric Umbrella Heater.
Features & Specifications
Halogen Quartz Infrared Outdoor Heater
3 Foldable Wing Heating Panels
Collar Mount Under Umbrella Design
Output: 500 / 1000 / 1500 Watt
Coverage Area: 12 Square Feet
Weather and Dust Resistant
What is the Best Outdoor Electric Shower Heater?
Our Pick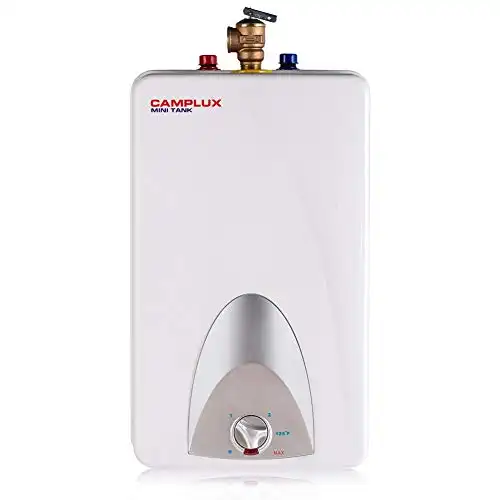 We were recently asked to find a good quality electric shower water heater that could be used outside, and while at first we were intrigued we soon became, admittedly, a wee bit frustrated.
It seems that any decent outdoor shower heaters are gas-powered, usually propane, and any electric outdoor shower heaters are, well, not decent. (Whether taking a shower outside is, in itself, decent, we'll leave entirely up to you.)
But finally, we came upon a real winner – the Camplux ME40 Mini Tank Electric Water Heater.
Rather than requiring a hard-wired installation (and a professional electrician), or even a 240-volt line, the ME40 water heater simply plugs into a 120-volt wall outlet and can be mounted in any protected area outdoors. 
The Camplux ME-40 is IPX24 waterproof rated, and its freeze protection makes it safe to use in a wide range of climates – but please don't take a shower if it is freezing out, no matter how hot the Camplux ME40 gets the water!
Great as a poolside shower heater, for an RV's outdoor kitchen or shower, the Camplux can also be used for bathing your pets, washing your hands after any dirty outdoor work, or for lots of other tasks.
The Camplux ME40 Mini Tank Electric Water Heater has excellent material quality (including a glass-lined water tank), a brilliant and truly useful design, and it really works. Also a great idea, and a real money saver, for indoor installation, it is our clear choice for Best Outdoor Electric Shower Heater.
Features & Specifications
Point of Use Electric Mini-Tank Water Heater
Temperature Range: 50 – 140 Degrees Fahrenheit
Recovery Rate: 6.8 Gallons per Hour
Safety Features: Overheat Protection and Freeze Protection
Fully IPX24 Waterproof Rated
Should I Buy an Outdoor Electric Heater?
If you have to work outdoors during the winter you don't even need to ask this question and have probably already decided to make the modest investment for a high-quality unit.
But even for dining, entertaining, or just relaxing outside when the weather gets cold, a good radiant heat electric outdoor heater is a wonderful thing to have. The radiant heat really warms your body and is reminiscent of sitting in front of an open fire.
The best of these outdoor electric heaters can really transform an outdoor space, making it more beautiful, more habitable, and more useful all year long.
We hope that you enjoy your new heater and that our article – Best Outdoor Electric Heaters: Buyer's Guide – has been informative and helpful.
Warm wishes from Know the Flo, and we hope to see you again soon!

Hey there! I am
Benas
, the founder and content editor at Home Caprice. Thanks for reading the article. I hope you were able to find what you were looking for. I and my team are here to simplify heating and cooling for everyone. Please have a look at the
About page
for more details about our website and feel free to check out our
editorial process
.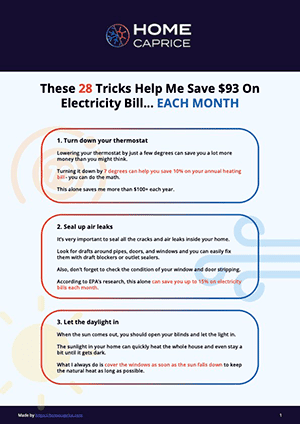 These 28 Tricks Help Me Save $93 On Electricity Bill... EACH MONTH
Download this FREE cheat sheet to find 28 tricks that can help you save on your electricity and heating bill each month.
Click here to get a FREE Cheat-Sheat