A lot of fans can only distribute the air and create "cooling-like" airflow, but there are some advanced fans that can actually create cold air the same way air conditioners do.
These fans usually have adjustable settings, and low noise levels, and you can easily move them wherever you want.
However, all fans with this technology aren't made the same.
After in-depth research and testing, we bring you the best 7 fans that blow cold air and that won't disappoint you on high-temperature days.
Best 7 Fans That Blow Cold Air
Dyson is a well-known brand for its smart features and it's no different with this unique fan.
What makes it really unique is its patented Air Multiplier technology to creates a powerful airflow without any blades – making it perfectly safe for pets and kids.
Because of the bladeless design, it's super quiet and you don't even hear it running.
Talking about smart features, it has a sleep timer that turns the fan automatically off and you can select intervals from 15 minutes to 9 hours.
You can switch between 10 different airflow settings with a cool remote that you receive free of a charge.
It's very easy to clean and maintain, so you won't have to spend time on that.
Besides being powerful and very efficient, what you'll love about Vornado is its compact size that you can carry around with you anywhere.
You can select between three different speed settings depending on your needs. Additionally, you can adjust the head of the fan to blow the cold air in any direction you want.
The deep-pitched blades and spiral grill work together to move air up to 70 sq. ft., so you can easily cool down a whole room with just this fan.
The grills are very easy to remove, so the cleaning part is very simple as well.
If you're looking for a stylish and convenient tower fan, this one won't disappoint you.
Powered by 3 powerful speed settings, it has noise-reduction technology, so you won't hear it even when running on the highest settings.
The biggest advantage of your window air conditioner is that this Lasko fan can move cold air wherever you want it as it has a built-in carry handle for you to move it in different rooms.
It has an ionizer that disperses millions of negative ions to remove bacteria, dust, pollen, and other allergens. This has a lot to do with the freshness of the air inside your home.
Because it's a tower fan, it saves you a lot of space and this one is very decorative.
If you hate sweating in the office and being distracted from your work due to the heat – you should grab this GreenTech desktop fan.
Unlike other desktop fans which are usually not powerful, this one stands out as it's built to cycle more cold air than traditional fans.
The main focus of it is productivity – so 13dB noise levels ensure library-like noise that won't disturb you while you're working.
It has 12 different fan speed settings, so you can easily adjust the one that fits you the most.
What I love about it is an auto shut-off timer that automatically shuts off after 9 hours, so it's more than enough for you to finish the work.
You might be looking for a quiet fan to put in your bedroom, well this one is definitely a great choice.
It has 3 whisper-quiet speed settings with 90° oscillation for optimal air circulation.
In my opinion, this one should be placed right near your bed to cool you while you're sleeping.
The best thing about it is the timer that you can adjust to automatically shut down after a certain time – it can turn off when you fall asleep.
The LCD display is very modern and you have visual animations of everything and you control it from the buttons on the top of the tower fan.
This is a budget-friendly option and it's a traditional stand-up fan, but with exceptional power.
It saves up to 35% of the energy compared to AC units and it's far quieter – around 38dB noise levels on the highest speed settings.
You can adjust a 12-hour timer and it has a 90° oscillation mode and a 24° tilt angle to extend wind coverage to every corner of the room.
It's extremely easy to use and you can always adjust the height that fits you the most – this makes it perfect for a bedroom fan.
The only downside is blades that are not very safe, so make sure it isn't near kids or pets.
This is the complete opposite of any other fan we've listed as it's a neck fan.
You wear it around your neck and it has multiple wide air outlets that push cold air up toward your head.
Of course, this is a personal fan and only you can use it, but it's great for the office, working out, or when you're simply laying on the couch.
What's impressive about it is its long-lasting battery that can last up to 16 hours. Another great thing about it is adjustable fan speeds that you can control just by touching a button.
As you probably guessed, it doesn't make any noise and it's comfortable to wear.
What To Look For In a Fan That Blows Cold Air
Power
The power of fans is displayed in BTUs, so a fan is more powerful when it has more BTUs.
Depending if you want to cool a whole room, cool yourself while falling asleep, or simply avoid sweating – power will play a big role.
So, always check the power of each fan before making a purchase.
Battery/Electricity Consumption
Some of the fans we've mentioned on our list are powered by batteries, while most of them are powered by electricity.
Always look for the most efficient solutions as they will consume less energy while providing you with solid cooling.
If you want to save a couple of bucks each month on bills, this is something you should prioritize. 
Portable
When a fan has a built-in carry handle, you can easily move it from one room to another.
This allows you to cool multiple rooms during the day without having to buy another unit. 
Also, check for the weight of the fan because you'll have a hard time moving a very heavy unit.
Noise Levels
If you're thinking about using a cooling fan inside of your bedroom, then you should always check for low noise levels.
Noise levels are displayed in dB (decibels) and the rule of thumb is for it to be less than 45 if you want to have a good night's sleep.
Alternatively, you can also check for the quietest portable air conditioners.
In my opinion, bladeless fans are far quieter than other ones.
Purpose
In the end, it all depends on what you're looking for.
You might be looking for a personal fan, desktop fan, bedroom fan, or car fan, so the final choice is on you.
It's always smart to go with oscillating fans.
Each fan on our list has its own purpose and benefits, so choose the one that meets your needs.
Hey there! I am Benas, the founder of Home Caprice. Thanks for reading the article, I hope you were able to find what you were looking for. Me together with my team, are here to simplify heating and cooling for everyone. If you want more details about the website and our team, please check the
about
page.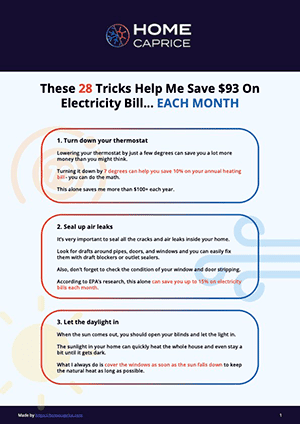 These 28 Tricks Help Me Save $93 On Electricity Bill... EACH MONTH
Download this FREE cheat sheet to find 28 tricks that can help you save on your electricity and heating bill each month.
Click here to get a FREE Cheat-Sheat