One of the best ways to heat your home when the cold winter kicks in is by using a pellet stove🔥
In the last couple of years, pellet stoves have become much more popular because they're easier to clean and maintain than wood-burning stoves.
However, it's not easy to choose the right one because of all the different functions and specifications they have.
I prepared a list of the best 8 pellet stoves on the market that can fit anyone's needs 😊
First, let's talk about some things you should consider before making a final decision.
What To Consider Before Buying
Power – You don't want to regret buying a smaller stove than you actually need for the size of your home. I'll talk more about finding the right one in the section below.
Easy Installation – I always recommend hiring professionals, but some stoves come with bigger installation costs – always keep that in mind. Or you can DIY.
Noise Levels – If you're looking for a stove that will be quiet all the time, don't look always for the powerful ones as they're usually a bit louder.
Efficiency –  The last thing you want is a stove that can't keep the warmth inside of your home and it comes with huge bills each month. Also, you should always seek a stove that's easy to clean and maintain.
Capacity – The bigger the capacity of the stove, the less you will need to refuel it. My recommendation is to look for stoves that can work 72 hours without refueling.
Digital Thermostat – You will be able to schedule an automatic turn on/off of the stove, so you can always adjust it to heat before coming home from work.
Safety – Some pellet stoves turn off automatically when the home reaches a certain temperature.
Recommended Pellet Stoves
Our Pick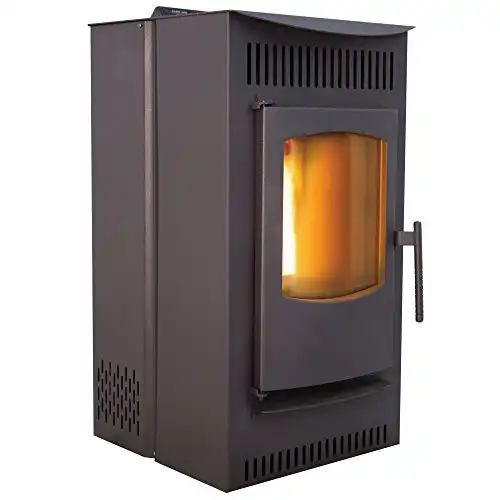 This is an advanced pellet stove as it allows you to choose from a manual, thermostat, and weekly operational modes to heat your home whenever you want it.
It comes with a built-in programmable controller, so you can automatically set when you want the heater to turn on and off. This is a great feature when you want to come to a warm home after leaving work.
It has 5 different burn levels.
What surprised me about this pellet stove is how easy it is to fully clean it. I personally clean it with an ash vacuum cleaner and there are no problems as you don't need to disassemble parts to clean it.
I always recommend hiring a professional to install it, but you can do it yourself if you're skillful and have prior experience. It can cover 1,500 sq. ft. of homes easily.
Our Pick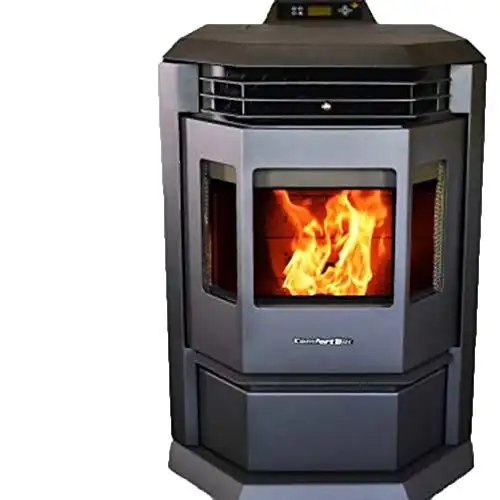 Comfortbilt stove is a premium-luxury stove that has amazing power and can heat up to 2,800 sq. ft.
What I really love about it is how quiet it is considering the power it has.
I always recommend spending a couple of hundred more for a quality stove than buying multiple stoves because they stopped working.
The design is modified so you can actually see the flame which improves your home's overall design.
Also, what separates Comfortbilt from other manufacturers is its top-notch customer service. They will assist you and you can ask them everything about the stove even before you purchase it.
Our Pick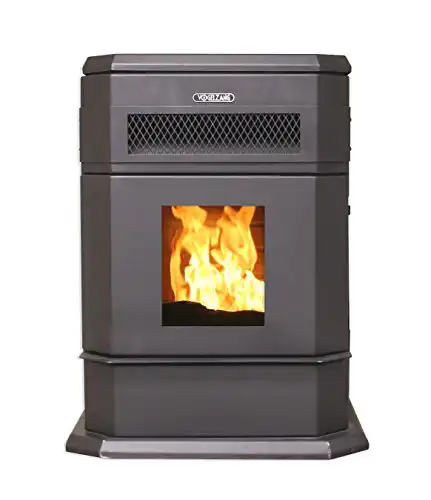 The word that describes this stove the best is convenient.
It's not too big, so you can easily install it almost anywhere in your home. Don't get tricked by its size as it can easily heat up to 2,800 sq. ft.
It comes with a remote control, but you can always use electronic controls on the side of the stove.
The only thing that I'm not a fan of about this stove is that it gets louder when you turn it on the highest speed settings.
Our Pick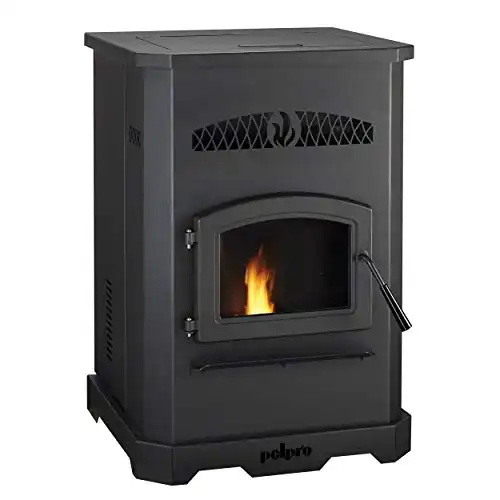 It has a 130lb capacity so it allows you to heat your home for 4 days without refueling – pretty impressive.
When I had a stove with a really small capacity, I remember being frustrated as I had to refuel it every night.
I have to mention an intuitive dial thermostat that has the best and most simple design I've seen from all stoves.
You won't need to clean this stove that often as it has a self-emptying fire pot that blows the ashes a couple of times each hour.
Our Pick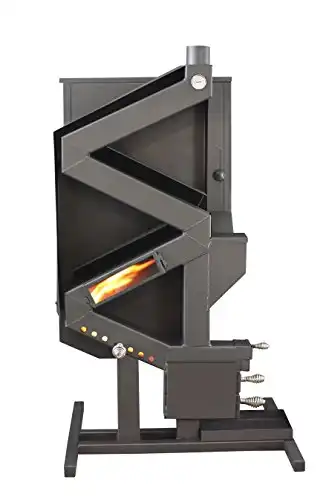 You probably haven't seen a stove with such a unique design as this one. I'm personally not a big fan of this "modern design", but people seem to like it.
It uses a standard 3-inch pellet venting and can last for more than 2 days without refueling.
What makes it even more unique is that it doesn't use electricity to heat. That's why it makes perfect for mobile homes as it saves you money and space.
The coolest feature is that you can see the flame traveling to the middle of the stove.
📚 Recommended Reading: If you're a fan of modern design, check out gas fireplace inserts as well.
Our Pick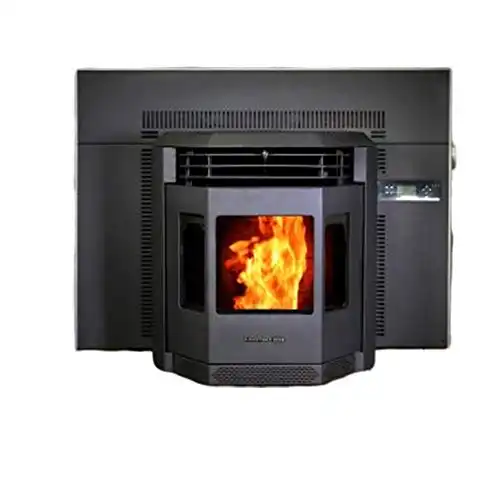 This is a pellet stove insert that requires a lot of space and it has to fit your fireplace and chimney.
You have to know that installation is almost impossible by yourself, same as with wood-burning fireplace inserts, so expect to spend even a bit more on a professional to successfully install it in your home.
Other than that, this stove is very powerful and it can heat 2,000+ sq. ft. without any problem.
Even the lowest heat settings can be compared to other stove's medium settings.
It's very easy to clean and maintain, so you won't be spending much time on that.
Our Pick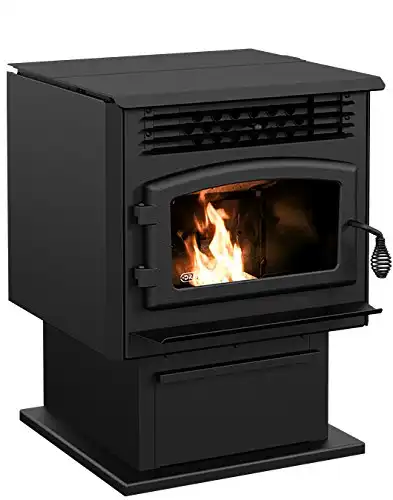 It's very simple and it does its only job properly – heating.
You can't set the automatic timer and all you can do is basically turn it on and wait for it to heat the whole room.
It comes with a remote control, so you won't need to get off your couch to turn it off. It can heat medium-sized areas, but I would leave it for only smaller homes.
Our Pick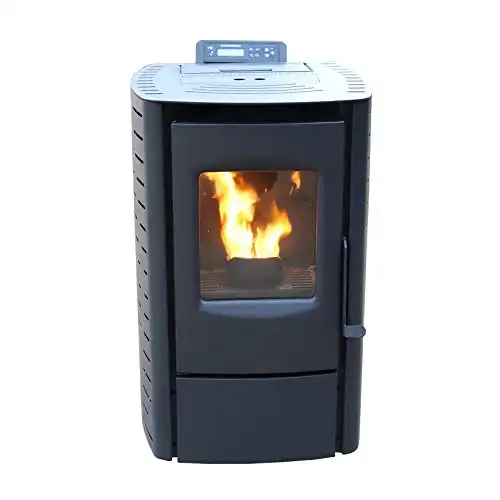 Although this is a cheaper mini-stove, I love how it has built-in WiFi smart technology.
As it is a mini-stove, it can heat only up to 800 sq. ft. and it has only 18lb of hopper capacity.
It isn't the strongest one, but it's very quiet and it can heat smaller rooms very fast.
You can change the temperature from your smartphone which makes it even better to schedule when you want it to automatically turn on and off.
It has the easiest installation process and it already comes with a blower kit installed.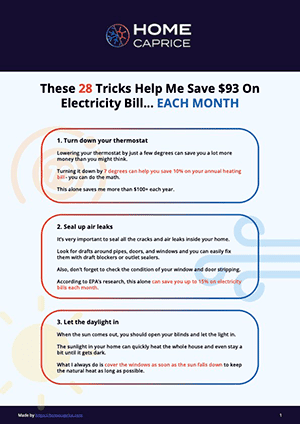 These 28 Tricks Help Me Save $93 On Electricity Bill... EACH MONTH
Download this FREE cheat sheet to find 28 tricks that can help you save on your electricity and heating bill each month.
Click here to get a FREE Cheat-Sheat
How Powerful Should A Pellet Stove Be?
The strength of a pellet stove is measured in BTU (British Thermal Unit) and usually, the bigger stoves have more strength and bigger capacity.
I've seen pellet stoves with a capacity of 10,000 BTU up to 80,000 BTU. However, the most common range is from 45,000 to 60,000 BTU.
Let's simplify it even more…
The more BTU capacity the stove has, it's stronger and it can warm bigger homes.
If you have a 2,000 sq. ft. home, you would need around 50,000 to 60,000 BTU stove to fully heat your home.
Take a look at this table:
| | |
| --- | --- |
| Square Footage | Stove Capacity |
| 700 sq. ft. | 20,000 BTU |
| 1,000 sq. ft. | 30,000 BTU |
| 1,300 sq. ft. | 38,000 BTU |
| 1,600 sq. ft. | 45,000 BTU |
| 1,800 sq. ft. | 54,000 BTU |
| 2,300 sq. ft. | 70,000 BTU |
| 2,500 sq. ft. | 78,000 BTU |
My advice is that you should follow this table instead of believing what companies are telling you. In most cases – they are exaggerating.
They say that 40,000 BTU can heat up a 2,200 sq. ft. home which is possible only in perfect conditions. Realistically, you would need a much stronger stove.
However, if you're using a pellet stove as a secondary source of heating – you won't need a powerful stove. The major source of heating should have more BTUs.
Difference Between Electric And Non-Electric Pellet Stoves
I'm a big fan of electric pellet stoves as I find them the best choice for indoor use and as the main heating source.
Electric pellet stoves run by electricity to feed the pellets into the fire. They are usually a lot more powerful than non-electric stoves and they can heat more square feet of your home. Similar to how electric fireplaces are stronger than wood ones.
However, non-electric pellet stoves have their own advantages as well.
If you're living or have a home where there are frequent power outages, non-electric pellet stoves would make sense.
They use gravity to start the fire and they heat radiantly which means that it will take some time to heat the whole room.
How Safe Are Pellet Stoves
Pellet stoves create very little external heat, so it makes them safe without almost any risk of fire damage.
Even if you're not at home, it's safe to leave the stove running as long as there are enough pellets filled in.
Some pellet stoves have an automatic turn-off feature, so it maximizes safety.
However, I want to give you some tips to make sure you're using a pellet stove safely.
Tips For Safety Use 
Make sure your pellet stove is installed by a professional if you're not handy or experienced.
Grab a carbon monoxide detector and install it inside your home to make sure everything is running smoothly.
Regularly clean the stove and maintain it to ensure it works flawlessly.
Never let the stove turn on without enough pellets when you're not at home.
Keep your pets and children away from the stove.
Use only quality pellets and the ones your manufacturer recommends using.
Cleaning And Maintaining Pellet Stove
Cleaning and maintaining your pellet stove is very important for the efficiency and performance of the stove.
Here's a step-by-step plan you should follow before you start your cleaning process.
Turn off the stove and make sure it's cool enough to touch.
Scrape all the ash from the sides of the stove and scrape the burn pot carefully.
After you've scraped all the ash, grab an ash vacuum cleaner and clean the whole stove.
Remove the ash container at the bottom of the stove and clean it with a vacuum cleaner.
Take any glass cleaner and clean the glass of the stove for a better view.
Turn on the stove again and enjoy better performance and efficiency.
📍 Bonus: Check out this video where all of these steps are shown in action.
If you made your decision on which pellet stove to buy, the next thing you should do is to read our guide on properly installing the pellet stove.
Don't forget to share the article with your friends if you found it helpful 😊
Hey there! I am Benas, the founder of Home Caprice. Thanks for reading the article, I hope you were able to find what you were looking for. Me together with my team, are here to simplify heating and cooling for everyone. If you want more details about the website and our team, please check the
about
page.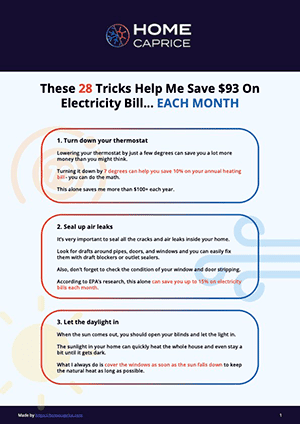 These 28 Tricks Help Me Save $93 On Electricity Bill... EACH MONTH
Download this FREE cheat sheet to find 28 tricks that can help you save on your electricity and heating bill each month.
Click here to get a FREE Cheat-Sheat