Torpedo heaters are a great option when you're looking to heat larger areas such as workshops or garages.
What you have to know is that all torpedo heaters aren't made the same.
There are different types of torpedo heaters and I'll talk about that later in the article.
For now, let's focus on the best 7 torpedo heaters on the market.
7 Best Torpedo Heaters For Garage & Outdoors
Our Pick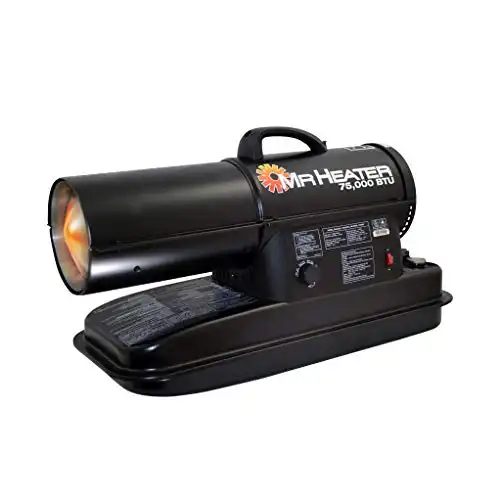 Mr.Heater is one of the most known kerosene torpedo heaters on the market and it's not a coincidence.
This heater is very efficient and you won't be disappointed with its performance.
The good thing about this heater is that it can operate for about 12 hours on a full tank – that's almost twice as much as other heaters
It has 75,000 BTUs, so you won't have to worry if it will heat the whole area or not. In fact, it can cover around 1,750 sq. ft.
What you'll love is its precise thermostat that you can adjust to work up to the desired room's temperature.
Our Pick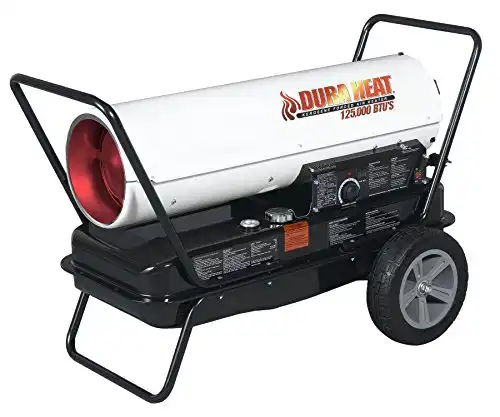 DuraHeat made this model to be built like a tank.
It's by far the most durable heater I've ever owned and you can literally use it for more than 10 years.
It has a precise thermostat that lets you know about any temperature changes.
This is a multi-fuel torpedo heater, so you can fuel it with kerosene or diesel – it's up to you.
It has built-in handles and wheels for easy moving from one place to another.
Our Pick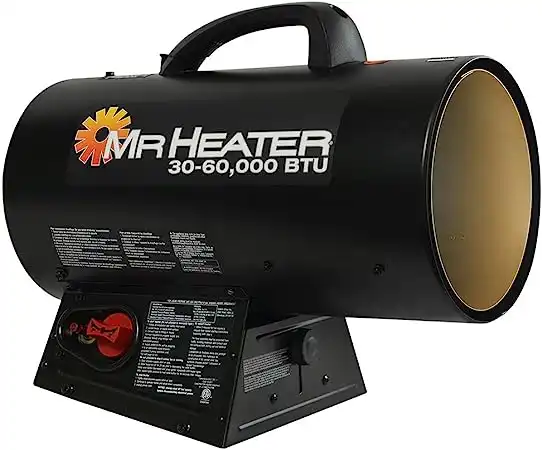 Another great torpedo heater from a well-known brand.
Although it's not as powerful as other heaters, it still has 60,000 BTU which is solid.
What I find really interesting about this model is how quiet it is. You'll barely hear it running even on the highest settings.
It has a built-in handle and it's lightweight – perfect for heating multiple areas at once.
It runs on propane, so it's recommended to be used outdoors or in garages with lots of ventilation.
Our Pick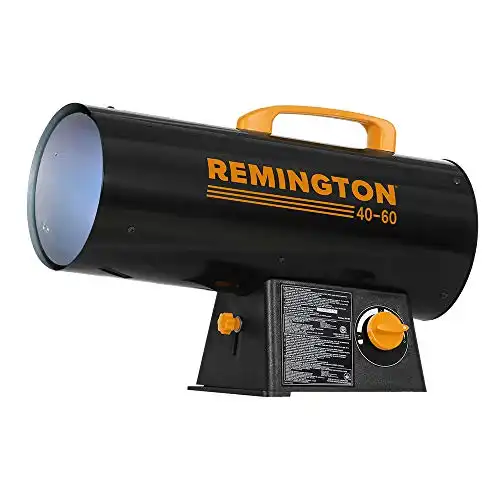 This is the smallest propane heater I've come across.
Don't be confused with the size, this heater is still very efficient and it can quickly heat up areas up to 1,500 sq. ft.
It has 300 CFM airflow, so by any means it's not weak.
You'll find it very easy to move around different areas, so it's a great model to have in your garage.
What I love the most about this model is that you can adjust the heat angle – this feature is really important on the coldest winter days.
Our Pick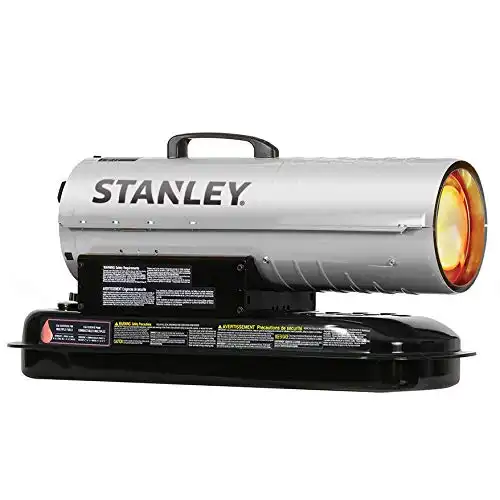 This heater is the most powerful and efficient torpedo heater you'll find on the market nowadays.
It has an output of 80,000 BTUs and it can heat up to 2,000 sq. ft.
Although it's very durable, I find it interesting how lightweight it is. It even has a built-in handle for easier carrying.
The second most impressive thing is that this model is multi-fuel – you can use kerosene and diesel.
However, I'd highly recommend using kerosene for better performance.
It has an automatic safety shutoff system that prevents it from overheating or causing a fire.
The only downside is that it can heat for only 8 hours on a full tank, but in that time, you can heat almost any area you want.
Our Pick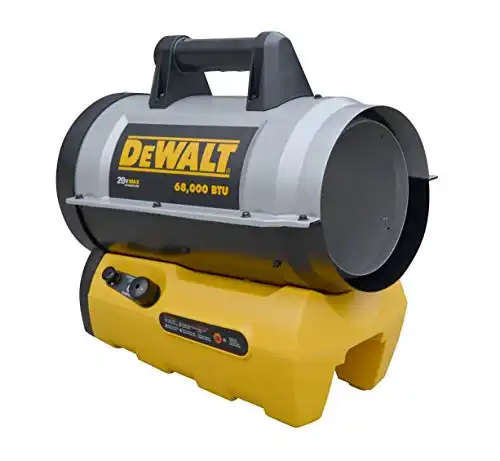 This is the only cordless torpedo heater I've ever seen.
It runs on 20V batteries that you can easily charge during the day.
By being cordless, this heater is 50% quieter than most torpedo heaters on the market.
Still, you'll have to fill the tank with propane for it to run.
What I love about it is that it has a high-temperature switch limit, so it protects you from overheating or causing fire in the room.
Our Pick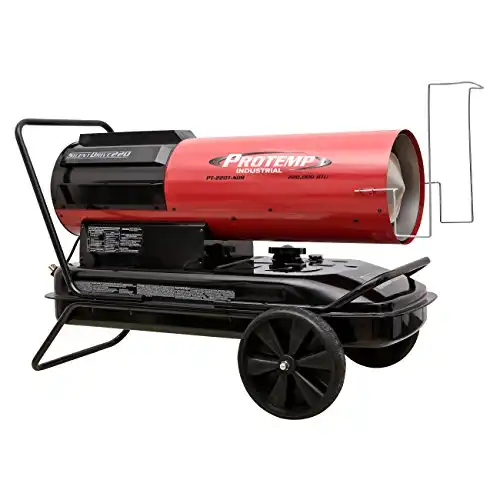 This heater has 220,000 BTUs, so it's recommended only for larger areas.
If you don't have a large garage, I would avoid buying this torpedo heater as it's just too powerful.
It was built to be used on construction sites, workshops, farms, and other large areas.
Heating coverage is 5,500 square feet, so almost 4 times stronger than average torpedo heaters.
I was amazed that this heater has a thermostat due to its power.
It's a bit heavier than other heaters, but it has sturdy wheels for easy mobility.
Types of Torpedo Heaters
Kerosene Torpedo Heaters
This type of torpedo heater is the most popular on the market. In my opinion, kerosene torpedo heaters are more efficient and more durable than any other type.
An interesting fact is that you can store a kerosene tank for more than 2 years.
They're usually a bit more expensive because their fuel consumption is low, so you're basically saving money in the long term.
For a 30lb tank, the average runtime is around 18-20 hours.
Propane Torpedo Heaters
These are the second most common type of torpedo heaters on the market.
They are also very efficient, but slightly less than kerosene heaters.
The good side of propane heaters is that they are odorless and colorless, so you won't experience a strong smell as you would with a kerosene heater.
Propane is not safe for inhalation, so it's not recommended to be used in non-ventilated areas.
Diesel Torpedo Heaters
I only recommend using a diesel torpedo heater for outdoor use, or in the garage with lots of ventilation.
They're not very efficient, but they're affordable as the cost of diesel is less than kerosene or propane.
A tank of 20lb will run for at least 9 hours.
The only downside of this heater is that you'll struggle to store your fuel over the spring/summer.
Multi-Fuel Torpedo Heaters
What's amazing about this type is that it can use both kerosene and diesel for it to run.
Of course, this type of heater costs more than any other type.
They usually have the most precise thermometers.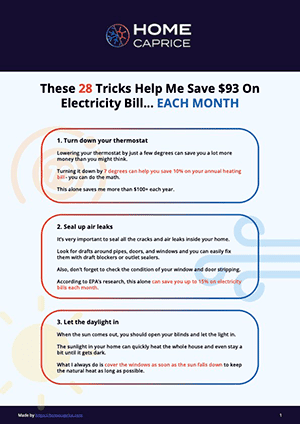 These 28 Tricks Help Me Save $93 On Electricity Bill... EACH MONTH
Download this FREE cheat sheet to find 28 tricks that can help you save on your electricity and heating bill each month.
Click here to get a FREE Cheat-Sheat
Benefits of Torpedo Heaters
Efficient – Torpedo heaters are very efficient and they can quickly heat the whole area. This is why they're perfect for the garage.
Affordable – Considering the efficiency and maintenance, torpedo heaters are very affordable. Some types and models might cost a bit more, but they save you money in the long run.
Quality – This is one of the most quality types of heaters on the market. Fuels are easily available and you won't have to break the bank to maintain it.
Portable – They're pretty easy to move and some of the models even have built-in wheels for easier moving.
Availability – There are tons of different models available and you can choose between 4 different types of torpedo heaters. This guarantees the right choice for everyone's needs.
Is It Safe To Use A Torpedo Heater Indoors?
My recommendation is to not use torpedo heaters indoors.
However, there are torpedo heaters that were made to be used indoors.
You should always check if the heater is outdoor or indoor rated, or if you don't know – simply call the manufacturer.
Propane heaters are usually safe to have in your home, but you should check out if you can use propane heater indoors.
The garage is a great place to put your torpedo heaters as it has a lot of ventilation and you can always open garage doors to ventilate the area.
Even if you're using it inside of your garage, make sure to get a carbon monoxide detector that will alert you if levels of carbon monoxide are rising and could possibly harm you.
Besides propane torpedo heaters, you might be asking is it safe to use kerosene heaters indoors – the short answer is yes.
If you're looking for an indoor heater, you should look for space heaters or ceramic or radiant heaters.
How Many BTUs Do I Need To Heat My Garage?
If you have an average two-car garage, you'll need a heater that's capable of heating around 7,000+ cubic feet of air.
In other words, you should get a torpedo heater with at least 40,000 BTUs.
A sweet spot is around 40,000 BTU – 90,000 BTU (depending on your garage size).
There are some pretty powerful models on the market and it doesn't make sense to buy a very powerful torpedo heater if you have a smaller garage.
If you found this article useful, read an in-depth article about the best garage heaters.
Hey there! I am Benas, the founder of Home Caprice. Thanks for reading the article, I hope you were able to find what you were looking for. Me together with my team, are here to simplify heating and cooling for everyone. If you want more details about the website and our team, please check the
about
page.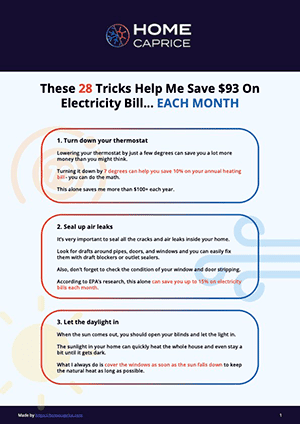 These 28 Tricks Help Me Save $93 On Electricity Bill... EACH MONTH
Download this FREE cheat sheet to find 28 tricks that can help you save on your electricity and heating bill each month.
Click here to get a FREE Cheat-Sheat