If you are looking to heat a single room or a smaller area in your home, especially as a supplement to your central heating system, a ventless propane heater may be your best option, and will offer ease of use, ease of installation, high efficiency and reduced heating costs – and really warm rooms!
What is a ventless propane heater?
Essentially, a ventless, vent-free, or ductless propane heater is one that does not require any vents or exhaust to the outside. That is, you do not need to run a duct pipe through the wall or window, and you do not need to place this heater underneath a chimney.
All of the exhaust from a vent-free heater is released into the room which it is heating, and while vent-free heaters are safe – especially if they burn propane – you should be aware that in some places (California and Canada, for example), their use is not allowed, so please check local regulations before you make a purchase!
It is extremely important to get a ventless propane heater that has adequate safety features, and so all of the heaters we have chosen for our Buyer's Guide to Ventless Heaters include oxygen sensors and various levels of automatic shut-off circuitry.
That said, you should remember that all things considered, ventless propane heaters can still be a lot safer, and cleaner-burning, than almost any other type of space heater, and have lots of other advantages. The chief advantages of vent-free propane heaters include:
Propane is up to 99.9% efficient
Propane releases approximately 2.5 times the heating energy of natural gas
Unlike natural gas, propane heaters don't need gas lines built into your house
Most propane heaters also don't require electricity
Propane is clean-burning
Ventless Propane Heaters are easy to move and easy to install – perfect for many spaces and many rooms around your home
Ventless propane heaters don't require ducts, chimneys, or any other outside venting, making them even more energy-efficient
Propane heat, and propane heaters, will save you money by selectively heating only a part of your house, giving your central heating system, and your wallet, a break
Because they do not require vents, chimneys or any kind of ducting to be run through a wall or window, ventless propane heaters are very easy to install – in fact, there is essentially no installation at all. Most don't even require electricity, so they can be placed almost anywhere, and can also be used in emergencies.
There are two basic types of propane heaters:
Blue Flame – circulates warm air throughout the area (convection heating). Better for larger spaces and for rooms with more activity like family rooms.
Infrared – radiates heat from an infrared element (radiant heating). Better for smaller spaces and for rooms with less activity like offices.
As a supplemental heating system in a house with central heating, you can use a ductless propane heater to cheaply heat the areas you spend time in, and keep your home's furnace at a minimum, saving money on your heating bill and keeping you comfy and warm!
What is the best ventless propane heater available now?
We will review and describe 6 of the very best propane ventless heaters currently available. Our selections are based on our own experience, verified customer reviews, performance, safety, reliability, and value.
Dyna-Glo is well known for making heaters that are safe, efficient and reliable, and their IR12 ventless propane heater is a great example.
The IR12 uses infrared heating technology for added efficiency and lower heating costs. Infrared heating is great for warming up your body as quickly as possible but is not as good for warming the space around you.
The Dyna-Glo IR12 has an oxygen depletion sensor, which will automatically shut the heater off if oxygen levels fall or carbon monoxide rises, meaning you can use it even in an enclosed space without worry.
Designed for wall mounting, it has all of the hardware required for installation, and you can also purchase inexpensive optional WBL100 base legs for floor standing operation. And although the IR12 doesn't have a built-in thermostat, it has two output levels for easy adjustment of heat.
A great choice for spaces up to 300 square feet (approximately 28 square meters), the Dyna-Glo IR12 Vent Free Wall Propane Infrared Heater is well engineered, well built and a great value for the money, and our choice for Best Ventless Propane Heater for Small Spaces.
Features & Specifications
Liquid Propane Wall-Mount Ventless Heater
Infrared Heating Technology
BTU: 6,000 / 12,000
Effective Space: up to 350 Square Feet
Warranty: 1 Year
Another brand well known for quality, reliability, intelligent design and engineering and – above all – safety, Mr Heater manufactures our choice for best vent free propane heater for medium-sized spaces.
Great for spaces up to 500 square feet (around 46 square meters), the F299720 can heat up most rooms for very little money, and with its built-in thermostat, it will maintain the perfect temperature even when conditions change.
This is a blue flame heater, which will distribute warm air nicely throughout the room, and with a built-in sensor to monitor the atmosphere this Mr Heater propane ventless heater will automatically shut down if oxygen levels drop below acceptable levels.
It has an electronic ignition for safe and easy lighting, and also includes hardware for wall mounting and legs for floor standing applications.
Safe, versatile and extremely effective, the Mr. Heater Vent Free Blue Flame Propane Heater is our choice for Best Ventless Propane Heater for Medium-Sized Spaces.
Features & Specifications
Liquid Propane Ventless Heater
Wall-Mount or Floor Standing
Blue Flame Heating Technology
BTU: 20,000
Effective Space: up to 500 Square Feet
Warranty: 1 Year
With a full 30,000 BTU output, the Dyna-Glo BF30 will work well in larger rooms – up to 1,000 square feet (slightly over 90 square meters), and can even heat entire sections of a home or medium to large apartments.
It's the blue flame system uses convection heating to circulate warm air throughout the space, and you can install an optional circulation fan, the WHF100, for even more efficient and effective heat circulation in multiple rooms or larger spaces.
The Dyna-Glo 30,000 BTU vent free propane heater comes equipped with an automatic safety shut-down circuit which activates if the heater's built-in sensor senses dangerously low oxygen levels. The BF30 has an electronic push-button ignition to make firing the heater up safe and simple.
A great heater for large spaces, or for colder climates, the BF30 includes all the hardware you need for wall mounting, and you can also get the optional  WBL100 base legs for floor standing operation.
This Dyna-Glo Ventless Propane Blue Flame Heater offers all of the material quality and reliability you'd expect from this leader in climate control products. It is our choice for Best Ventless Propane Heater for Large Spaces.
Features & Specifications
Liquid Propane Wall-Mount Ventless Heater
Blue Flame Heating Technology
BTU: 30,000
Effective Space: up to 1000 Square Feet
Warranty: 1 Year
The choice for best portable vent free propane heater couldn't be easier: our friend, the Mr. Heater Big Buddy.
The most popular portable propane heater in North America, the Big Buddy is approved for indoor use and has both an oxygen depletion sensor and a tip-over safety shut off, so you can always rest easy next to this great heater.
With three power levels – 4,000, 9,000 and 18,000 BTU – the Mr Heater Big Buddy will efficiently and inexpensively heat a variety of spaces up to 450 square feet (around 42 square meters) and nicely adjusts to your preferred temperature and comfort level.
Perfect for camping spaces and a safe way to heat a tent, the Big Buddy is equally at home in your home, or in the garage, on the patio or in many other settings, and is also an effective choice for emergency situations.
There is perhaps no heater we know of with such a fiercely loyal following as the Big Buddy enjoys, and every Mr Heater customer knows of the first-rate material quality, excellent engineering, effectiveness and reliability you get with any one of their products.
Not just an easy choice, then, but an automatic one. We looked and looked, read customer reviews, tried different units and spoke to lots of different people, and the opinion is virtually unanimous – the Mr Heater Big Buddy portable propane heater is our, and everybody else's, choice for Best Portable Ventless Heater.
Features & Specifications
Liquid Propane Portable Ventless Heater
Radiant Heating Technology
BTU: 4000, 9000 and 18,000
Effective Space: up to 450 Square Feet
Warranty: 1 Year
Please note: If you are in North America, this Big Buddy heater is not approved for sale or use in Canada or in Massachusetts. Mr. Heater makes a special version of this heater just for those two places, the Big Buddy Canada / Massachusetts Approved Propane Heater.
Equally excellent, and equally worth mentioning, are the two other sizes of this wonderful portable propane heater:
The Rinnai FC 824 is without a doubt one of the very finest ventless propane heaters on the market.
It takes all of the advantages and features of the other units on our list of best ventless propane heaters to the next level, with advanced safety features, comfort control and energy efficiency.
The built-in thermostat and timer are simply controlled and programmed using the large, soft-touch buttons, and the status is clearly visible on the nice LCD display. The control panel also includes a big button for safe and hassle-free ignition of the heater, and the whole panel and its controls are easily locked for child safety.
The Rinnai FC 824's other safety features are also best in class. In addition to an oxygen depletion sensor, which monitors the air and immediately shuts the heater off if oxygen levels drop, the FC824 also shuts down if the flame or power goes out, or if it is knocked over – in which case the internal fan will continue to run, cooling internal parts.
And the cool touch cabinet also makes the FC284 safer and more comfortable to use, especially, in combination with the control panel lock and tilt sensor, with children in the house.
Even given propane's already exceptionally high-efficiency rating, the Rinnai FC284 manages to bring heating efficiency and affordability to a new level as well, with its low-power convection fan distributing warm air all throughout the space. It is hard to imagine a better space heater than this for supplementing your central heating system – the FC284 will significantly decrease your heating bills and it will make the space it is in much warmer and more comfortable.
Incredibly easy to install and set up, the Rinnai FC284 comes with a long 3-year warranty and is backed by the legendary Rinnai customer service and support.
Our clear choice for the Best Overall Ventless Propane Heater, the Rinnai FC284 is quite reasonably priced, especially considering its overall quality, performance, and safety, and is one of the best investments you will ever make for your home.
Features & Specifications
Liquid Propane Floor Standing Ventless Heater
Blue Flame Heating Technology
BTU: 8,000 – 22,000 BTU
Effective Space: up to 1100 Square Feet
Warranty: 3 Years
Our last category, Best Ventless Propane Heater for your Home, is really a bit of a cheat!
Really, any one of the heaters on this list would be a great choice for your home, and the decision ultimately comes down to how large of a space you want to heat and how much you want to spend – factor in those two considerations and you can choose any heater from our buyer's guide of best vent free propane space heaters with total confidence.
So why do we add this category? Simply so that we can sneak in the absolutely beautiful and homey ProCom Ventless Dual Fuel Stove!
A floor-standing vent-free propane heater, the ProCom QNSD250T is designed to look like a wood-burning stove, with a large and realistic viewing area, two rows of flame, and a lovely stylized cabinet.
At the same time, the 250T is a serious heater, with advanced safety features, a built-in thermostat for the highest levels of comfort and efficiency, dual fuel source capability (propane and natural gas), and a full 25,000 BTU output for spaces up to 1,100 square feet (approximately 102 square meters).
The ProCom QNSD250T is certainly one of the very best propane space heaters on the market, a great value and a great product, and is a perfectly valid choice for Best Ventless Propane Heater for your Home, but we could as easily dubbed it the Most Beautiful Ventless Propane Heater for your Home.
Features & Specifications
Liquid Propane Floor Standing Ventless Heater
Blue Flame Heating Technology
BTU: 25,000 BTU
Effective Space: up to 1100 Square Feet
Warranty: 1 Year
Final Thoughts: Why should you buy a ventless propane heater?
There are many reasons why a vent-free propane space heater is such a good idea, but perhaps the two most worth mentioning are comfort and money.
When you use one of these heaters, the ventless design allows you to place it almost anywhere, so you can effectively and efficiently heat a small, medium, or even fairly large space anywhere in your home with the excellent performance and excellent economy of liquid propane fuel.
This means that your furnace, or whatever type of main heating system you are using, can be left on a much lower setting, not asked to heat the whole house when you are mainly in one area or one room.
And that one area, or one room, will be even more effectively heated than with the furnace, and you will save money on your energy bills – money you won't need to spend on an extra sweater!
We really hope that this Buyer's Guide to the best ventless propane heaters has been both informative and helpful, and we are confident that any one of the units we have chosen will offer the best value and performance for its size and price range, as well as many years of reliable service.

Hey there! I am
Benas
, the founder and content editor at Home Caprice. Thanks for reading the article. I hope you were able to find what you were looking for. I and my team are here to simplify heating and cooling for everyone. Please have a look at the
About page
for more details about our website and feel free to check out our
editorial process
.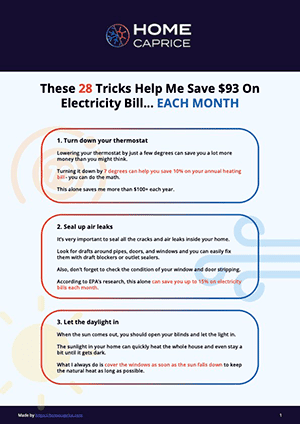 These 28 Tricks Help Me Save $93 On Electricity Bill... EACH MONTH
Download this FREE cheat sheet to find 28 tricks that can help you save on your electricity and heating bill each month.
Click here to get a FREE Cheat-Sheat