Here at Home Caprice, we have been hearing a lot of buzz recently about Envi Flat Panel wall heaters, and so we've decided to have a look for ourselves. In this Envi wall heater review we want to answer a couple of basic questions – Is the Envi Electric Panel wall heater any good? Is all the hype justified?
Specifically, we are talking about the Envi HH3012T wall heater – Envi actually makes 3 variations on the same basic theme. This one simply plugs into the wall, and the other two are the same heater but need to be installed by an electrician, as they are both hard-wired.
But really all the glowing talk and all the positive reviews are for the plug-in model, the HH3012T, and indeed a lot of the discussion centers around not just how well it works, and how nice it looks, but how incredibly easy it is to install. And indeed, considering this is a wall-mounted heater, it absolutely could not be easier to mount and is literally ready to go in a couple of minutes – really, anybody can do it.
Our Pick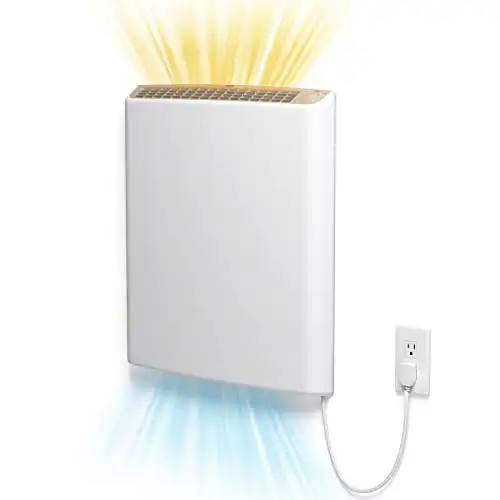 Features & Specifications
Electric Convection Wall Mount Heater
Power Usage: 450/500 Watt 
Effective Heating Area: 130-150 SF (12-14 SM)
Built-In Thermostat
Patented Dual-Stack Convection Technology
Cool Touch Outside Surfaces
Slim 2 Inch Profile
6 FT Power Cord
3-Year Limited Warranty
American Owned & Built
ISO 9001 Quality Control Factory Certification
How Easy is the Envi Electric Panel Wall Heater to Install?
The Envi HH3012T Flat Panel heater comes with an installation template which you simply lay against the wall to mark the placement of the two wall anchors. You then screw the anchors into the wall, slide the grooves on the back of the heater onto the anchors and you are done – really, it is that easy! Plug the 6-foot cord into the wall and you are done!
And how does the Envi HH3012T look on the wall?
It may seem strange to describe such a plain, simple, and featureless heater as beautiful, but if you see it mounted on the wall you will totally understand. 
There is something about the lines and curves that are just right. The minimalist aesthetic will go well with modern decor, and yet the design is so understated that it almost disappears, and will blend in and complement even more traditional rooms or any style or type of decoration.
More than that, though, and regardless of what room it goes into, the Envi HH3012T just looks beautiful, protruding only 2 inches from the wall and made from what are obviously extremely high quality and perfectly finished materials. As an added feature, the nice, long power cord can partly tuck away into the heater if you don't need the whole length, making the overall look even nicer and cleaner.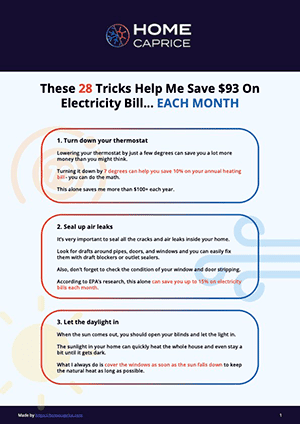 These 28 Tricks Help Me Save $93 On Electricity Bill... EACH MONTH
Download this FREE cheat sheet to find 28 tricks that can help you save on your electricity and heating bill each month.
Click here to get a FREE Cheat-Sheat
How does the Envi Electric Panel Wall Heater Work?
Envi has patented its Dual-Stack Convection technology, which is a way of causing air to flow in several different paths across the electric heating elements inside, allowing this convection heater to be exceptionally efficient. 
In the most basic terms, cool air from the room enters the heater through the bottom vent, passes across the heating panels and exits through the top vent. There are no fans or other means to force or distribute the heated air, so the Envi HH3012T is ultra-quiet and uses very little electricity.
With a simple dial to adjust heat levels, and a built-in thermostat, the HH3012T is really easy to use – just set it and forget it – and the thermostat adds to the heater's already excellent energy efficiency, as well as ensuring consistently comfortable temperatures – a quality we noted again and again when conducting this Envi space heater review.
How Much Electricity does the Envi Electric Panel Wall Heater Use?
This is one of the most beautiful things about the Envi HH3012T, that it uses a tiny amount of electricity compared to similar heaters, and is easily one of the most energy-efficient space heaters on the market in 2023.
So, if you are worried about how much it costs to run an Envi HH3012T, in fact, it costs less than 4 cents per kilowatt-hour, which is well less than half of the average for home heaters. No fans, no moving parts, and an exceptionally clever and effective Dual-Stack convection heating system are the key factors in making the HH3012T so cheap to run, as well as in how well it works.
How Well does the Envi Electric Panel Wall Heater Work?
If you are considering purchasing an Envi space heater, though, you must remember that it is a small convection heater. It is, without question, extremely effective in heating a small space – especially compared to other convection heaters and considering its price and its low running costs.
As a small convection heater, though, it does not heat quickly. It will take a couple of hours for the space to be really toasty (though you will feel the heat much faster if you are very close to the heater). 
That said, the Envi HH3012T electric panel wall heater is so safe and so inexpensive to run that you can just leave it on all the time when the weather is cold, and you don't have to worry about a thing!
Also, the HH3012T runs at a low 500 watts, which while making the heater quite energy efficient also means the Envi space heater is meant for smallish rooms or spaces. The recommended area for best heating is 130 to 150 square feet (approximately 12-14 square meters), which will heat and keep warm beautifully. 
Much larger than that, though, is asking too much from this little guy, although customers tend to love their Envi heaters so much that they buy two or more for larger spaces – this is, in fact, a brilliant strategy to affect even more savings in energy and money, since you can heat a larger room cheaply with two or more of these efficient space heaters, or you can heat only the part of a large space you are currently in and using, and save even more. Either way, you use your central heating less and save money!
We have used the HH3012T as a single heater in a small room, and also two of them mounted on opposite walls in a room of around 300 square feet (~28 square meters), and can report that once it has been running for a while the Envi space heater was completely effective in keeping the whole space warm and comfortable, without any noticeable cold pockets and also without ever making the air feel too warm or too dry. Is the Envi Electric Panel Wall Heater Safe to Use?
The Envi HH3012T is, in fact, as close to totally safe as any home heater can get! 
The  HH3012T is cool to the touch, even after it has been running for hours or days. It has no moving parts that might injure kids or pets, and none of the internal heating apparatus is reachable. Since cooler air enters from the bottom, and the hot air exhausts from the top, little kids cannot even reach the hot air or vent. 
Since the Envi space heater is electric, there are never any fumes or exhaust, except for nice warm air – certainly none of the noxious or even dangerous fumes sometimes associated with various gas or other heaters.
The Envi HH3012T also has a cool safety feature, in that it will automatically and instantly shut off if it is removed from its wall mount.
Indeed, it seems that Envi has thought of everything as regards safety when designing the HH3012T, and the company is also quite proud of the healthiness of this electric wall heater. In addition to the fact that there are never any noxious fumes released by the HH3012T, it also is a fanless design, meaning that no dust, dander, or other allergens will be blown into and circulated around the room. Its low-wattage design also ensures that it doesn't dry out the air like so many other heaters.
Is the Envi HH3012T Electric Panel Wall Heater reliable?
One of the most important questions remains: is the Envi HH3012T a well-built space heater? 
The warranty alone – an industry-leading 3 years – answers that question, and by any other measure the answer is a resounding yes! As a fanless convection heater, the Envi HH3012T has no moving parts, which makes it extremely reliable and sure to offer years of hassle-free service.
But it goes further than that – the quality of the materials, from the internal heating mechanisms to the exterior panels and controls, is always top-notch. And the HH3012T is made in the United States, by people who clearly take pride in their work and their good reputation, and offers ISO 9001 Quality Control Factory Certification.
Our Pick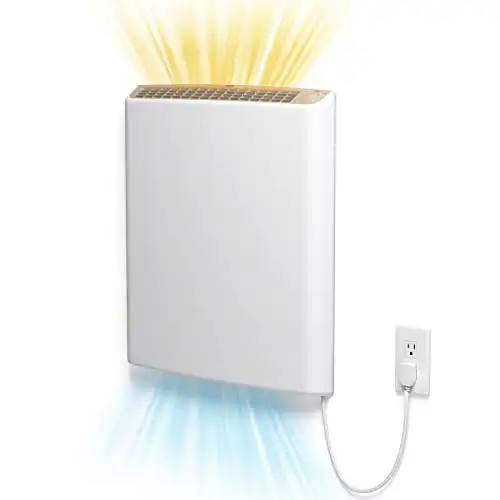 Final Thoughts: Is the Envi HH3012T Electric Panel Wall Heater really as good as everybody says it is?
After spending a considerable amount of time with the HH3012T space heater, we have to say that we completely understand the hype, and found this review of the Envi wall-mounted heater a pleasure to conduct.
If you have a single Envi HH3012T wall mounted heater in a small room, even after a couple of hours the room will stay so warm and comfortable, and it will never get overly hot like with so many larger gas or electric heaters. And if you have two or more in a larger room you will enjoy the exact same effect. And it will allow you to use your central HVAC system less, and save you money as a result.
The Envi HH3012T is super easy to install, simple to operate, and runs quietly. The HH3012T is beautiful and understated in design and looks great in any room. It's American construction, solid-state design, and exceptional levels of material quality, as well as its 3-year warranty, ensure that you can rely on such effective and totally satisfying heating for many, many years.

Hey there! I am
Benas
, the founder and content editor at Home Caprice. Thanks for reading the article. I hope you were able to find what you were looking for. I and my team are here to simplify heating and cooling for everyone. Please have a look at the
About page
for more details about our website and feel free to check out our
editorial process
.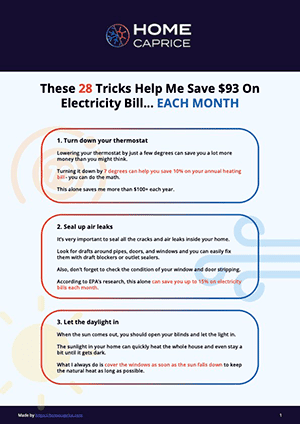 These 28 Tricks Help Me Save $93 On Electricity Bill... EACH MONTH
Download this FREE cheat sheet to find 28 tricks that can help you save on your electricity and heating bill each month.
Click here to get a FREE Cheat-Sheat