If there's one product that has already been perfected, it might just be the ceiling fan. Invented over a century ago, there have been little changes to the core components of these appliances over the years. Now, they're sleeker, more effective, easier to install, and even quieter than ever and the Minka-Aire F844-DK is no exception.
However, they continue to be manufactured mostly in their traditional design. With its function largely relying on how it is designed, ceiling fans all tend to look alike and many of them look the same. So if you are trying to go for a modern look for your space, you might struggle a bit in finding a nice unit for your home.
For modern spaces, most folks just opt for industrial-grade units. While this can effectively cut the search short, it might not be the best choice for everyone. Those with smaller homes with low ceilings shouldn't use such a high-powered fixture as it can definitely cause accidents and injuries. For homes, a domestic ceiling fan is still your best choice
For this, you can check out the Minka-Aire F844 DK Light Wave. This modern-looking ceiling fan will definitely add a nice touch of modernity to your space without having to resort to an all-too-powerful fixture.
Our Pick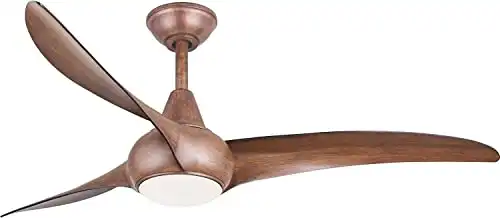 Minka AireLight Wave Features
What makes the Minka Aire Light Wave a good choice for every modern home? Take a look at its features below.
Sleek, Modern Appearance
The first thing that people love about the Minka-Aire F844 DK Light Wave is its appearance. It definitely looks great in its silver brushed steel finish and contemporary design. It will definitely look great in any modern home that is fond of stainless steel and chrome finishes on its surfaces. It can also complement industrial motifs really well.
Three 48-inch Blades
With three 48″ blades, it can easily and properly improve air circulation for most rooms. The three-blade design also helps it stay balanced, quiet, and power-efficient. It can produce up to 5024 CFM, which is definitely not bad for a ceiling fan of this size.
14W LED Light with Dimmer
The Minka Aire Light Wave comes with a light kit right in the center of the unit, adding value to the fixture. While most ceiling fans also offer this feature, this product stands out because you won't have to replace the bulb anymore if you want more power-efficient lighting.
As it comes with a 14-watt LED light, it can already be all the lighting you need in most rooms. It's actually very bright for small spaces, but it will definitely be enough for most rooms that will also require a fan. This makes it even more valuable and functional.
Wall Unit
A wall unit comes with the Minka-Aire F844 DK Light Wave to help you easily control its settings. This will let you turn it on and off easily and adjust the speed settings without a fuss.
Remote Control
The unit also comes with a remote control that will let you enjoy the fan better. Aside from turning it on and off, it will also let you leave the fan on if you want to turn off the light or vice versa. It can also adjust the speed setting easily.
Reverse Motor
Aside from cooling your room, ceiling fans are also very handy in circulating warm heat in the winter months if they have a reverse motor function. You can activate this function in the Minka-Aire F844 DK Light Wave with a switch that's found on the body of the ceiling fan letting you easily enjoy a warmer home.
| ✅ Pros | ❌ Cons |
| --- | --- |
| It's very beautiful. The Minka-Aire F844-DK Light Wave looks amazing and will surely add some charm to your home. It's perfect for modern interiors, thanks to its sleek design. | It's quite expensive. It's easily in the price range of industrial fans but is only designed for domestic use. |
| It's very easy to install. If you're quite handy, you can expect to have this unit set up in just a few minutes. | You'll need to rely on the remote to tweak the settings of the unit. The wall control won't let you turn the light off and leave the fan on or adjust the brightness of the light. |
| The light kit only uses one bulb. This means fewer purchases and more savings. No more need to buy multiple bulbs to light your room. | You can't activate the reverse motor feature with the wall unit or remote control. You need to access the switch found right in the body of the unit to do so. |
| It offers a very bright light. The 14-watt LED bulb is very bright. It can be enough to light an entire room adequately depending on its size. | |
| It's very quiet. While you will still hear a quiet hum from its AC motor, you don't have to worry because it won't be loud enough to disturb your thoughts. | |
| It's more energy-efficient. As it only uses 65 watts of power for both the fan and the light, you're saving more money and energy at the same time. It's practically an investment for your home that you should seriously consider. | |
| You can dim the light. If the 14-watt LED light is too much for you, you can adjust its brightness with the help of the remote. | |
Minka-Aire F844-DK Verdict
If you're looking for a fan and light fixture that will add beauty and charm to your space, you don't have to look further as the Minka-Aire F844 DK Light Wave is a very good choice for such a need. It will definitely give your space a nice modern element that's not only great to look at but highly functional as well.
Is it worth the price, though? The answer here would be yes. It'll be hard to find a similar product at a lower price range that can offer modern aesthetics, great quality, and excellent performance in one package. The Minka-Aire F844-DK Light Wave offers great value so you can be sure that you're putting your money in the right place with this product.
Our Pick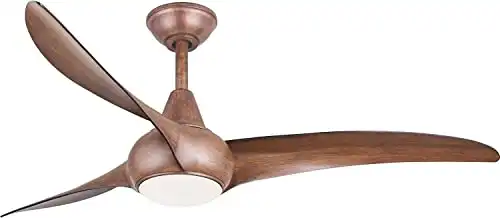 Hey there! I am
Benas
, the founder and content editor at Home Caprice. Thanks for reading the article. I hope you were able to find what you were looking for. I and my team are here to simplify heating and cooling for everyone. Please have a look at the
About page
for more details about our website and feel free to check out our
editorial process
.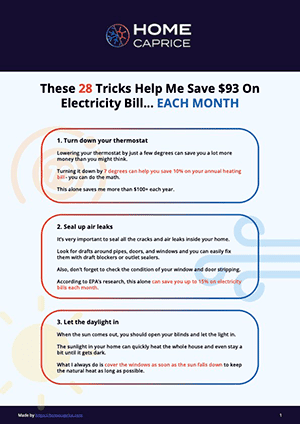 These 28 Tricks Help Me Save $93 On Electricity Bill... EACH MONTH
Download this FREE cheat sheet to find 28 tricks that can help you save on your electricity and heating bill each month.
Click here to get a FREE Cheat-Sheat