If you are shopping for a tall fan, be it tall tower fans or tall stand fans, read on as we have listed the tallest tower fans and tallest pedestal fans in a nice list below.
Tower fans and stand fans run quietly, are easy to operate and are highly effective when it comes to providing a cool breeze.
Combine all these benefits with portability, safety, and their stylish design and you have a great choice for a cooling accessory in your home or office.
Shopping for a tower fan or stand fan can be an overwhelming process so be sure to check out our useful guide which can help you determine which kind of fan is best for you.
There are quite a number of tall fans in the market and they all have pros and cons. The taller pedestal fans tend to be quite powerful, so expect a lot more airflow output with the taller models.
In the market, you can find two tall oscillating fan options – tower and tall pedestal/stand fans.
Below we have put together the following list of the 7 of the tallest fans available in the market.
Tall Tower Fan Reviews
As far as tall tower fans go, this was the tallest one we could find. The Lasko T48314 offers a 3-speed operating mode, which is easily adjustable, runs quietly and shifts smoothly between the modes.
The fan provides widespread oscillation to cover the entire room. It has a remote control feature with multi-function.
To avoid misplacing the remote every now and then, the fan features a remote storage compartment in its stylish design.
The fan creates a powerful breeze, but even on H, you can still hear the TV. Comes with built-in carry handle, optional oscillation and energy-efficient auto shut off programmable 7-hr timer. The best is the remote for when you don't want to get up to change the settings.
Easy to assemble and operate. Nighttime Setting automatically dims the controlled display and sets the fan on (H) for an hour, then (M) for an hour, and then stays on (L) until you interact with the fan again.
Like all Lasko tower fans, it features a slim and stylish design, at 48 In. in diameter and a height of 4 ft. It operates without the need for batteries.
Lasko T48314 fan is ETL Listed, comes with patented Blue Plug safety fuse technology, and are backed by a 1-yr Limited Manufacturer's warranty.
The Black & Decker is a great alternative for those of you who are after an alternative to the  Lasko brand of tower fans.
One of the most notable and convenient differences is that this tower fan does not require assembly after shipping.
It features a simple yet elegant and functional design with 47-inches in diameter.
The overall weight is 11 pounds, though its shipping weight is 14.2 pounds.
This tower fan comes with three-speed modes namely; sleep mode, wind mode and natural mode.
It has an LCD display and has remote control access.
It comes in black and does not require the use of batteries in its operation.
Though the Black & Decke is powerful, it is designed in such a way that it has limited energy consumption.
The Excelife LF-45R features one of the best designs when it comes to style.
It comes equipped with soft-touch digital electronic controls as well as remote control access.
It has a comfortable speed adjustment among the available three-speed modes namely; normal, sleep and natural modes.
It features an 80-degree oscillation capability in its 45 In. diameter design.
The Homelife LF-45R does not require batteries but needs assembly after shipping.
It weighs 11.2 pounds and has a carry handle.
Tall Stand Fan Reviews
One of the tallest stand fans you will find on the market the Maxxair stand fan has a maximum height of 84 inches and can adjust down to 60 inches as well.
This fan is a high velocity, so if you are just wanting a small breeze this may not be for you.
At the highest speed, this fan puts out 4800 CFM which is a lot and makes this fan great for commercial applications.
This tall stand fan measures 76 inches at the maximum height.
Much like the Maxxair fan above, this is another power / industrial grade pedestal fan, in fact,  this fan blows a whopping 8000 CFM on the maximum setting which again, is great for the larger more open spaces.
The fan comes with 2-speed settings which will give you a little more control over the output and also has a 15-degree tilt in which you are able to point the fan head in the direction you need the air to flow.
Overall the fan is said by customers to be a little loud, but with such a high output, that is to be expected, regardless, the Q-Standard has very positive feedback from its purchasers.
The little brother to the Maxxair 30, this 22 inch bladed fan measures in at 71 inches high.
The fan oscillates 90 degrees and can be adjusted down to 60 inches high.
With an output of 4100 CFM, it is still a very powerful fan in terms of its airflow.
With 3 speeds you have a little bit of control over how much airflow you want to be output.
The Air King 9420 measures in at 64 inches tall. It has 3 speeds for good control over airflow.
Being an industrial-grade stand fan this fan also moves a lot of air with the high, medium and low settings, pushing out  Moves 3670, 3330 and 2940 CFM of air respectively. The height can reduce as far as 54 inches and the Air King is ETL and OHSA approved.
To sum up, these 8 fans will hopefully help reduce the amount of time and effort you would have spent searching for a tall tower or stand fans. Do you own or have you tried any of these fans?
Let us know your thoughts!

Hey there! I am
Benas
, the founder and content editor at Home Caprice. Thanks for reading the article. I hope you were able to find what you were looking for. I and my team are here to simplify heating and cooling for everyone. Please have a look at the
About page
for more details about our website and feel free to check out our
editorial process
.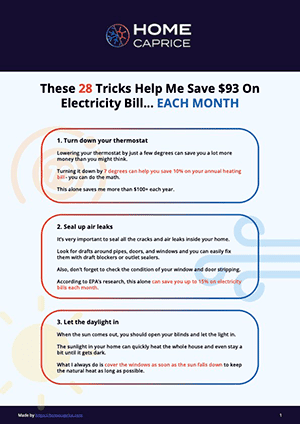 These 28 Tricks Help Me Save $93 On Electricity Bill... EACH MONTH
Download this FREE cheat sheet to find 28 tricks that can help you save on your electricity and heating bill each month.
Click here to get a FREE Cheat-Sheat