One of the most uncomfortable feelings is when you're sweating throughout the day and you can't cool down even a bit.
The two great solutions come into your head – pedestal and tower fans.
Although they're both great, I have to list all the pros and cons of both and give you a real view of how they really work.
I've been using both for more than two years and we have a video about this as well 👇
Pros & Cons of Tower fans
Pros
Advanced technology – From nightlight, and ionizer, to choosing different speed settings and modes, the features they offer are limitless. I really like the timer function and sleep mode.
Healthy – Certain models have air purification features that are proven to be healthy and helpful for people suffering from asthma or other types of allergies.
Easy to clean – Cleaning a tower fan is a pretty straightforward process and it shouldn't take more than 5 minutes if you're doing it regularly (once a month is enough).
Size-friendly – Considering the size of the tower fan, you can easily move it from one room to another as it will not take up much space. Not only that, but it will fit the room's overall design.
Safe – The blades are hidden, so pets and children can't touch them. Also, they have a strong base that allows them not to be knocked down easily.
Cons
The only con is that it isn't strong enough.
It will cool the room, but it won't do it efficiently as an air conditioner. You have to realize that the tower fan isn't as strong as the air conditioner.
Other than that, I had no issues with tower fans.
Best tower fan on the market 👇
Our Pick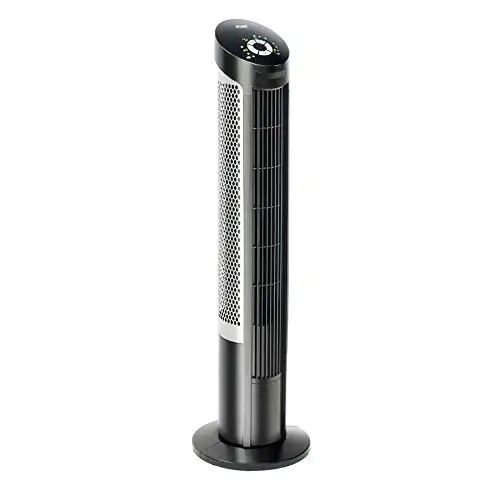 📍 Note: If you want to check out more options, we have a whole article dedicated to the best tower fans.
Pros & Cons of Pedestal Fans
Pros
Airflow adjustment – The great thing is you can control where you want the airflow to be directed. You can set it left, right, up, or however comfortable you find it.
Powerful – The blades are larger which helps it push the air more easily. Also, if you just take a look at average CFM on pedestal fans, you'll notice how powerful they are.
Large areas – I always recommend pedestal fans for offices or larger areas because of their power. It can easily cool a room with multiple people in it.
Quiet – More quality pedestal fans produce almost zero noise, so it helps you stay focused on the work.
Height – Most pedestal fans have adjustable height so that you can adjust it however you desire. This is great when you want to cool your legs or just your upper body.
Cons
The biggest con of pedestal fans is that they're not safe for children or pets.
I wouldn't recommend putting it in a room with your children, as they might touch the blades or knock the whole fan down.
They don't have the best design, so they usually fit better in offices. My wife always complains about the look of the pedestal fans 😁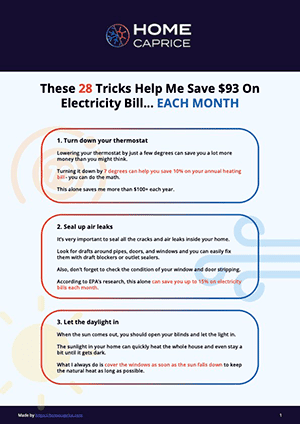 These 28 Tricks Help Me Save $93 On Electricity Bill... EACH MONTH
Download this FREE cheat sheet to find 28 tricks that can help you save on your electricity and heating bill each month.
Click here to get a FREE Cheat-Sheat
Best pedestal fan on the market 👇
Our Pick

How Much Does It Cost To Run Pedestal And Tower Fans?
From my personal experience, it costs $6 a month to run a tower fan if you're using it for 5-6 hours every day.
These are my metrics, but some of my friends have even lower costs – it's probably due to the power of the fan.
Pedestal fans have about the same metrics – around $5 a month if you're using it 6 hours per day.
Of course, some fans might have a bit higher costs depending on their power and how much you're using them each day.
The conclusion is that pedestal fans and tower fans have the same running costs.
Check out how much electricity fans use on average.
So, Which One Is Better?
The truth is that you have to ask yourself which one suits you better.
If you have small children at home and you want something to be a decorative detail as well – go with a tower fan. You won't regret it.
However, if you have a larger office and you can't allow yourself to sweat throughout the day – go with the pedestal fan.
Check out more articles about other fans here.
Hey there! I am Benas, the founder of Home Caprice. Thanks for reading the article, I hope you were able to find what you were looking for. Me together with my team, are here to simplify heating and cooling for everyone. If you want more details about the website and our team, please check the
about
page.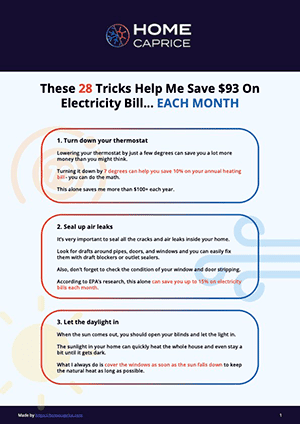 These 28 Tricks Help Me Save $93 On Electricity Bill... EACH MONTH
Download this FREE cheat sheet to find 28 tricks that can help you save on your electricity and heating bill each month.
Click here to get a FREE Cheat-Sheat