If you want to stay cool and fresh without breaking the bank – box fans are a great solution.
Box fans are designed to be very efficient, simple, and affordable.
With so many options available, it's very easy to make a buying mistake and settle for not the best solution for you.
Before revealing the top 7 picks for this year, let's first talk about some things you should look for before making a purchase.
📍 Note: In case, you are looking for a high CFM box fan, we have a separate article on that here.
What To Look For Before Buying
Size – Depending on the area you want to cool or if you want to use it as your desktop fan, you should always check the size that suits your needs. Box fans usually have a 20-inch design, but you can find larger and smaller models.
Noise levels – If you're thinking of using it late at night in your bedroom or in the office when you need to be focused on the work, you should always check the noise level that specific model produces.
Power – Box fans usually have around 1,000 CFM, but if you want to cool a larger room, you can look for models with higher CFM and higher wattage.
Speed – A good box fan will have adjustable speed settings, so you can customize the airflow based on your needs. Some advanced models even have a fourth speed level.
Best 7 Box Fans You Can Buy
If you're looking for a box fan that has everything you need, this model from Pelonis won't disappoint you.
With its powerful 3-speed control, you can optimize air circulation to suit your needs – no matter if you're going to use it in your bedroom or in the workspace.
Another great thing about this fan is how quiet it is. You can run it for the whole day (or night) without annoying buzzing noise that disturbs everyone around you.
It's covered with a safety grill, so it is safe for kids and pets.
While being lightweight and easy to carry around, it's made out of durable material and it's far more durable than most box fans on the market.
The first thing worth mentioning about this fan is how powerful it is.
Most average box fans have a CFM of 1,000, while this model has 2140 CFM which makes it two times more powerful than other fans.
It has a built-in handle for easier transport and you can switch between 3 powerful speed settings. Being made out of metal construction, you can expect this box fan to last longer.
Looking at the overall performance, it's very similar to oscillating fans.
The only downside is the noise level on the highest speed settings because it will start producing buzzing noise after a while.
However, if you're looking for something powerful, this one is right for you.
Who said that box fans can't have a sleek design that fits any interior?
Genesis really made a difference here and made the "boring" box design much more modern and compatible with any situation.
You'll be surprised how quiet it is, you won't ever hear it running. In my opinion, this is the perfect fan you can put in your bedroom to keep you fresh and cool during warm nights.
It has 3 adjustable speed settings and metal construction for improved durability.
What makes this box fan stand out is its save-smart design that costs less than 2 cents per hour to run. Basically, you're almost running it for free considering the low cost.
An interesting thing is how slim it is. While still 20 inches, it's a bit thinner than most box fans.
I have to mention the noise level here – this isn't the quietest box fan you'll come across. It's still not very loud, but I can say it's quiet either.
The best thing about the slim design is that you can put it on the window and blow outside air into the room. This allows you to use it all year round if needed.
You should check out more tricks to cool down a room with a fan.
If you want a smaller fan or a desktop fan – you can't go wrong with this model.
It's two times smaller than an ordinary box fan, but don't let the size fool you – it's still very powerful.
Another impressive thing is how quiet it is, you can leave it running for the whole night without any disturbance.
It comes with a removable base containing an aromatherapy box, so you can add essential oils to have a fresh and nice-smelling home at all times.
Also, it has a protective grill, so it's pretty much safe to be put into a kid's bedroom.
If you just want to buy a simple and budget-friendly box fan, you can't go wrong with Black Decker's model.
This one is pretty lightweight and it's only 10 inches – so you can easily move it wherever you want.
While smaller than normal fans, it still comes with a 3-speed setting that you can adjust based on your needs.
As expected with smaller box fans, this model is very quiet and you won't hear it running.
Investing a bit more money into a box fan is a great decision and you'll get a lot more than with the average box fan.
This is one of the rare models that have a built-in timer, so you can program it to automatically shut off whenever you want it. This is very important if you want it to turn off when you fall asleep.
Another impressive thing is that you can use it all year round. It can work as a reversible fan, which helps in maintaining warm air in the winter.
If you're someone who can add a few dollars and invest in a great box fan – this model is right for you.
Are Box Fans Efficient?
Most box fans use less than 100 watts of power which makes them almost equal to the light bulb.
That being said, box fans are very efficient.
A very important part here is that it all depends on how long you're using the box fan each day and the power of your box fan.
High CFM box fans might consume a little bit more energy, but they're more efficient if you consider all the factors.
But still, even if you use a box fan for around 7-8 hours each day – it would only add up to around $1 to your monthly electric bill.
If you are looking for high CFM box fans, then check out our video below

Hey there! I am
Benas
, the founder and content editor at Home Caprice. Thanks for reading the article. I hope you were able to find what you were looking for. I and my team are here to simplify heating and cooling for everyone. Please have a look at the
About page
for more details about our website and feel free to check out our
editorial process
.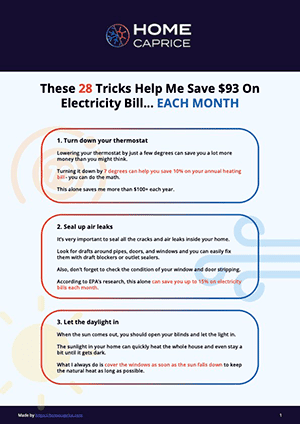 These 28 Tricks Help Me Save $93 On Electricity Bill... EACH MONTH
Download this FREE cheat sheet to find 28 tricks that can help you save on your electricity and heating bill each month.
Click here to get a FREE Cheat-Sheat