Mold can grow inside your air conditioner just as it can grow in your bathroom. It's a lot more dangerous than you think and it can cause big issues if someone from your family has a mold allergy.
Besides health issues, it even decreases your AC's efficiency and quality airflow.
I'll lay out the exact same steps I've used hundreds of times to clean the mold, but I first want to tell you about the tools you will need to make this process easier and faster. We also have a video about this, so feel free to watch it or scroll to read the full article.
Tools You Will Need
Here are just some of the essential tools you'll need throughout the process:
How To Get Rid Of Mold (Step-By-Step Explained)
Step 1: Turn OFF Your Air Conditioner
First of all, you should turn off your air conditioner to prevent mold spores from spreading through your home.
You also don't want to clean your air conditioner while it's connected to the power supply.
Step 2: Inspect the inside of the unit
Grab a screwdriver and remove the grills and filter that are usually below the grill.
Turn on the flashlight on your phone and closely inspect the signs of mold.
If you're wondering how to recognize the mold – just spot the black, dark green, or brown stains.
Step 3: Safety gear ON
It's time to put your safety gear on because you don't want to risk your health.
Put on gloves, a mask, and eye protection before you start cleaning or creating your own mix.
I don't want to spread negativity but don't forget this step as you should protect your health at all times.
Step 4: Creating your own cleaning mix (optional)
What I'll show you is a DIY solution for making your own mix which will remove the mold from your air conditioner.
Mix one tablespoon of any detergent with half a spoon of baking soda and mix it all in one smaller bucket of water.
I personally used this DIY mix a long time ago, but I have a lot better results with Wet & Forget Mold Removal.
Step 5: Clean the filter
Remove the filter and place it inside your bucket with a detergent mix. Leave it like that for 20 minutes.
Now grab a brush and scrub both sides of the filter.
After you're done, leave it for at least an hour to fully dry.
Step 6: Using your detergent mix
In the previous step, we made a DIY mix – it's time for you to use it.
Use a brush or a sponge, soak it up into the bucket of your mix, and start scrubbing moldy areas on your air conditioner.
Carefully check if you've cleaned all the moldy areas as you don't want to repeat this process tomorrow again.
When finished, leave all the parts to dry completely.
Step 7: Reassemble
It's time to reassemble your air conditioner and connect it to the power supply again.
If you've done everything correctly, you should notice an increase in efficiency and overall airflow.
📍 Recommended Reading: Check out ways to save money on your air conditioner.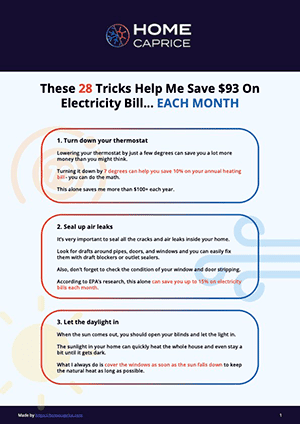 These 28 Tricks Help Me Save $93 On Electricity Bill... EACH MONTH
Download this FREE cheat sheet to find 28 tricks that can help you save on your electricity and heating bill each month.
Click here to get a FREE Cheat-Sheat
What causes mold infestation in the HVAC air ducts?
When you're not cleaning your fan often, you're making space for dirt and dust to collect. 
Both of those are the main nutrients for mold and when you collect the dust inside of your air conditioner for months – you're allowing mold to spread even more.
Also, when it's high water vapor outside (depending on the weather), it forces water droplets to collect instead of disappearing.
This creates the best terms for mold growth.
Why You Should Clean Mold From Your Air Conditioner
The biggest reason why you should clean your air conditioner is to protect your health.
If someone from your family has mold allergies, it can have a negative impact on their overall health.
When you have mold in your AC it can cause shortness of breath, allergic reactions, headaches, and much more side effects.
Hope this will motivate you to clean mold more often than you're doing right now.
Another reason why you should clean mold is the pure hygiene of your home. If you're not paying attention to mold, you will stop paying attention to other areas of your home.
Mold inside your AC is different from mold in your room because it connects heating and cooling systems and it spreads through vents.
My friend started having rashes and skin irritations because of mold in the air conditioner – that's why I can't stress enough how important it is to clean your AC regularly.
Highly Recommended Product
This product can save you tons of time and energy because the results are a lot better when you're cleaning with this instead of creating your own mix.
I've been using it for a couple of years and you won't regret trying it out.
Up to 20,000 sq. ft. coverage
Non-Acidic
Works on all areas
Our Pick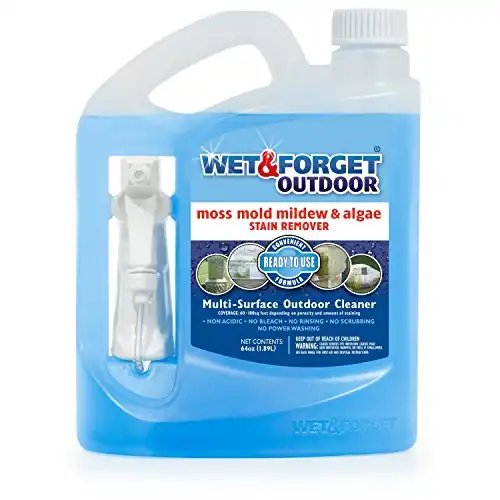 I love this mold remover mainly because it can really clean hard-to-reach areas and it works great for cleaning mold inside of an air conditioner.
You should first spray it and wait until it dries and then proceeds to clean and scrub.
Also, you don't have to waste time creating your own mix because it isn't even nearly as strong as Wet & Forget.
You can also check other best air conditioner coil cleaners.
How To Prevent Mold From Happening and Spreading?
It's mainly paying attention to maintaining your air conditioner, but here's a small checklist with tips to prevent mold from happening and spreading:
Replace your filters regularly and it would be perfect if you could do it every two months.
Get a new filter that prevents mold even if they are a bit more expensive, they are well worth it.
Install a UV light system that prevents mold from spreading and improves airflow.
Use a humidifier if you live in areas with high humidity as it will help with moisture removal.
Hire a professional that will fully check your air conditioner. I recommend doing this once a year. Click here to get offers from your local contractors.
Consider installing a drainage system so that moisture doesn't collect around the unit.
Hope you learned more about mold in this article and how it's important to maintain your air conditioner.
If you find this article helpful, go ahead and share it with your friends, so they can get rid of mold fast too!
Hey there! I am Benas, the founder of Home Caprice. Thanks for reading the article, I hope you were able to find what you were looking for. Me together with my team, are here to simplify heating and cooling for everyone. If you want more details about the website and our team, please check the
about
page.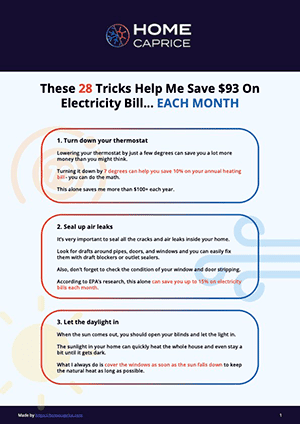 These 28 Tricks Help Me Save $93 On Electricity Bill... EACH MONTH
Download this FREE cheat sheet to find 28 tricks that can help you save on your electricity and heating bill each month.
Click here to get a FREE Cheat-Sheat