When you're trying to avoid bigger investments and still want to have some kind of cooling inside of your home – it's worth taking a look at cheap air conditioners.
Right off the bat, I have to tell you that it's tough to find a good air conditioner under $100.
If you have a bit more to invest, I highly recommend taking a look at the quietest window air conditioners as there are some great options under $299. They are a lot more durable and the difference is huge.
However, let's stick to a fixed budget under $100 in this article.
Before listing the best ones, let's first mention what you should look for in a cheaper AC.
What To Look For In a Cheap Air Conditioner
Big capacity – The larger the water tank it has, the more time it can run without refilling up the water. The sweet spot would be above 250ML as it will require less of your time and effort.
Multiple speed levels – It's important to have at least three different speed levels – low, medium, and high. The ones that don't have this option usually have poor air distribution.
Quiet – Nobody wants AC that produces annoying buzz sounds while running. Make sure to check the decibel level (dB) if you're going to use them while working.
Eco-friendly – It won't use harmful refrigerants or compressors to distribute the air. Also, with less wattage usage it will save you some money on electricity bills each month.
Remote controller – It's a hassle to always have to manually switch speed or mode settings. Once you get an AC with a remote, it's hard to go back to manual.
By the way, we have a whole video about this article, so if you prefer to watch it instead of reading it, feel free to check out the video below. Otherwise, just scroll further to read the article.
Recommended Air Conditioners Under $100
This is the best-selling cheap conditioner and it's not a coincidence.
Arctic Air cools, humidifies, and purifies with three different speed settings you can switch whenever you want.
What separates this air conditioner from others is its efficiency and a multi-directional air vent to distribute the air to your sweet spot.
It also has hydro-chill technology which pulls hot air through filters and transforms it into cool air.
Arctic Air can run up to 10 hours per fill which is 2.5x more than competitors – another reason why I'm a huge fan of this air conditioner.
I've been using it in my bedroom as the noise level is less than 10 dB.
Also, it can switch up to 7 different colors. My kids love this feature and they enjoy having it in their bedroom.
This AC comes with a mist spraying function and a 3-speed wind mode that you can easily switch.
It doesn't contain any harmful refrigerant.
It's very quiet and you'll have no trouble falling asleep while this AC is running.
LaoTzi also made sure to protect the kids, so this is a bladeless fan that you can safely put in your kids' bedroom. They can even play by changing colors on it.
The design is pretty modern, so you can use it for your office and workspace.
For a small air conditioner, this is such a powerful AC and it distributes a lot more air than other cheaper units.
With big power comes higher noise levels, so I wouldn't recommend this air conditioner for bedrooms.
If you love camping or working in your garage – this is a perfect option for you.
What I recommend when you're going camping or somewhere in nature is to connect this to a power bank, so you can run it even longer.
Tip: Add some ice to the water tank for colder air.
When it comes to looks, this air conditioner is just on another level.
They have a unique modern design that looks like a smart "home gadget" type of AC.
Antrango created a 90° oscillation, so you can control the wind direction from left to right, and upwards and downwards.
The amazing thing is that you receive fragrance disks that you can put inside your tablet box to boost your mood and relax.
Kids love this AC because of its design and even my wife often says how great it is.
It's ideal for bedrooms, especially if you put a relaxing fragrance disk.
This AC is a bit over $100, but if you have a couple of bucks more to invest, I'd highly recommend doing so.
It comes with a remote controller, so you can easily adjust the speed settings and air distribution from the comfort of your bed.
With all the features, it's similar to smart air conditioners with Wi-Fi.
You can easily cool bigger rooms with this AC and it can run 12 hours without refilling or charging – half a day is pretty impressive.
Unlike other cheap air conditioners, it actually has 40° oscillation which helps to distribute the air precisely and efficiently.
Benefits of Cheap Window Air Conditioners
Budget-friendly
As the title says – they're under $100 and there are no additional costs.
Everyone can spare some money to buy a cheap air conditioner, and it costs pennies to operate it for the whole month.
You won't need to buy new parts, so the price is fixed when you buy it.
Check out 15 simple ways to save money on your air conditioning.
Portable
This is the biggest benefit of cheaper air conditioners.
I usually tend to put them on my desk while I'm working or when I'm camping and the sun is hot.
Most of the ACs I mentioned above are working on the same principle as tower fans.
If your car AC is broken or not doing well, this is a fair replacement.
Easy to maintain
You can clean it in 15 seconds and you don't have to disassemble it – a big time saver!
As I mentioned earlier, you don't have to buy any replacement parts.
There's no installation and you won't need to hire a professional to ever fix it for you.
Quiet
They are pretty quiet and you won't hear them running.
You can use them on your desk or when you're doing something productive and the heat is bothering you.
Safe
They are bladeless and children can't knock them down or damage them easily.
The funny thing is that they look like toys. It's safe to put them in your kids' bedroom.
Disadvantages Of Cheaper Window Air Conditioners
Not powerful
It's ridiculous to compare the power of regular window air conditioners against these cheaper versions.
These ACs won't cool down a whole room and they're meant to be positioned near you.
They have poor air distribution and the air isn't too cold as it's releasing hot air inside of the room.
Manual filling
Depending on the size of your water tank, you'll need to refill your air conditioner every 2-4 hours.
It is a boring and frustrating task to do, but if you're using it for two hours a day like me – it won't be a hassle.
If you're planning to use it throughout the whole day, prepare yourself for constant work.
Not durable
A quality air conditioner can last more than 10 years without any damage, but cheap ones can't even come close to that.
Consider yourself lucky if your cheap air conditioner lasts more than 2 years.
Even with good maintenance, I noticed lower performance after using it for a whole summer.
Tip: Try to always get a good warranty deal.
Constant charging
They can run for up to 4 hours and then they will lose energy.
The charging is very simple – the same as you're charging your phone.
However, it becomes annoying to charge and refill it every 3 hours before you can use it again.
How Different Are They From Regular Air Conditioners?
If I had to rate the difference on a scale from 1 to 10 – it would definitely be a 7.
The difference is huge.
You can't experience the benefits of a cheap air conditioner as much as a normal air conditioner.
I'm a huge fan of air conditioners and if you know how to maintain them properly – they will cost the same as if you buy dozens of cheap ACs throughout a 10-year period.
Cheap air conditioners are less powerful and less durable, and they require much more of your time to make them work.
On the other side, you have to prepare to invest a bit more than $100 if you want to buy a decent window air conditioner.
There are tons of cheap air conditioners, so it's good to at least try them and see if they work for you.
If you have some spare time, take a look at everything you should know about air conditioners.
Hey there! I am Benas, the founder of Home Caprice. Thanks for reading the article, I hope you were able to find what you were looking for. Me together with my team, are here to simplify heating and cooling for everyone. If you want more details about the website and our team, please check the
about
page.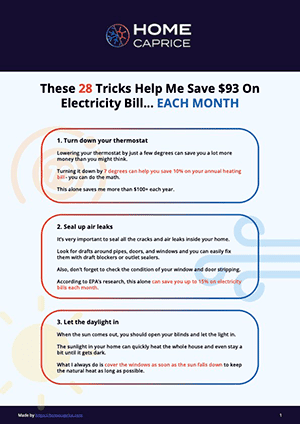 These 28 Tricks Help Me Save $93 On Electricity Bill... EACH MONTH
Download this FREE cheat sheet to find 28 tricks that can help you save on your electricity and heating bill each month.
Click here to get a FREE Cheat-Sheat