You're familiar with Presto HeatDish, but you're probably wondering if it has any drawbacks and what are its advantages.
Well, I'm not going to sugarcoat anything – I'll tell you an honest review from my own experience.
Let's first start with the good side of this heater, and then I'll reveal two minor problems (that nobody talks about).
Our Pick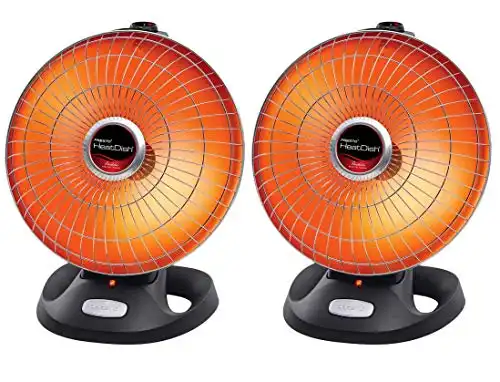 5 Main Reasons Why You Will Love Presto Heat Dish
Portable
Whether you want to cool your living room or bedroom, you can easily move the presto heat dish by grabbing a built-in handle.
Unlike heat storm wi-fi heater, you won't need to buy more than one to keep your home warm and cozy throughout the whole winter.
If you're looking to heat multiple rooms without buying more than one heater, you will fall in love with the presto heat dish heater.
Very Efficient
The fact that this heater costs 1/3 less to operate than 1500-watt heaters is pretty impressive.
When you think about it in the long term, it saves you enough electricity bills to pay for itself in just 12 months.
It's great how it spends less energy, yet it heats a lot better than "more powerful" heaters.
All in all – power consumption is at a bare minimum.
It's actually one of the most energy-efficient space heaters out there.
Three-Speed Settings
Presto heater comes with a three-speed setting to choose from: low, medium, and high.
I barely use low as it's their "eco" mode which doesn't push a lot of heat, but it saves a ton of electricity.
My recommendation is to always keep it on the medium because it will be enough to heat the whole room and keep you warm.
Smart & Safe
It amazes me how smart this heat dish heater is and how it's safe at the same time.
It has sound buzzes and safety switches that will turn off the heater if it tips over or falls down – so your pets and kids can't cause serious damage.
Most smart space heaters put the safety on in the first place, it's the same with this one.
What I love the most is the "overheating settings" which will shut down HeatDish completely. You can safely keep it on while you're asleep if you live in cold areas.
Powerful
I'm surprised with the power of this heater, but it isn't recommended to be the main heating source.
It feels much warmer than radiant or ceramic heaters as it focuses all the heat in one direction.
As soon as you turn it on, you can feel direct warmth as it heats you and not the air around you.
You're probably familiar that most heaters tend to heat the room to keep you warm, but this one is different.
I've even used it outside of my home (on my porch) to heat myself while I'm having a nice family dinner.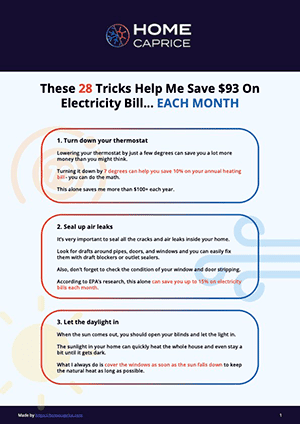 These 28 Tricks Help Me Save $93 On Electricity Bill... EACH MONTH
Download this FREE cheat sheet to find 28 tricks that can help you save on your electricity and heating bill each month.
Click here to get a FREE Cheat-Sheat
Presto Heat Dish Problems You Need To Know About
Although it's great, it has two minor drawbacks I personally don't like.
Non-Moving Head
You'll probably sometimes want to heat all parts of your room equally, but the biggest drawback is that this heater pushes warm air in a laser-focused way.
Most popular heaters have automatically rotating heads, but you'll get used to this – especially if you're trying to heat a smaller room.
Sounds
I mentioned earlier how safe this heater is, but sometimes "warning" sounds become annoying when you're using the heater for a long period of time.
I'm grateful that it notifies me when it becomes overheated, but the buzzing sound definitely needs to be silenced a bit.
These two aren't a big problem, but it's the only drawback I personally noticed in a heat dish heater.
Our Pick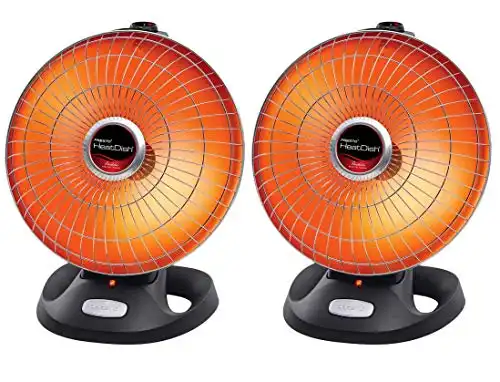 What Else You Need To Know About Presto HeatDish Plus Tilt Parabolic Heater
Some good features are mentioned in this video, make sure to check it out:
How To Clean A Presto Heat Dish FAST & Effectively
Most people tend to complicate the process of cleaning a heat dish, but in reality, it couldn't be easier.
Step 1: Turn off the heater
You should turn off the heater and unplug it before starting anything.
Also, wait until the heater is cool because you definitely don't want to start cleaning while it's still hot.
Step 2: Towel & Detergent
Now, you'll be using a detergent for cleaning the exterior of the heater.
Grab a towel and pour it into your detergent mixture then start cleaning the exterior.
Wait 10 minutes before proceeding to the next step.
Step 3: Clean inside
You should grab a smaller piece of cloth and pour it into a detergent mix once again.
As you won't be able to clean the interior with your hands because of the safety grill, you'll need to take a smaller wood stick (a wooden spoon works best) and move the cloth up and down inside the heater.
You will clean all the dust with this approach
Check out this video of cleaning the presto heater effectively.
As you can see, HeatDish is a high-quality heater that will last for years if you maintain it properly.
If you found the article helpful, share it with your friends who need a good heater and help them be warm throughout the winter.
Hey there! I am Benas, the founder of Home Caprice. Thanks for reading the article, I hope you were able to find what you were looking for. Me together with my team, are here to simplify heating and cooling for everyone. If you want more details about the website and our team, please check the
about
page.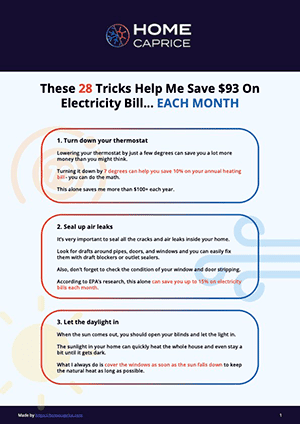 These 28 Tricks Help Me Save $93 On Electricity Bill... EACH MONTH
Download this FREE cheat sheet to find 28 tricks that can help you save on your electricity and heating bill each month.
Click here to get a FREE Cheat-Sheat