After days of research, we made a list of the best heating Black Friday deals that will save you money and prepare you for this winter.
Besides regular space heaters, you'll discover some cool heating gadgets and other deals nobody seems to be discussing.
Before we start, make sure to check out the main Black Friday pages on Amazon and Walmart:
Also, we have another article dedicated to space heater products with black Friday deals.
And now, let's check out some specific deals for 2023.
Amazon Heating Products Black Friday Deals
You can choose between multiple different sizes depending on your living room size.
The flames are very realistic; you can even change the flame color and speed with a remote or touch screen.
Freestanding Electric Fireplace:  Turbo Firelake
If you don't have the budget or time to install a fireplace insert, this is a great alternative for your family to watch 7 adjustable, realistic flame effects.
It doesn't require assembling, so immediately put it in your living room and enjoy it in flames this winter.
Check out other best electric fireplaces on the market.
High-Quality Wood Burning Fireplace Insert: Ashley Hearth AW1820E
This beautiful beast can heat up to 1,200 sq. ft. with over 75% efficient heating.
It's very high quality, and it can accept logs up to 18 inches long – pretty useful if you ask me.
Without any doubt, wood-burning fireplace inserts are an excellent solution for winter.
If you want a realistic wood-burning fireplace without the hassle of real wood, this gas log set is the right choice.
You can control the temperature from a remote control, and it's completely safe because of built-in oxygen depletion sensors.
If you already have a pellet stove and have witnessed how powerful and efficient it can be, this might be a perfect time to switch to a more powerful one.
The design is elegant, and with 68,000 BTU, your home can be warm.
Although it doesn't heat you directly, it's still worth mentioning such a great deal on this best-selling electric tankless water heater.
With patented self-modulating technology, there's no doubt you'll regret buying it.
Let's be real, sometimes regular gloves can't keep our fingers from freezing.
If you're used to spending a lot of time outdoors in the winter or doing some activities, these will be a game changer for you.
When cold days arrive, no matter how many layers of clothes you wear – you still might feel cold.
With three different heating levels and zones you can choose, this is the perfect gift for your loved ones.
When those days of the month come, you'll wish you had something like this near your side.
It has 3 different vibration massage modes to immediately relieve pain or discomfort.
Neck pain is very regular, and going for a massage often can very quickly become an expensive habit.
With a heated cervical traction device, you can relieve irritating neck pain most safely and affordably.
Back pain might be the most common issue almost every person has – no matter the group's age.
With a customizable massage mode, this is the ideal relaxation after a long day at work.
Like a normal heating pad, this model relieves muscle pain but can cover a much bigger area – your legs, whole back, chest, etc.
It's very comfortable, and the battery is amazing.
Snuggle up in your bed and turn this blanket on instead of the heater – it will heat you up quicker, and you'll feel much cozier.
It has a 10-hour timer shutdown, so it's safe to fall asleep while it's on.
What makes it even better is the adjustable 6 heating levels that allow you to customize the temperature until you find your sweet spot.
If you or your close ones have poor circulation, this is the best gift you can give them.
You can control the temperature from your phone, and these socks have a regular design, so you can even wear them when going to work and skiing.
If you're looking for something sweet and cute that will heat your hands – you're welcome.
These rechargeable hand warmers are small, but they do their job perfectly, so your hands won't be cold again.
You or your close ones might suffer from cold feet in winter, and sometimes even wearing double socks can't help.
You simply turn this foot warmer on, and your feet will be completely warm and relaxed in just a few minutes. Plus, the massager relieves any pain or stiffness in feet, so it's a perfect sweet after long hours at work.
Portable Car Heater & Defroster: 12V Car Heater
If you ever catch yourself freezing in the car early in the morning, you'll definitely benefit from additional car heating.
While most cars have solid heating, this little heater gives that extra push to keep you warm, and it defrosts your windshield so you can drive safely.
Unlike others, it doesn't require installation – you just have to plug it in.
While you can keep yourself warm with extra layers of clothing, you'll always need a lovely scarf to prevent the cold from getting under your clothes.
If you're looking for a lovely gift for yourself or your wife or girlfriend – a heated scarf will leave an outstanding reaction.
Heated insoles were made for people who work outside or spend a lot of time outdoors during cold, chilly winter days (and nights).

This will keep your feet warm on the go, and it fits perfectly in all sorts of shoes – sneakers, work boots, ski boots, etc.
If you like to steal hoodies from your partner or need one that's guaranteed to keep you warm – this is the perfect hoodie for this period.
While heating accessories do a phenomenal job, nothing can keep you warm as an extra layer of cloth with a heating element – it's stylish as well.
Instead of paying hundreds of dollars for brands that promise the best warmth, it makes more sense to save money and get a heated jacket with smart temperature control.
With long-lasting battery life, it can keep you warm throughout the whole day, and you can adjust temperature based on the outdoor conditions.
Walmart Heating Products Black Friday Deals
If you're looking for a powerful heater that will also fit your overall home design – this wood-designed portable heater is the right choice.
With a 12-timer, a remote control, and overheating protection, you have everything you need to be warm and cozy this winter.
If you're looking for an office heater or one, you can put beside your bed at night – Black Decker's personal heater won't disappoint you.
It has 3 adjustable heat settings, and it's very quiet – it won't disturb your peace, and you can be even more productive.
Wall-mounted heaters are known to be one of the most flexible heaters.
Even if you don't plan to install it inside your home, you can always install it on your patio or the garage.
Although this is a decorative heater, it has everything you need – a 12h-timer, remote control, overheat protection, and many other advanced features.
It has built-in wheels, so you can easily move it to any room you'd like.
What's impressive about this pedestal heater is that it has a remote control from which you can adjust the timer and heat modes.
It's very quiet, making it a perfect fit for your bedroom.
If you want to take advantage of more deals like this, check out our Space Heaters Black Friday article

Hey there! I am
Benas
, the founder and content editor at Home Caprice. Thanks for reading the article. I hope you were able to find what you were looking for. I and my team are here to simplify heating and cooling for everyone. Please have a look at the
About page
for more details about our website and feel free to check out our
editorial process
.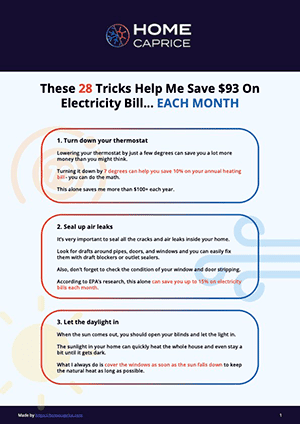 These 28 Tricks Help Me Save $93 On Electricity Bill... EACH MONTH
Download this FREE cheat sheet to find 28 tricks that can help you save on your electricity and heating bill each month.
Click here to get a FREE Cheat-Sheat