If you want to feel cool and cozy inside of your car even on the highest temperature days – you'll definitely need a portable air conditioner to put inside of your vehicle.
This type of ACs became quite popular in the past few years as they can easily be charged and you can carry them anywhere you want.
However, all portable air conditioners don't have the same features or advantages.
Before revealing the best models on the market that will turn you into a die-hard fan, you should first be aware of some things before making a purchase.
Things to consider before buying a portable AC for your car:
Size: It has a lot to do with the square footage it can cover, so if you want friends or family in the backseat to feel cooler and chill, pay attention to it as well.
Power: The power of any air conditioner is displayed in BTUs, the higher the BTU value, the more powerful it is. Any solid portable air conditioner can consume 12 volts of power – make sure it's compatible with your car.
Noise: Although this type of air conditioner isn't too loud, you'd be surprised how many small air conditioners produce a lot of noise. The last thing you want is to ruin your radio listening experience.
Installation: In most cases, the installation is pretty straightforward and you receive a step-by-step user manual that describes everything. However, there are some portable ACs that are very hard to install and require proper wiring.
Best 5 Portable Air Conditioners For Car
EvaChill is a 3-in-1 air conditioner that can serve you as a humidifier and fan making it not only great for cooling, but for cleaning the air and catching dust particles.
It can efficiently cool your car by 9-25°F making it one of the most powerful portable air conditioners which don't use freon-like liquids.
A great thing about EvaChill is that it's made from the natural material basalt which makes it safe and healthy for breathing.
Unlike any other air conditioner, it uses a patented evaBreeze technology that maximizes its performance and efficiency.
It has 1190 BTUs, but you'll barely hear it running as it has library-like sound levels of 25dB
If you don't want to maintain your car air conditioner and refill it so often, you'll love this model.
Talking about the tank capacity, it can work for 8 hours without refilling it – this makes it the longest-lasting car air conditioner on the market.
It has a USB port, so you can easily power it in almost any car as it works in combination with power banks and adapters.
What you'll find awesome is the LED atmosphere lights that you can switch and kids absolutely love them – makes them very suitable for your kids' room.
You can easily take calls or listen to music while it's running as it's pretty quiet.
While this is by far the quietest model, it's impressive that you can switch between 3-speed settings.
In most cases, portable quiet air conditioners have only one speed, however, Aubnico allows you to customize it to your needs.
It has a USB-charging port, but you can use it with any adapter or power bank.
Besides being made for cars, it can also serve as a desktop cooler when you're at work and you don't want to soak in sweat.
Compared to traditional air conditioners, it saves around 90% of electricity and it doesn't contain any harmful chemicals.
You can use it in the winter to avoid having dry skin.
This COOL car fan is completely different from any other car air conditioner.
It's powered by a 12V DC car cigarette lighter outlet and with 2 rotatable fan heads, it makes it very efficient.
The main benefit of it is that you don't have to maintain it or refill it – you just plug it in and let it do its job.
What I love about it is that you can rotate it by 360° and adjust it perfectly to blow cold air anywhere you want.
A lot of people are using it in the winter to remove moisture from the windshield and have better vision.

If you find fans very useful and convenient, you should check out the best outdoor misting fans.
All in all, it's one of my favorite portable car fans.
If you're looking for something more than an air conditioner that you can use to keep your skin healthy on dry winter days – this is the right model for you.
Besides being suitable for all seasons, you can control 3 different speed settings. This is super helpful as sometimes you won't need to use the highest speed level.
Because it's powerful enough, I'm confident when I say that you can use it as your bedroom air conditioner as long as you position it near you.
It even has a built-in handle, so that you can carry it with you anywhere you go, even in the office as it's pretty quiet.
The only drawback is that it can be used for 3 hours before refilling again.
What to be aware of when it comes to portable car ACs
Power source
Your vehicle might have different components than others, so first you have to check out if your car has USB, DC, or AC outlets.
Let's mention each one:
DC outlet: This allows you to use an AC/DC adapter to have a portable air conditioner properly working. They're very affordable and you can buy them almost anywhere.
AC Power: Same as with a DC outlet, the adapter usually supports both, so you'll have an easy time making your car air conditioner work.
USB outlet: This is usually with newer and modern cars, so USB-powered ACs are becoming more popular. Even if you don't have this type of outlet, you can still find a cheap adapter that will do the job.
Battery-operated air conditioners: Some air conditioners are powered by AA batteries, so you won't even have to worry about powering them inside your car. You can carry them wherever you go, so make sure to check out the best battery-operated air conditioners.
Energy consumption
As you've already seen with our list, most car air conditioners are powered by cigarette lighter sockets, however, there are some that are powered by batteries.
Each AC has its specifications displayed, so pay attention to those as you can see how much energy it uses.
This is especially important if you decide to go with battery-operated ACs because if you run out of batteries – you can say goodbye to cooling.
Read our in-depth guide on how to save money on air conditioning.
Advanced features
Some models have advanced features and let you have full control – you can change wind speed, and airflow direction, turn on dehumidification, or even change temperature settings to use it in the winter.
Based on your needs, make a list of the features that you need and let that be a deal-breaker for you.
If it doesn't have the features you need, don't worry, there are plenty of different models on the market nowadays.
Capacity
There are a lot of models that are designed to work with water or ice, so the water tank capacity will decide how long it will cool you.
If you don't like refilling the tank so often, this is something that you'll have to pay attention to.
In my opinion, there are no drawbacks to large-capacity tanks even if they have a large-size design.
You should know a few things about portable car air conditioners now, so scroll back up and check which of the best ACs fit your needs.
Hey there! I am Benas, the founder of Home Caprice. Thanks for reading the article, I hope you were able to find what you were looking for. Me together with my team, are here to simplify heating and cooling for everyone. If you want more details about the website and our team, please check the
about
page.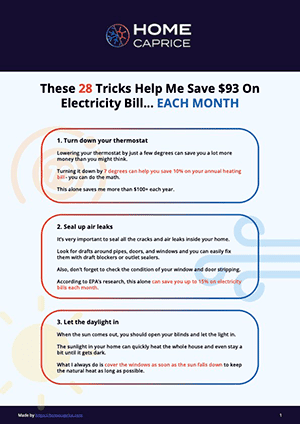 These 28 Tricks Help Me Save $93 On Electricity Bill... EACH MONTH
Download this FREE cheat sheet to find 28 tricks that can help you save on your electricity and heating bill each month.
Click here to get a FREE Cheat-Sheat