You might be looking for something simple and portable that can heat you – battery-operated heaters are the right option for you.
While lots of people might get confused about the term "battery operated", in this article you'll learn everything you need to know about this type of heater.
Some heaters even if not run on actual batteries are still considered battery-operated heaters because of their design and functionality.
Let's first reveal the 4 best battery-operated heaters – we have a whole video about this below or scroll down a little to read the article.
Best 4 Battery Operated Heaters
DeWalt is one of the most popular battery-powered heaters and it's not a coincidence.
What's amazing about DeWalt is that it can be used as a power bank – it has 3 USB ports for charging personal electronics and accessories.
It can provide a run-time of 7 hours which is great when you're going fishing, camping with your close ones, or going hiking.
The little LED light is great when you use this heater at night, it really helps with visibility.
It's very quiet and it's powered by 20V batteries.
This heater is great for both indoor and outdoor use – it has a 9,000 BTU rating which can cover around 225 sq. ft. without any problems.
What's amazing about this heater is how safe it is. It has an auto shut-off system if it detects low oxygen levels. This feature is super helpful when you're using it in your home or other interiors.
At max power, this heater can run up to 3 hours. My recommendation is to only use the highest power level when you need instant heating.
It has a built-in handle, so moving it around shouldn't be a problem.
📍Tip: if you want to distribute the warmth better, there is this wood stove fan that fits Mr. Heater perfectly. Or you can also check our full review on the best wood stove fans here.
This heater has the most awesome design and it's the most practical heater you'll find.
Don't be fooled by its size just yet – it can heat up to 100 sq. ft. Pretty impressive for a heater this size.
What surprised me was that even this heater has a low oxygen shut-off system, so it's very safe to use indoors.
On maximum BTU (power level), it can run up to 6 hours.
Although it's mostly used when hiking or going camping, you can still use it in your bedroom.
This is a very powerful heater, so make sure you actually have a need for powerful heating.
It can run up to 14 hours on 30,000 BTU output and around 6 hours on 60,000 BTU output.
If used indoors, it can heat a 1,500 sq. ft. area without any issue.
What I love about it is QBT technology which makes it 50% quieter than an average propane heater.
In my opinion, this heater is best to use in the garage or outdoors.
While it has a built-in handle for easier moving, I wouldn't carry it with me when going hiking because of the weight.
Important Factors When Choosing The Best Battery-Operated Heater
Maximum Temperature
Depending on your needs, you should always check out for the maximum temperature of the battery-operated heater.
Usually, people carry battery-operated heaters when they go camping, so you might want to look for a higher maximum temperature than you might think you need.
Charging Time
A good battery-operated heater doesn't require a lot to charge.
Essentially, you want something that charges faster than your smartphone – a good heater should not take more than 3 hours to fully charge.
Run Time
Run time is one of the most important things you have to consider prior to buying this type of heater.
You'll most likely use this heater when you're away from home, so pay attention to the run time of each heater.
In my opinion, run time should be at least 2 hours.
Battery Capacity
Battery capacity is similar to run time, but not exactly the same.
Battery-operated heaters have a similar battery capacity to USB heaters.
Battery capacity is measured in MHz and the higher it is, the better it is.
Portability
Although all battery-operated heaters should be portable, not all of them have the same type of portability – the same as it is with space heaters.
Some of them might be pocket-sized heaters, while others you might pack in your bag while traveling.
Depending on your needs, choose the portability type that fits you the most.
Why Can't Batteries Actually Power a Heater?
Heaters usually require a high voltage to run successfully, so it's no wonder why most heaters are either propane heaters or space heaters.
Because of this, many people say that batteries can't power the heater.
While this might be true to some point, there are still some battery-operated heaters – such as hand warmers and neck warmers.
That being said, battery-operated heaters are suitable for various situations. They work well when you're going camping, fishing, hiking, or any other outdoor activity that you might enjoy doing.
The best thing about battery-operated heaters is that they are easy to carry with you everywhere you go. That's the biggest advantage among other powerful heaters such as radiant or ceramic heaters.
Safety Tips When Using Battery-Operated Heater
The first thing I would recommend you do is to keep the heater away from the fire.
A lot of times people go camping and they might put a battery-operated heater near the fire – that's something you should avoid doing.
Another thing is to always check if the heater is waterproof, even then, I would still be careful to not put it near the water.
A good thing that you don't have to worry about is overheating because the heater can run while the batteries are charged – that's a good safety side of battery-operated heaters.
Hey there! I am Benas, the founder of Home Caprice. Thanks for reading the article, I hope you were able to find what you were looking for. Me together with my team, are here to simplify heating and cooling for everyone. If you want more details about the website and our team, please check the
about
page.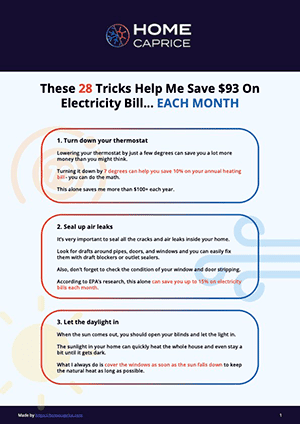 These 28 Tricks Help Me Save $93 On Electricity Bill... EACH MONTH
Download this FREE cheat sheet to find 28 tricks that can help you save on your electricity and heating bill each month.
Click here to get a FREE Cheat-Sheat